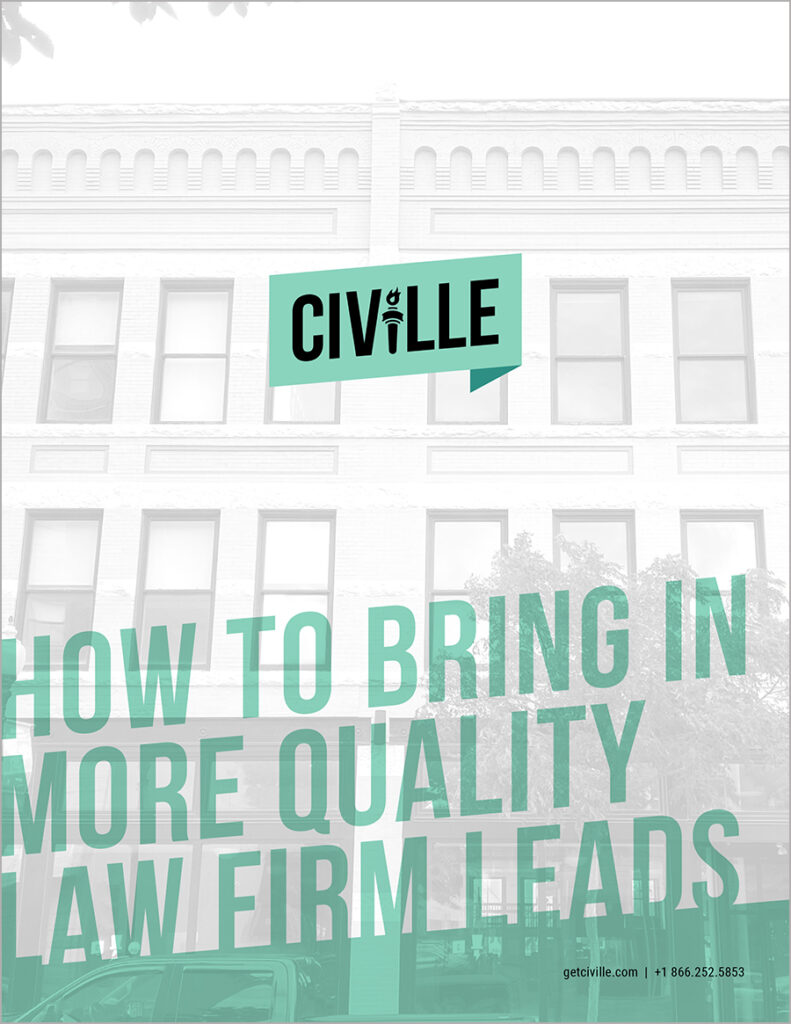 Our guidebook will help your law firm
Learn how to audit your site, identify gaps and areas of opportunity to improve your leads
Develop efficient solutions to give you short-term boosts and long-term value with your law firm's leads
Improve the efficiency of your internal processes, website, and digital marketing strategies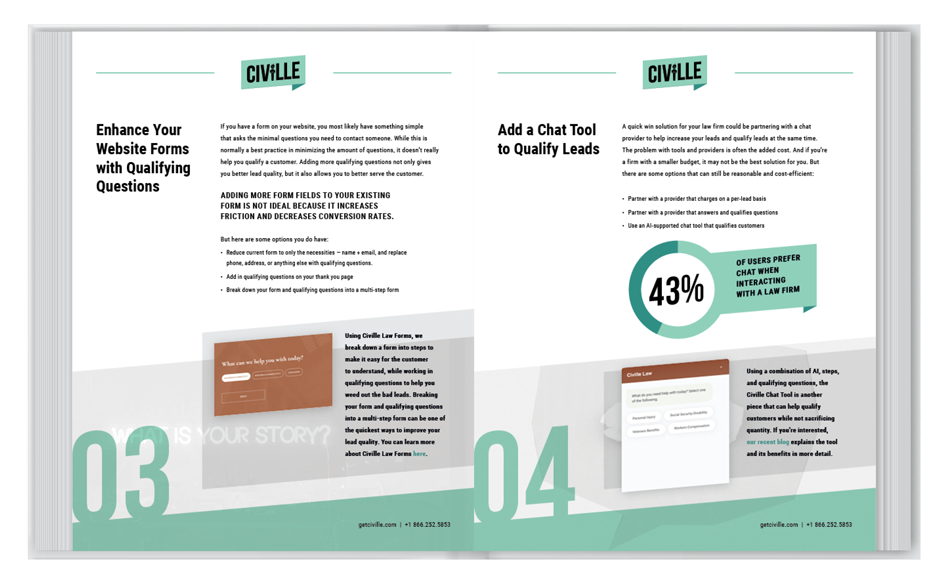 Your Guide To Better Leads
P: No matter the size of your law firm, prioritizing quality leads should be the number one thing on your list. You need quality leads to thrive and grow your business. And in today's digital age, it has become even more important that you deploy strategies that not only get your name out there, but in front of the right people at the right time. If you're a law firm that's struggling with resources, trying to find more ways to be efficient, or simply wants better leads, this guide is for you. law firms. By building out your page, optimizing for local search, and maintaining your page, you can reap the benefits with more local traffic and more leads.
Hear From Our Clients
Tabak Law

Tabak Law has been a Civille client for over a year and has seen exponential growth thanks to a great website and effective marketing plan for SSDI, Veteran's Benefits, and Worker's Compensation.

92% increase in YoY Organic Traffic
36% increase in YoY Organic Leads
17% increase in YoY Paid Search Leads
Google Business Profile Top Positioning

Tabak Law has been working with Wes and the team at Civille for over a year and we continue to see impressive results. It is apparent that the entire team cares about their clients and take their work seriously.

AC Rieman Law

Attorney Amanda C. Rieman, Esq. broke away from the large firm world to start her own practice, focusing on uncontested divorce. She wanted to personalize her brand and connect with potential clients that needed assistance.

Personalized Site Design
Custom Logo Design
Increased MoM Organic Traffic and Leads
Google Business Profile Top Three Positioning

Civille is a reliable and effective partner – if you have a question, they have the answer. What I love most is that they don't apply a cookie-cutter or "one size fits all" approach; they work with each client to develop and individualized plan that works for any business and/or budget.

Need help with your law firm lead quality?
We can help.