Take Your Firm to the Next Level
Our approach to websites and digital marketing has always been focused on one goal: to connect people with the right attorneys and attorneys with the right people. All the while, bringing more value, transparency and digital solutions to help your firm reach the next level.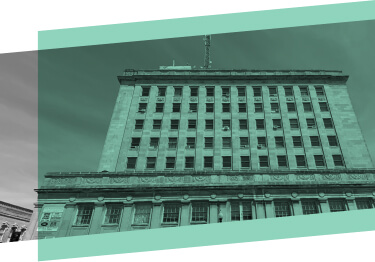 Objection, Your Honor?
We've seen it all. Every firm faces issues when it comes to growing their business or streamlining their processes. No matter what digital or website issue your firm is facing, we can help solve it.
I want to increase my inbound leads

It's important to stand out from the crowd with a modern and personalized online presence. By pairing a Civille website with our digital marketing, we not only help you build your presence, but increase the amount of traffic and leads.

I want better quality leads

Do you have limited resources? Don't want to spend time with unqualified leads? At Civille, we've built tech to help qualify leads before they hit your inbox, allowing you to spend more time and resources with the leads that fit your firm.

I don't have a site and I don't have a large budget

We've built many solutions to help firms of all shapes and sizes. Whether you're a solo practitioner or just starting out in the space, we have affordable solutions that don't break the bank.

I want a faster website

Having a professional looking website is necessary in the digital age. And page speed is just as important. Every website we build is not only modern and personalized but very fast. In fact, faster than anything else on the market.

I don't want to look like every other firm

You'll often find the same pieces over and over on law firm websites. From layouts to stock imagery – many have the same look and feel. This is why we've built our sites differently: with a focus on personality and modern design.

I want more actionable insights

Better digital marketing and website insights lead to more informed decisions. We believe in transparency — and that starts with reporting on everything we do, presented in a way that's easy to understand and allows you to build a better digital strategy.

I want to show up higher on Google

If you're struggling to rank higher on google, especially for local terms and your GMB page, you're not alone. We've mastered the art of SEO, and have helped several firms build a content and SEO strategy to help improve local rankings.

I want more attribution for my marketing dollars

Sync all of your digital efforts with your lead management process to ensure that your law firm is highly efficient in processing and connecting with the right leads at the right time and attributing everything correctly.
Our Solutions
Websites that Convert
Tell your firm's story and display it to the people that need to see it with lightning-fast, high-converting Civille law firm websites.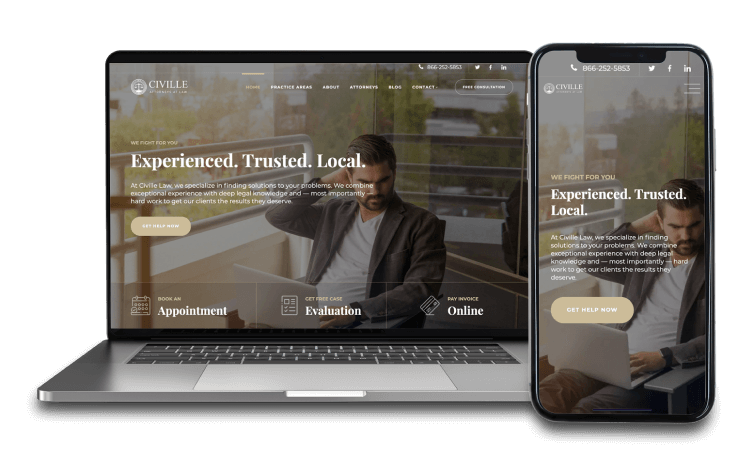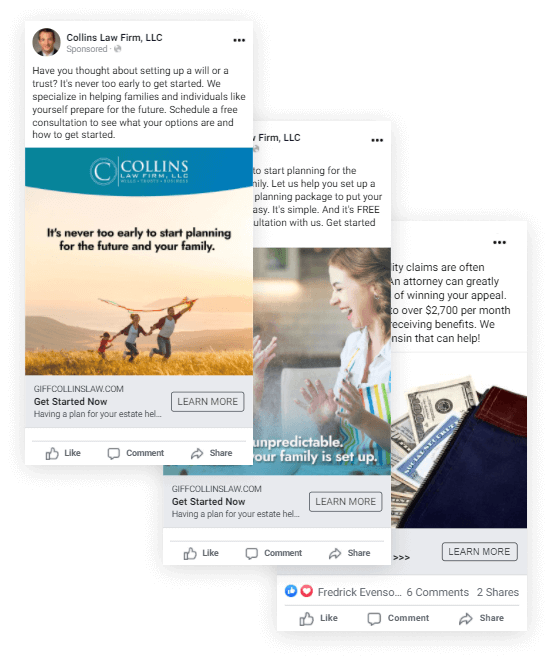 Digital Marketing that Compels
Spread your message and services further through the digital channels that people are using right now with law firm SEO, content marketing, targeted messaging, listing optimization, and more.
Analytics that Complete
Understand the ROI of your marketing channels with reporting, audits, and analysis that allows you to optimize every dollar. Utilize that data by inputting back into the marketing channels to be even more targeted.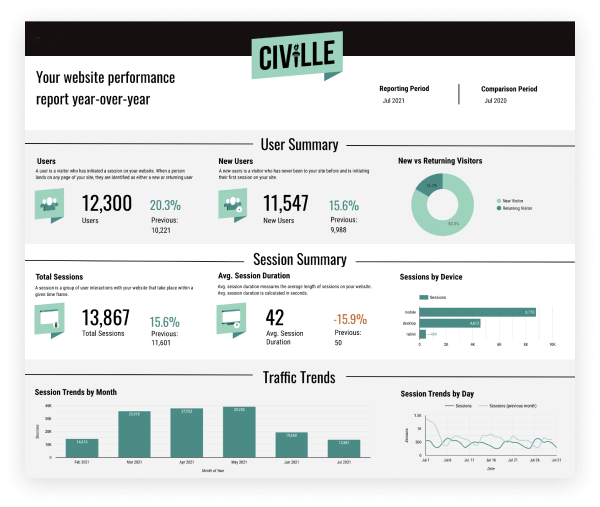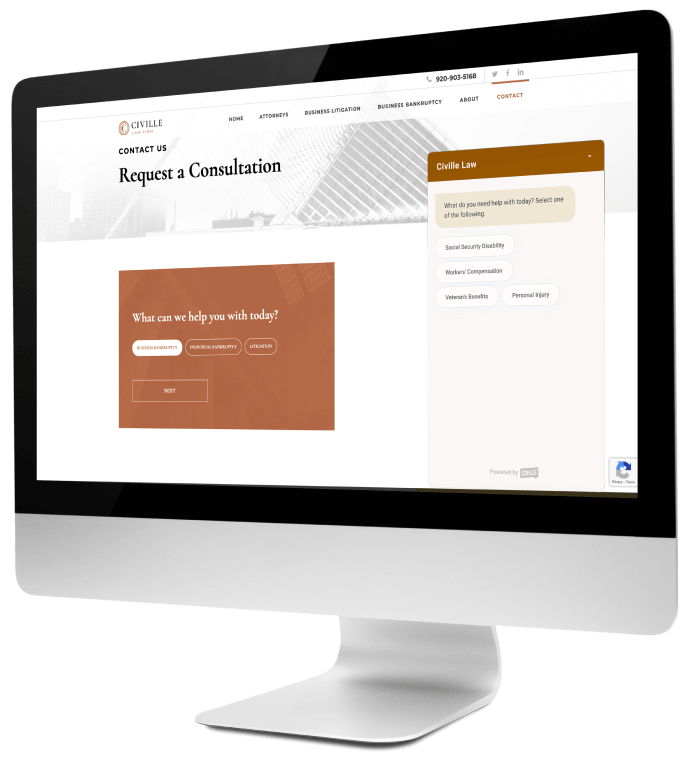 Lead Enhancement that's Concise
Make it simple for potential customers to contact you through tools like our Civille Law Forms and Civille Chat Tool. At the same time, qualify the leads ahead of time to optimize your internal processes and make the website work for you.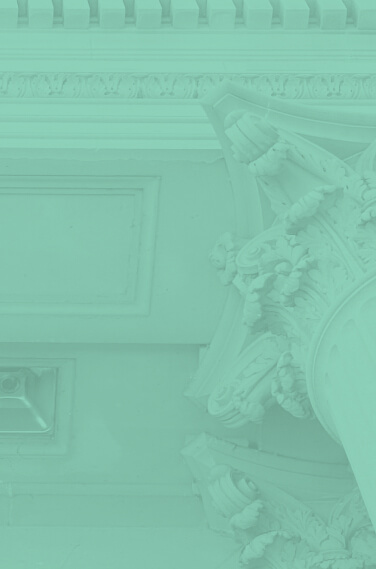 The Whole Truth And Nothing But
We hold this truth to be self-evident: there is freedom in transparency. We believe you should have access to how your website and marketing are performing, allowing for the best decisions possible. We show you all the evidence and make our recommendations based on that evidence. Let's talk.