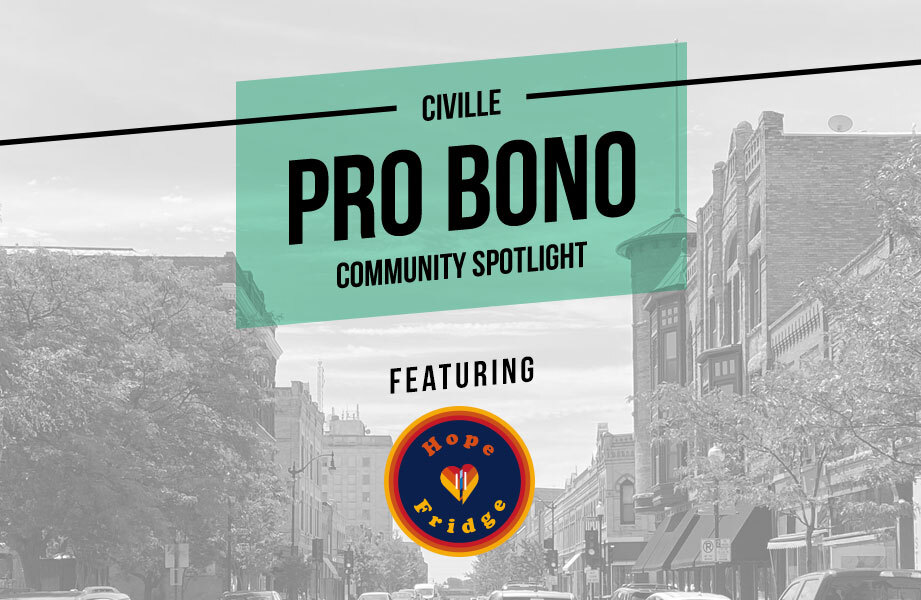 Civille entered the legal space to do what so many attorneys try to do — help people. One way we noticed we could do exactly that was by shouting out some of our favorite causes that tip the scales toward justice. 
Enter: Civille Pro Bono.
And for the first Civille Pro Bono article, we would like to discuss Hope Fridge.
What's Hope Fridge?
It's a mutual aid project that donates and manages community fridges in the Fox Valley of Wisconsin. Run completely by volunteers, Hope Fridges secures donated refrigerators and places them at host locations to serve the community. The hosts manage the electricity that runs each fridge, while volunteers stop by throughout the day to check the stock and maintain the temperature and cleanliness of the fridge. As of the writing of this article, there are three Hope Fridge locations in Oshkosh and Neenah, WI. And the best part? Hope Fridge will never require a person in need to explain their situation, answer questions, or fill out forms to get assistance. Why? Because red tape shouldn't be a barrier to ending food insecurity.
How did Hope Fridge Get Started?
In April of 2021, TJ Hobbs provided the idea: a community fridge, like others throughout the country, without barriers so the people who need food can get food, no questions asked. From there, a team came together to host the first fridge, build the structure that houses the fridge, collect donations, and develop the marketing materials necessary to get the word out. By June, the first Hope Fridge was up and running in Neenah, WI.
What types of goods does Hope Fridge accept?
Hope Fridge accepts a variety of ready-to-eat and healthy foods, such as fruits and vegetables, breads and pastries, and pre-cooked meals provided all ingredients are clearly labeled. Hope Fridge also has an adjacent pantry that accepts non-perishables like cereals and snack foods, household items such as toilet paper and laundry detergent, as well as personal care items like soap, shampoo, and menstrual care products.
Why Hope Fridge? Don't communities already have food pantries?
It's true: food pantries aren't a new idea, nor is feeding people in need. What differentiates Hope Fridge from traditional food pantries is that they don't ask questions. The food is ready and available. There's no need to fill out forms or tell your story while someone judges your worthiness to access food. There's also no religious affiliation, meaning anybody, regardless of faith, has access to food and household items if they need it. Previous programs, via religion and government, often have barriers via paperwork, determining worthiness, or asking that recipients adhere to certain behaviors. Hope Fridge believes solving hunger shouldn't come with preconditions.
Where can I find a Hope Fridge?
Currently, there are three Hope Fridge locations in the Fox Valley:
• In Neenah, at 160 Curtis Ave
• In Downtown Oshkosh, at 502 N. Main St, behind Wagner Market
• In Oshkosh's Northside, at 2837 Bowen St., inside Bowenstreet Repeats