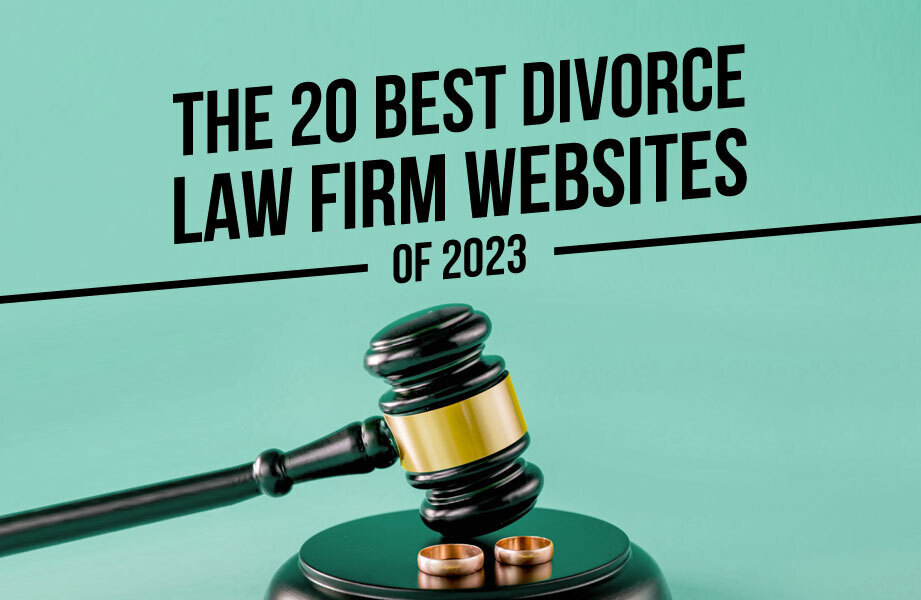 Law firms in a digital age rely on their digital presence to attract potential clients and that means lawyers need a high-quality website. A high-quality website may be the first interaction that potential clients have with your law firm and it leaves an impression for many. Civille is an innovative website provider in the legal space that can help your law firm create a website and online presence that online visitors will remember. 
Website visitors will remember websites that have an elegant and attractive design. They will remember if the website provides the information needed and if pages took too long to load. The first impression your law firm website makes may be a lasting one and we can help you design a custom website for your divorce law firm at Civille. 
Do you need inspiration for your law firm's website? We can help with this list of the 20 Best Divorce Law Firm Websites of 2023 created by Civille.
How Can a Custom Website Help Your Law Firm?
You may not feel like you need a brand-new website. You may be happy with a basic website – but do you know how a custom website can help your law firm? The benefits provided by a custom and quality law firm website are almost endless and can help improve your business.
A custom law firm website can:
Attract potential clients with an elegant and attractive website design that will catch your eye.
Support a well-developed online marketing strategy with informational, on-page content.
Implement quality SEO content to attract more online traffic and provide online visitors with the information that they need.
Provide an easy-to-navigate menu that puts the information clients need just a few clicks away.
Create a responsive website design that is attractive and fast on any platform and will rank better in Google search results.
We know that it can be difficult to find a quality website provider that will not break the bank. Civille wants to help you build online success for your divorce law firm and a custom website may provide the online presence that your firm needs. Use this list of the best divorce law firm websites to find design themes and ideas that you would like added to your custom website.
Check out our list of the best divorce law firm websites this year!
---
READ MORE: Top 20 Best Family Law Firm Websites of 2023
---
The 20 Best Divorce Law Firm Websites of 2023

Why We Like It
The Elise Buie Family Law website remains one of our favorites with a clean menu that makes it easy to navigate and a primary image that is the blend of landscape and family. A bold headline creates a clear and concise understanding of the law firm's website.

Why We Like It
This attractive website design is headlined by a slideshow of attractive hero images that are complemented by bold headlines and direct calls to action. The simple and easy-to-navigate menu makes this website attractive and functional.

Why We Like It
This custom law firm website stands apart from others because of a simple, elegant design. There is no scroll function on this website and users experience a beautiful primary image slideshow and an attractive menu that is simple to navigate.

Why We Like It
A beautiful overhead video of the Toronto, ON cityscape at night greets online visitors to the MacDonald & Partners, LLP website and when coupled with a simple, easy-to-navigate menu and practice area image links creates an incredible website experience.

Why We Like It
The AC Rieman Law website – created by Civille – puts the attorney at center stage and puts a face to the law firm name. The addition of on-page SEO content and an elegant menu complete this beautiful website design that has created positive results for the firm, detailed in the AC Rieman Case Study.

Why We Like It
When we talk about elegant design at Civille, the Levine Family Law Group website is a primary example with a simple white and turquoise color theme that is underlined by SEO content with image links to law firm practice areas.

Why We Like It
Bold and beautiful landscape images are a favorite theme for many website designs and are sure to make the website stand apart from others. The Denver Family Lawyers website features the Denver skyline at night with simple messaging and call-to-action buttons.

Why We Like It
Effective. Affordable. Fast. It is a clear and concise headline on the Carvajal Law website that is backed by a beautiful image that will catch the eye of online visitors. Call-to-action buttons and the easy-to-navigate menu make it easy for potential clients to find the information they need.

Why We Like It
The YLAW website features a brilliant hero image that is both serious and whimsical – and promises to make an incredible first impression on potential clients at the law firm. The scrolling images and SEO content on the page add to the website design.
Why We Like It
The black and orange color combination on the Modern Law website is simple and elegant – and the collage of attorney photos dressed in black creates a feeling of confidence for any potential clients to the Modern Law Team.

Why We Like It
Fresh and fun may be the perfect description for the Fresh Legal law firm website. The light blue background is punctuated by images of orange slices and bold headlines that convey the message of the Fresh Legal Team.

Why We Like It
We love the contrast of color and black and white on the Randal Lowry and Associates website that is punctuated by the elegant image of a Rhinoceros on the savannah with the colorful Divorce Can Be Tough, But So Are We headline.

Why We Like It
The Columbia Family Law Group, LLC website employs a simple and elegant backdrop of a historical home with a bold headline and call-to-action that are complemented by an easy-to-navigate menu.

Why We Like It
A peaceful landscape image highlights the Jones Divorce and Family Law homepage with an orange menu bar that is bold and attractive to potential clients. Additional call-to-action buttons add an element of functionality to this website design.

Why We Like It
The Eiges & Orgel Law Offices website is another favorite that puts the attorneys at the focus of the homepage and the attorney portraits are complemented by a beautiful backdrop of the New York City skyline. Elegant image links to law firm practice areas add functionality to this beautiful website.

Why We Like It
The elegant faded hero image of the Kraayeveld Family Law website is highlighted by a bold headline that exclaims the purpose of the law firm. Additional secondary images with SEO content punctuate the design as you scroll down.

Why We Like It
We love landscape images and the Roberts & Zatlin Family Law Firm homepage is highlighted by a snapshot of the California wine country and simple tile links to practice areas and SEO content that will help drive online traffic to the website.

Why We Like It
Arami Law, Inc. features a beautiful website design with a father and daughter at the heart of the homepage and a bold headline that is backed by simple menu links to the information that potential clients need.

Why We Like It
Anderson Family Law, LLC possesses a beautiful website design that may be hard to beat with a simple, yet elegant hero image of family cutouts and a gavel in the background. Beautiful secondary images with on-page SEO content highlight the page as you scroll down.

Why We Like It
A beautiful image of cherry trees in blossom greets online visitors to the Kinchloe Law website and leaves an indelible impression on potential clients. Couple an incredible hero image with a variety of SEO content and this website design is beautiful and functional.
---
READ MORE: SEO for Divorce Law Firms in 2023
---
Get a Custom Civille Law Firm Website!
We hope that we have provided some measure of inspiration for you and your law firm as you search for a website provider with a list of our Top 20 Best Divorce Law Firm Websites of 2023. If you and your law firm are looking for a high-quality website that will drive online traffic, convert leads and be attractive to potential clients – Civille is here to help.
Contact the Civille Team today for more information on our custom law firm websites, digital marketing and analytics services!