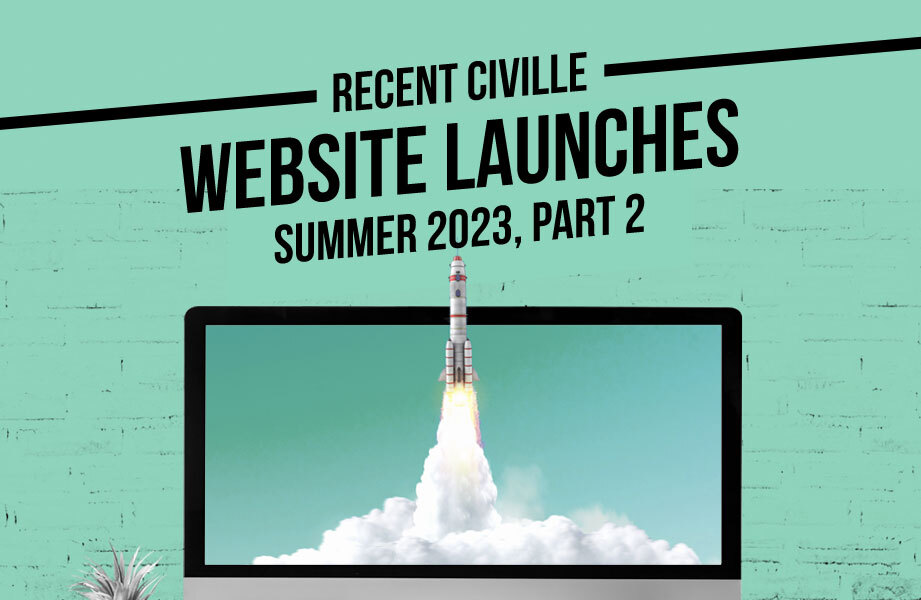 As summer comes to a close, we start to reflect on the good times we had. And here at Civille, we can't help but smile looking at the amazing websites we were able to launch in the span of a few months. 
We've compiled some of our favorites from the last month below.
AFJ Law Firm
Attorney Anthony F. Jackson is a personal injury & insurance law attorney in Bozeman MT. He knew exactly what he wanted in terms of design, and the Civille team was able to deliver a custom experience for him.
Jason Javie Law Office
Jason Javie Law Office has a custom approach to marketing and wanted a stand-out site for the Philadelphia personal injury practice. The result was a fast and fresh Civille website.
Centonzio Law
Centonzio Law has two very defined practice areas, with one being helping veterans with disability benefits. Attorney Javier Centonzio is a proud vet himself and needed a site that provided valuable information and resources to veterans like benefits and backpay calculators, and more.
Law Office of Mark Harford
Having a Missouri look and feel, including Missouri history, was important for the Law Office of Mark Harford. The finished product looks sleek on mobile and desktop, and helps highlight the Chesterfield attorney.
CoxEsq. P.C.
Attorney David Cox leads his Missouri and Illinois immigration firm proudly and wanted a site that properly represented it. The resulting Civille site gives potential clients confidence and peace of mind.
Stephen E. Robertson Law Office
Stephen E. Robertson Law Office needed a site that gave families and professionals a calming feel. They also wanted to be able to serve clients from various backgrounds, so a language switcher was key. The result is a premier site for a family and business law firm in Greensboro NC.
Steven Jones Injury Law
Attorney Steven N. Jones has been practicing personal injury law in Atlanta for years but recently rebranded his firm. He needed a new look and feel – and consultation on the best name and branding. He got that assistance from his partners at Civille.
Gold Law Firm
Attorney Sarah Gold was looking for a new design and better online results for her firm. She found it with Civille – and she was even able to integrate her online scheduling tool with her Clio Manage to further streamline her firm.
Law Office of J. Kevin Clark, PC
Kevin J. Clark wanted to advertise his firm in a new way, and also provide a better way to get his e-book in the hands of prospective clients. He was able to do that with his new Civille website, which provides a downloadable version of the book and also provides him a lead source for his Fort Worth divorce firm.