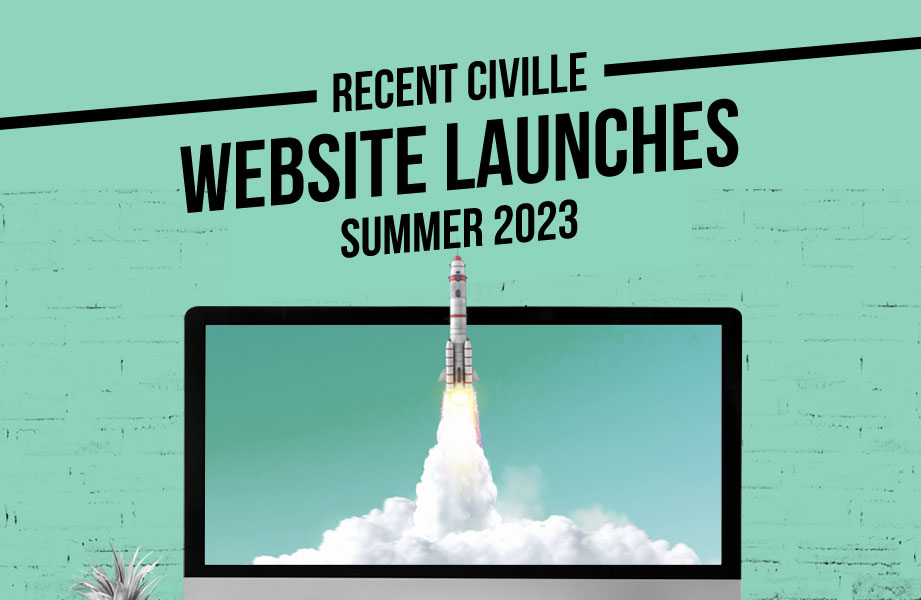 The fireworks have been going off this summer at Civille. 
The website team has been busy launching law firm websites on our custom speed-enhanced platform – with plenty more to come. Let's take a look at some of the unique sites that have been able to grace the internet so far in 2023.
Columbia Family Law Group
The Columbia Family Law Group is well known in, you guessed it, Columbia MO, as the firm to turn to when you need a trusted source for any family-related legal issues. 
Leadership at the firm had a specific vision for how their new website would look and feel – and the team at Civille was able to make it happen for them. The result is a welcoming website that performs even better than it looks.
Rozier Hardt McDonough PLLC
Rozier Hardt McDonough, better known as RHM, is one of a wave of new technical law firms that patent, trademark, and other complex litigation. 
The firm wanted a website design that made it clear that they were a new-age firm and Civille was able to do that for them in a big way.
The CYA Law Firm
Cover Your Assets. That's what the cleverly named The CYA Law Firm is all about helping people with – asset protection legal service in Florida. 
Obviously, the firm needed a site that was just as clever as their name – and Civille delivered top to bottom with a new logo, full design, and custom integrations to their Clio legal CRM products.
L Jennings Law
Attorney Ledly Jennings started L. Jennings Law from the ground up recently, and badly needed a website and digital presence that allowed him to showcase his Little Rock and Magnolia estate planning firm. 
The website, along with custom marketing deliverables, has quickly allowed Ledly to get his business kicked off and thriving quickly.
Bielski Chapman LTD.
Standing out as an estate planning and transactional law firm in Chicago isn't easy. The team at Bielski Chapman knew they had to go with someone unique to help their firm set itself apart – and they found Civille. 
The custom design is one aspect – but the site is fully integrated with the firm's Clio CRM tools from a custom scheduling tool to Civille custom law forms. 
Jackman Law
Attorney Ryan Jackman was starting his own real estate firm in Valencia CA and needed to quickly get a site live to get started. Civille was able to get a landing page live within a week, with the full site to follow. 
Ryan has been pleased with the appearance and performance of his new site, as it keeps him busy with work for his firm.
Unruh Law
Unruh Law proudly serves our nation's veterans with legal services that can help them retain life-saving benefits.
While Unruh Law is a California veterans' benefits firm that serves clients nationwide, Attorney John Unruh didn't want his site to look like every other VA law firm site. The result was a softer feel for the site that gets the point across.