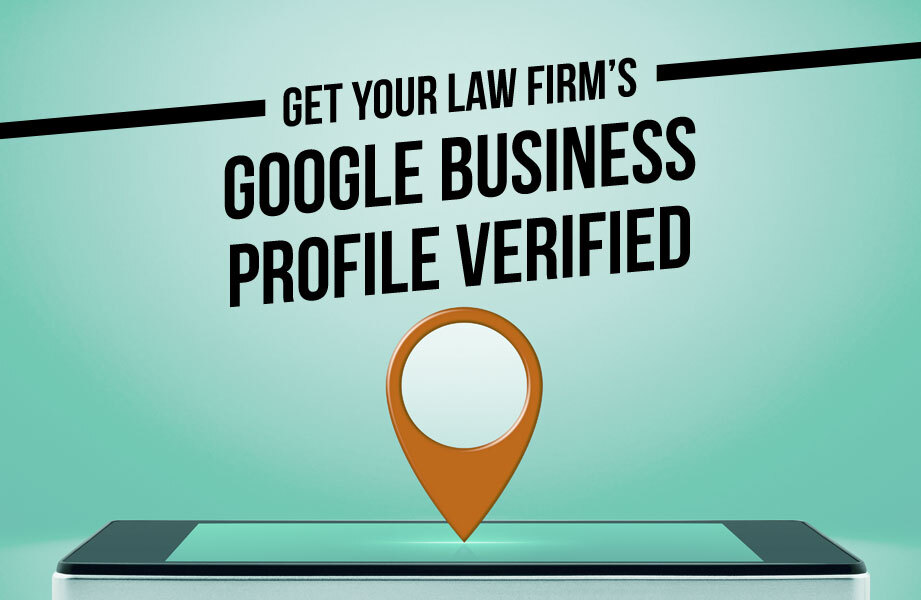 If you don't know what your Google Business Profile is, you should. Google creates these pages for a lot of businesses. If one has already been created for you, you'll have to claim it, and if one hasn't been created, you should create one. The problem for many law firms comes when it's time to verify your business. Civille can help walk you through the steps to get your law firm's Google Business Profile verified.
What Should You Do Before Verifying Your Google Business Profile?
Before you even attempt to verify your business, it is important that you take some extra steps. Some of these steps are not mentioned in Google support articles, but they have proven to be helpful in ensuring a successful verification.
Accuracy—Ensure that the information in your profile is accurate. This means your law firm's name, address, phone number, and website url.
Website—Though it is possible to have a GBP without a website, having a website will help add legitimacy. Here you will also want to make sure that any information listed on your website is accurate with what you are trying to display on your GBP. This also includes if you are adding additional locations. Any locations should be listed on your website.
Listings—This is the step that a lot of people don't think about. You will want to check all your other listings on the web or create them if you are a new business. This includes places like Apple Maps, Yahoo, Bing Places (which you can link to your GBP), Yelp, YellowPages.com, and more legal-specific listings like your state bar's website, Avvo, and Findlaw. Any place where your law firm is listed, you should ensure is accurate with what you are attempting to display on your GBP.
Why is Verification Important?
Without verification, your profile will still be visible and it may still even rank at least for a time. People can even still leave reviews. However, without verification, you will be unable to respond to reviews, or make changes that will be reflected in searches, and eventually, your profile could get suspended or even removed entirely from Google. Once a profile is removed, there is no way to get anything back either.

This means any reviews that were lost, images that you or users had posted, and any optimizations you did will be lost and you will have to start over. Luckily, Google is slow to take these drastic measures and you should have months to make the fix before suspension and removal take effect. Even so, as verification can be time-consuming and can sometimes take weeks to complete, you will want to get started right away.
---
How to Get More Google Reviews for Your Law Firm
What are the Verification Methods For GBP and How Do You Complete Them?
Google is always tweaking and modifying its Google Business Profiles and that includes the ways in which it can be verified. Currently, there are five methods of verification but Google will control what methods you have access to so do not expect to see all of these as options when it comes to your profile.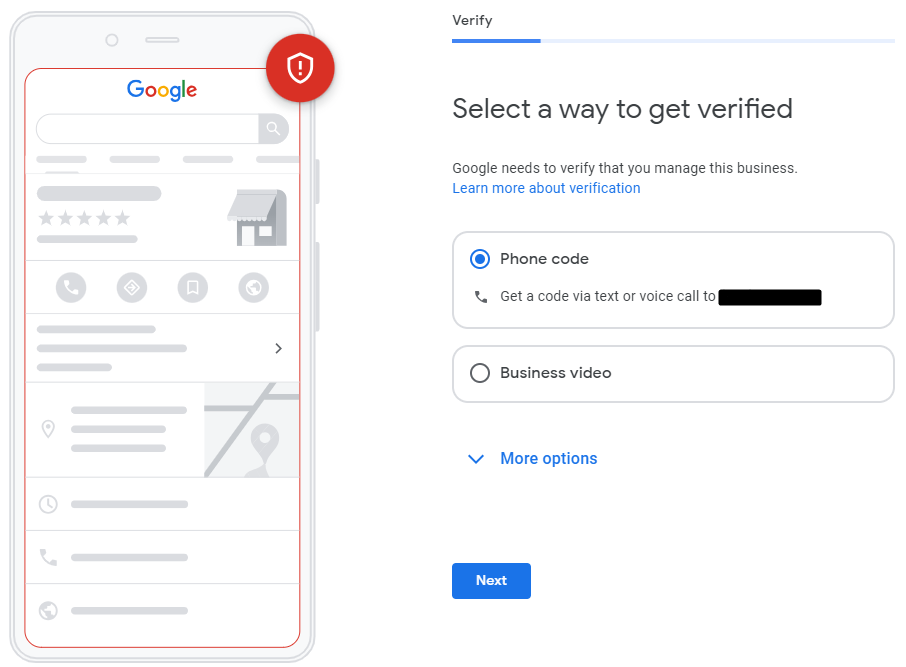 Postcard—This is an old method that still seems to be showing up from time to time for some businesses. This just triggers a real postcard to be sent to the address listed on your profile. The postcard will have a verification code that you will need to type in to verify your profile.
Phone Call—SImilar to the postcard, this is another method to provide a verification code. This phone call or text will have to go to the phone number listed on your profile.
Email—The email is another way to get the code. This can go to any email you want so long as it is in the same domain as your website. In other words, if your website is lawfirm.com the email you send the verification code to will have to end in @lawfirm.com.
Video—The video verification option is becoming increasingly common. We will provide specific tips for this one as it can be complex. The video though is not one that you shoot and send in, but rather one that you have to do on a phone or device with access to your Google Business Profile. This can make it tricky if you are trying to verify an office that anyone with access to your GBP doesn't get out to very frequently. To work around that you may want to provide GBP access to someone at that office.
Live Video Call—This is just like the video except better because you will be on a live video call with a Google representative. They will be able to provide some guidance as to what you need and let you know if you should have a successful verification. Given the two video options, you should select this one.
Keys to a Successful GBP Video Verification
You will want to plan your video verification before attempting. Before even attempting a video verification, make sure that you have done the steps we listed above in our things to do before the verifying section. Your video should be as short as possible, include everything that you need, and still be one continuous recording. The things that Google requires include: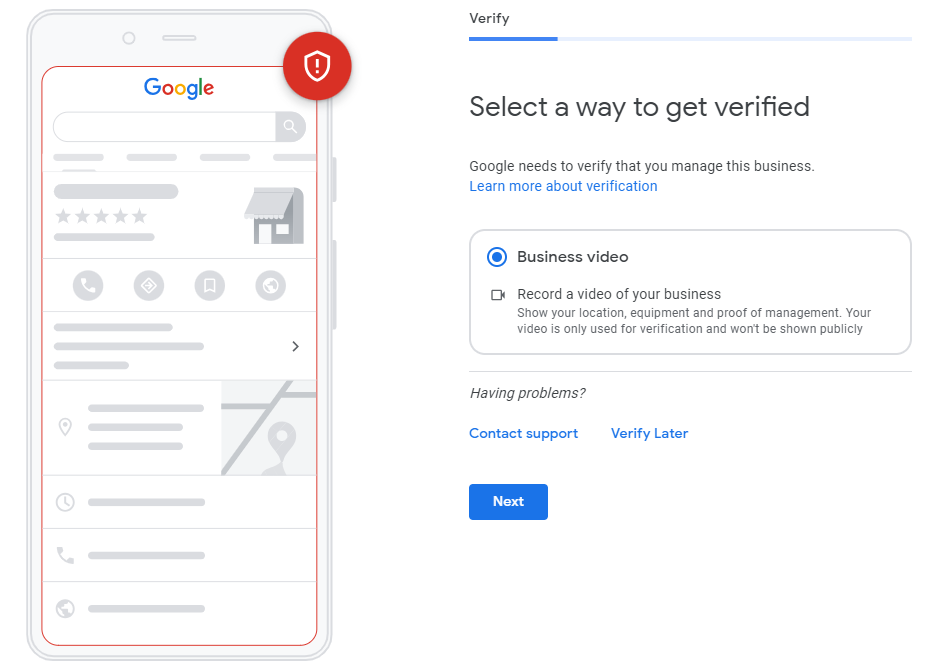 Proof of Location—You will want to capture your location from outside your business. If possible include street names as well as surrounding businesses before entering your own business.
Show Business Branding/Signage—Make sure that you show your law firm's signage as well as any branded equipment or marketing materials you may have. Branded legal pads or pens are good to include as well.
Proof of Management—Google wants you to prove that you are authorized to represent your business and the best way that they have for this is to show that you have access to areas or terms that only an employee would. For your law firm this could mean a locked front door or any locked interior doors including storage rooms. You can also show any non-sensitive business documents.
The review process can take up to 5 days. Unfortunately, if a video is unsuccessful, Google will not provide a lot of feedback as to why. You should also plan to have to do the video verification more than once. Hope for the best and plan for the worst is a good strategy to have in mind when it comes to verification. Video verification is still a relatively new process for Google as of 2023, and it's still very messy and inconsistent.
What if There Are No Methods to Verify Your GBP?
If you have tried verification, especially video verification, a few times without success it is possible that the next time you go to verify your business you are left with no options to verify. At this point, you have to create a support case with Google.
If you have a legitimate firm with a real address and everything, then the support case should just be a formality and the end result will be that you have another chance to verify your business.
Sometimes after verification especially with the video options, your profile still won't verify. At this point it may be a good idea to create a support case as well. We've definitely seen it happen where after a video or live video call verification an additional support case was able to get the profile verified. In other words, when you are struggling to get verified, and you know you are doing everything correctly, make sure you try Google support and keep fighting.
Can an Agency Help You With GBP Verification
Don't let a snake-oil salesman trick you into a service. Though an agency like Civille can do a lot to support you with Google Business Profile management, we can create support cases on your behalf, and we can even walk you through verification and provide tips. We cannot do the verification for you nor can any agency.
Sometimes you get lucky and don't need verification at all, but when verification is required, someone on site will almost always have to do it. You need someone to receive the postcard at the address, pick up your actual phone, or open your actual email. For video, you will need even more than that as you will want someone with an actual key to your business like we mentioned above.
---
Responding to and Removing Google Reviews for Lawyers
Why Would Your Law Firm's GBP Need to be Re-verified?
Re-verification actually happens quite a bit these days on Google Business Profiles. It used to be that once your profile was verified, there was very little that would need to be done to maintain that verified status. Of course, it also used to be that verification required a simple postcard code.
In truth, part of the reason all these new verification methods are being implemented and why Google is often requiring re-verification is because the GBP system has been frequently abused by businesses across the spectrum including law firms. Businesses would set up fake offices or locations just to increase their reach and with a postcard, all they really needed was someone at an address to receive the mail for them so they could verify.
There are a lot of things that can trigger a re-verification. The problem is that Google will not provide that reason for you, and in truth, no one except Google knows all the ways a profile could trigger re-verification, but we do know several. Unfortunately, if you got away without the tedious video verification, chances are a re-verification in the future will require one.
What Can Trigger a GBP Re-Verification
We have found several common causes that often trigger a need for a re-verification. Some of these may be unavoidable as your business grows and evolves, while others, with proper planning, can be avoided.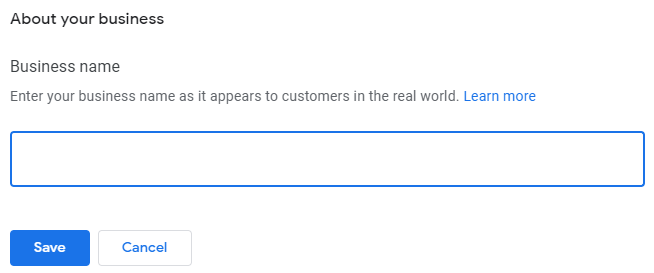 Business Name Change—A change to your business name, even a subtle one and even one suggested by Google can sometimes trigger a re-verification. This is why it is important to have your business name pinned down before you even create your profile.
Address Change—When your law firm's address changes even from a minor office move, you can expect a re-verification.
Change to Your Business—This likely won't apply to most law firms, but if you make a big change to your business, for example, if you change from an accounting firm to a law firm, you could trigger re-verification. Such changes in the legal industry are rare, but take this into consideration if you are modifying primary business categories.
Information Mismatch—Google sees all on the Internet, and its algorithm is always trying to tie everything together. If it sees a listing on a website with your business name but a different address or your address but a different name, it can trigger a re-verification. These can happen at any time as Google's algorithm crawls the Internet.
Suggested Changes—If Google users are suggesting changes such as stating that your address is wrong, your business is permanently closed, or your business name is different, you can always deny these changes, but the suggestions may result in a re-verification request.
None of these are guaranteed to trigger a re-verification, but they are common causes. If a re-verification isn't triggered upon making a big change such as to your business name or your address, you should still keep a close eye on your profile. Often the need for a re-verification won't trigger right away.
---
Google Business Profile Guide for Lawyers
Let Civille Manage Your Google Business Profile
At Civille, we can manage your law firm's Google Business Profile even if you don't have a website with us. Of course, we can help with that website too. We will not only be able to support you during verification, but we can manage and optimize your Google Business Profile as well with posts, routinely updated services, review management, and more. Reach out to us today!