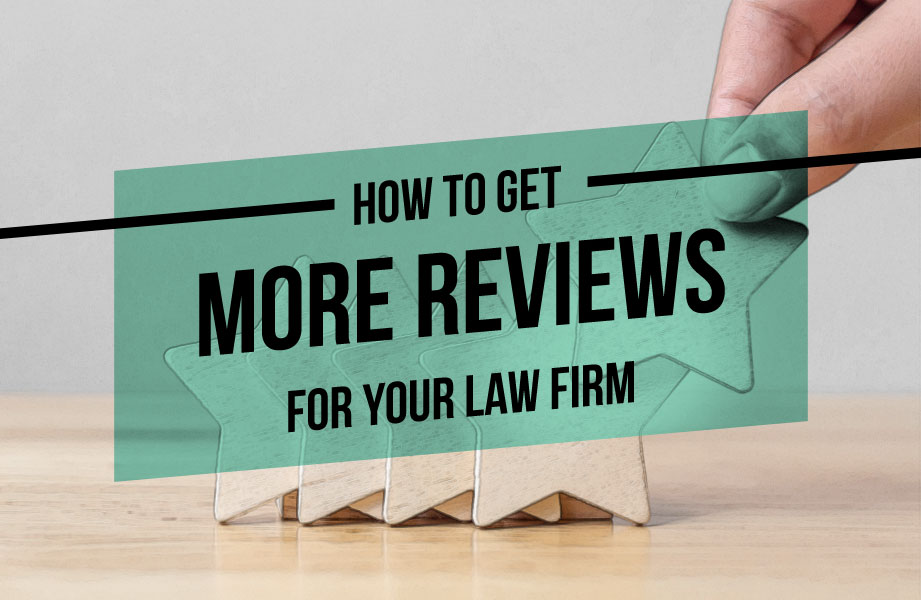 Choosing the right law firm can be the difference between winning and losing a case. But how does someone know they are getting a trustworthy, successful law firm? 
For years, we've been spreading the message about site design being a deciding factor for individuals researching legal representation. And this is even more true now. But another factor that is equally important today is online reviews, namely, Google reviews.
Think about it. You likely have rifled through reviews when deciding where to get food on a Friday night. Given the low bar of that interaction, don't you think that reviews are going to factor into the decision when it comes time to need the services of a law firm?
How to Get More Google Reviews For Your Law Firm
If you aren't entirely sold on the importance of Google reviews for your business, consider this: A recent study asked 300 people how critical online reviews were when selecting a lawyer to work with. An alarming 84% of the respondents stated that they would not hire an attorney if their average review score were less than four stars.
So how do you get more Google reviews–and more importantly–how do you get more positive Google reviews?
First – Consider Quantity versus Quality of Google Reviews
Before we dive into how to obtain the Google reviews, it's important to cover a few items concerning quantity and quality.
If you have very few reviews, one negative review can drop you from a perfect 5.0 to a 3.3 in an instant. Therefore, if you don't already have a good amount of reviews on your profile, you are at greater risk of tanking your business in the eyes of many prospective clients.
In the same breath, if you have a lot of reviews but haven't had a system in place to encourage positive reviews, you may already have a poor score, and it's going to take more time and effort to dig yourself out of the hole to improve your average.
The best situations to be in are having a young Google profile that you can help nurture into a high score or having a plethora of positive scores already built-in that you want to continue to advance.
With that out of the way, we'll start to talk about how to get better reviews.
Put Review Gathering into Internal Processes
One of the best things you can do to encourage more positive reviews on your Google Business Profile is to install an internal process to help make sure that your happy clients leave reviews.
This process can be as simple as sending successful cases a message encouraging them to review you on Google, with a link to your Google Business Profile review form. You can find this link on the home screen of your Google Business Profile Manager with a button that says "Share review form."
By sending an email out to happy customers, you will likely get positive feedback. Someone who just won their legal case is at the best point to speak positively about your law firm. This system can be implemented within your CRM or outreach initiatives.
If you don't have a CRM, you and your team can manually do follow-up calls and emails to these customers, with review encouragement as a small part of the process.
Reward Clients for Leaving Reviews
If you want to take your process to the next level, you can provide an incentive for individuals to leave reviews and provide the link for them to review you on.
This strategy does cause a need for caution, as law firms need to make sure they are following the policy of the state bar associations. As a general rule, it has been largely decided that law firms can incentivize reviews as long as they are not offering the incentive purely for a positive review, allowing for the individual to leave an unbiased review.
Utilize Tools for Review Gathering
There are options to further automate the review process with tools used for review gathering and management. While there are multiple tools of various popularity and success, the downside is that they often cost a good chunk of money.
Cost-free ways to automate review generation include putting a link in email signatures and client communication pieces.
In addition, we have a review tool for law firms here at Civille that helps law firms cleanly gather more positive reviews. Ask us for more information on our tool that comes free with Google Business Profile optimization services and website packages.
Quality Law Firms Get Quality Reviews
One of the easiest ways to get quality reviews is simply having a law firm that is responsive, personal, and gets results. If a firm is regularly winning cases, and–even when not winning–is attentive to all client needs, it will organically drive positive reviews.
Simply put, if a law firm has a good business model, great staff, and strong processes in place, it will generate quality reviews without doing anything else. But that also doesn't mean there isn't a need to grease the wheels to obtain more positive reviews. Because everyone knows, even if you do everything right, you will always get a client that is unhappy that will let the world know with a review.
You Are Doing GBP, Right?
Everything listed in this post pertained to getting positive reviews for law firms. But this was with the assumption that the firm has the basics set up–the profiles for individuals to actually leave reviews.
The main review source, and the one that was focused on within this post the most, is the Google Business Profile. If you haven't claimed this listing, or don't do anything to optimize it, you are missing out on a lot of phone calls, website visits, maps views, and much more.
We've compiled an entire guide on how to optimize your Google Business Profile listing and how to maintain it month-to-month. We also specialize in this service for those firms that need the help of an expert.
If you have questions on our review tools and Google profile services, don't hesitate to reach out.