We all know how competitive the legal landscape is. When it comes to estate planning law firms, it's no different. Making your estate planning lawfirm stand out and different online (in a highly competitive landscape) is important. And while this may sound like a difficult challenge, it doesn't have to be. Making tweaks and additions to your online presence and your estate planning digital marketing strategies can go a long way in making you stand out above the crowd. And more importantly, growing your estate planning law firm. Before you do anything though…
Define And Know Your Target Estate Planning Audience
Before we deep dive into digital marketing strategies, it's important for any brand to understand who you are targeting and why. Knowing your target audience, the questions, concerns they have, and everything else in between is the key to building a successful marketing strategy and brand. Even if you think think you know the answer to this, but it's always a good exercise to continue to refine and analyze. Some things to ask yourself:
Analyze your existing customers:
What demographics are commonly shared ?

Age / Gender / Family Size / Marital Status
What's their age and gender?
What's their marital status and family size?
What do they do for a living?
What is their income?
Where do they live?

What services do most require? Do you typically provide or upsell any services?
What are their most common questions and concerns?
What are their goals, or outcomes they are looking for with your services?
Why did they choose you?
Narrowing down your target audience can help you build customer profiles and personas to use within your website and marketing.
Define Your Brand and Build Unique Value Propositions
Setting yourself apart from your competitors, and more importantly speaking to your ideal customers starts with your brand. Why should they do business with you, and not the firm down the street? It's important that you clearly convey who you are and why your firm may be the best choice. Here are some things to ask yourself:
What's your or your firm's story?
Why did you become an estate planning attorney? 
What makes your estate planning law firm unique? 
Do you bring value to your current clients or those you represent? More than other estate planning lawyers?
What do you consistently do better than other estate planning law firms? 
Knowing your value propositions are a great way to shape your overall web presence. And more importantly, build trust in your firm with prospective clients.
Optimize Your Estate Planning Law Firm's Website
If you've read any of our other blog articles, you'll know we consistently harp on the importance of optimizing your website. And for estate planning law firms, it's no different. Having killer digital marketing means nothing if your website isn't optimized. As an estate planning attorney, make sure you're optimizing your site:
For your brand. If you aren't showcasing your value propositions and speaking to your customers through your site, you're doing it wrong. Build a site that focuses on who you are, what value you provide, and why people should do business with you. And don't forget to tailor your images, content, and everything else in between to your customers.
For speed & functionality. Speed plays an important role not only from a users' experience, but also from an SEO perspective. Having a site that is fast and responsive on all devices ensures a great user experience and better search engine rankings. Cleaning up your code, CSS styles, excess third party scripts, image sizes, etc. can go a long way in improving your speed.
For conversions. Building capability, and functionality to allow clients to contact you, ask questions, and/or schedule a consultation is important, especially when running digital marketing campaigns. Optimize your call to actions and ensure there's multiple ways for people to get in touch with your firm.
Setting up yourself for success with any digital marketing first starts with your website. Having a website that's modern, fast, and functional on all devices matters. And even more importantly, one that sets you apart and showcases your personality and brand is critical to your success. Building trust in your brand starts with your website. Don't ignore the basics.
#1: Build a Continuous Blog Strategy
Adding continuous content to your site is a great way to speak to your customers and grow your organic search rankings. Unique content is not only essential to have throughout your site when you build it, but essential to regularly be adding it to your site. A blog is a great way to continually add unique and useful content to your site.
Before you just willy nilly add a blog and start writing content, build a plan that encompasses many topics. Doing appropriate keyword research not only on legal related search terms, but also things that are important in your local area is the key to building a successful content strategy.
Here's some ideas:
Highlight local events. Local events that you may be attending, sponsoring, or speaking at can serve as great blog topics. But even holiday events like "4th of July" or "Halloween" offer a great opportunity to rank and gain exposure for your firm.
Provide updates on news that can affect your customers.
Use common FAQs from clients/prospects as blog topics. If you have common estate planning questions from clients, consider using these as blog topics.
Write content for Local long tail searches. Some examples – "How much does a will cost in Illinois?" "How to set up a power of attorney in Illinois?" "How much does probate cost in Illinois"
Write content on national long tail searches. "What things should I put in a will?" "Do you need a lawyer to make a will?"
Keep in mind, organic traffic doesn't happen overnight. Granted we have seen some blogs take off instantly, but for the most part it could take a few months to pay dividends and start getting traffic.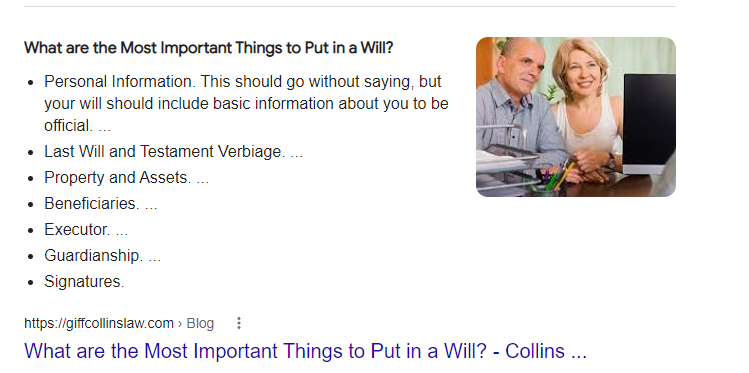 #2: Optimize Your Home Page and Interior Pages For Local SEO
While a continuous content strategy is extremely important, don't ignore what you have on your site currently. It's important to make sure other pages throughout your site are optimized for local SEO from both a content and a technical standpoint. So what does this exactly mean?
Optimize Your Interior Content & URLs
Every piece of content throughout your site should be unique, and valuable to the user. As you're combing through your interior content, audit your pages to ensure they are not only unique, but also are rich and relevant to your local area. Include content not only on the types of services you offer, but areas you serve. Consider optimizing your URLs to include your city, state, and other keyword rich pieces.
Optimize Your Technical SEO
Your interior content is extremely important, and should include keyword rich content that's valuable and relevant to your firm. But don't overlook the structure of your content and other technical SEO pieces. Title tags, Meta information, H Tags, Alt Tags, Schema Markup, SSL certificate, and sitemap are all pieces that should be used, and structured appropriately. Consider running an SEO audit to pinpoint errors and opportunities.
#3: Optimize Your Google Business Profile
Optimizing pieces of your site's SEO is important but don't ignore other off-site opportunities. For those that don't know, off-site SEO is considered things that take place outside of your site that helps contribute to your rankings, as backlinks.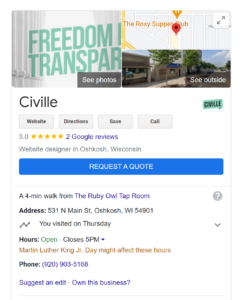 One of, if not the most important off-site tactic is your Google Business Profile. Too often, law firm profiles are left to sit, and don't get the attention they need. If managed and optimized regularly, your Google Business profile can be an excellent source of traffic and leads. If you're struggling to show up in the top 3 results on Google, here's some ideas you can do to optimize your estate planning Google Business profile:
Include "Family Law" or a specific practice area in your Name – "Civille Law Group | Estate Planning Attorney Oshkosh"
Optimize your services to your number one practice area. The first service should be specific to your practice, and not just law – consider "Family Law" , "Estate Planning Attorney"
Optimize your description to include locations and specific practice areas
Add in Products for your packages or more defined practice areas
Measure results by tagging your website URL and checking in on Insights from your page
Add consistent posts to your profile – HINT: Your blog articles make great posts
Respond to all reviews
Add consistent photos to your profile
If you want more help with your Google Business profile, download our guidebook here.
#4: Develop a Consistent and Creative Social Media Strategy
Social is another great off-site SEO tactic to develop social media profiles. Just like lawyers' Google Business profile, social profiles are another piece that often gets overlooked or ignored over time. Building a consistent social strategy helps connect with your customers, increase awareness of your brand, and helps drive traffic and leads. At the very least, get on the basic channels like Facebook, Instagram, and LinkedIn and expand from there. If you're looking for content ideas and best practices, here's some starting points:
Use your blog articles as posts
Create short videos – answer common questions from prospects and clients. Highlight your value adds!
Highlight your client success stories
Repurpose old content, blogs and things that have worked in the past
Use hashtags on LinkedIn & Instagram
Build a consistent schedule and calendar
#5: Boost Highly Engaged Social Media Posts
One of the easiest ways to grow social media channels, and drive traffic is to boost posts on your channels. Even if posts are not highly engaged with, boosting content and things that drive back to your website are great ways to not only reach more people, but to drive people back to your site. No need to go overboard with your spend, you'd be surprised how far a few bucks here and there can reach. And as with any paid initiatives, make sure you focus your audience. Facebook/Instagram and LinkedIn all have targeting options that include many things that are important to family law attorneys – marital status, family size, life events, and of course local radius and city targeting.
#6: Set up Local Service Ads
Developing an SEO and social strategy can take time to create and gain traction. And while it's extremely important, if you're looking for a significant boost ASAP, Google Local Service Ads is your ticket.
Local Service Ads has taken off over the last year, but they still offer a great opportunity, especially for estate planning law firms. The difference between Local Service Ads and other paid media initiatives is that you pay for leads, and not for clicks or impressions. If you're a firm that has limited funds, local service ads offer somewhat of a guarantee when it comes to results. With proper setup, fine tuning of target areas, you could easily see results at $20-$50 per lead. If you need help with optimization or setting up your account, check out our blog here.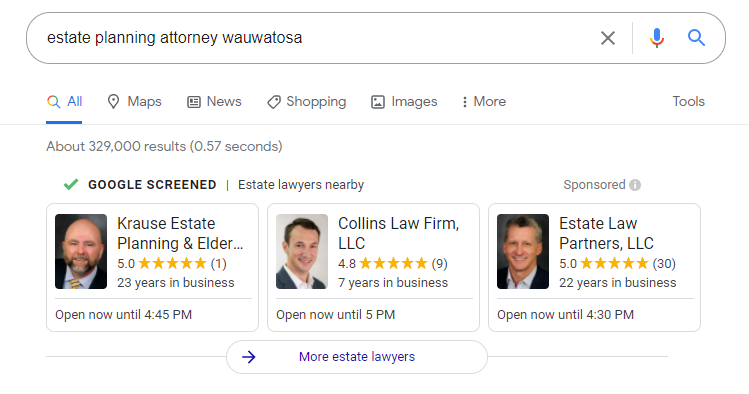 #7: Build a Focused Google Search Ads Strategy
While Local Service Ads have generated a lot of buzz recently, Google Search Ads still have a place in your marketing strategy. And while it may not be as much of a guarantee as Local Service Ads, there's still ample opportunity to reach in-market buyers in your local area.
Things to think about:
Optimize your keyword strategy for things that matter most to your business. For example: What pieces of your estate planning practice are the most profitable to your business? What pieces do most look for when coming to your firm? Is it wills, trusts, or something else? These pieces matter because your best strategy is to focus on the things you know that sell.
Focus on long tail keywords that offer higher intent – longer tail keywords = greater intent, and often better cpcs, and of course better results.

Local and city keywords – "estate planning Oshkosh, WI"
Near me keywords " estate planning attorney near me" "local will and trust attorney"
Best, top-rated keywords "best attorney for estate planning"

Focus your messaging – Just like your website, you should make your ads stand out. Highlight your value adds and why people should choose you.
And lastly, make sure you utilize ad extensions to improve your CTR and conversions.
#8: Build a Retargeting Strategy with Google and Facebook Ads
Reaching people who have already expressed interest in your brand. Sign me up. That's exactly what retargeting is – you show ads (either on other websites or in social channels) to people who've expressed interest in your estate planning law firm. By implementing a retargeting strategy, you can encourage people to take action and connect with you. Think of it as a digital billboard. It's a relatively simple, but effective strategy that can help continue to boost awareness and traffic.
If you need help in building an effective strategy, feel free to reach out to us here.
#9: Encourage Existing Customers to Leave Reviews
Did you know, 90% of consumers read reviews before visiting a business. Higher reviews drive more conversions. And the problem is most estate planning law firms don't make it a priority to increase their reviews. Your Google Business profile probably is number one when it comes to where people look at reviews. But they aren't the only place people search. And did you know that reviews from Facebook and other directories can show up on your business profile page, and in search results? The point is, there's many places people can leave reviews, and you should look at ways of encouraging them to leave positive reviews! Here's some ideas on how to improve your reviews:
Add in review link to your email signature
Send follow up emails asking for reviews
Share your review link to Google in social media
Add QR code to review link on your business card
And just provide great customer service – reviews come naturally if you're great at what you do and your customer service is stellar.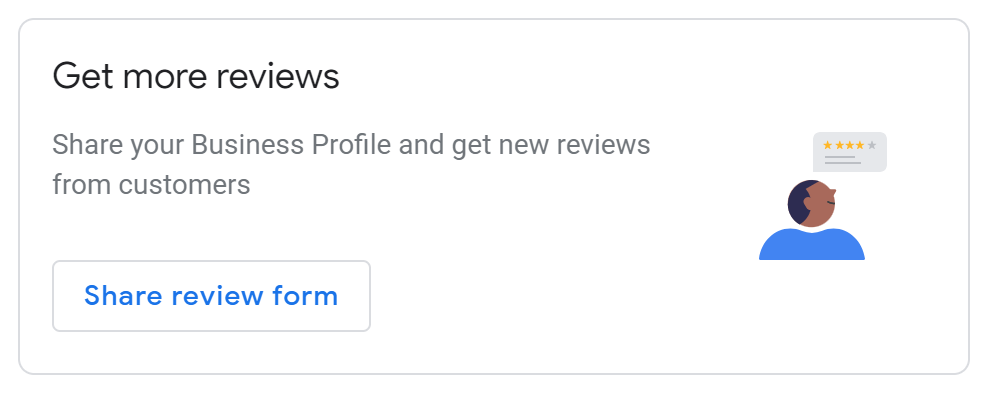 #10: Send Monthly Newsletters to Customers/Prospects
A newsletter is an effective and very affordable way to reach a new audience and to generate trust with your current customers. By sharing helpful information and advice, you give your readers valuable insights while making them aware you understand their estate planning needs. Here's some ideas you can incorporate in your newsletter:
Add in your blog content . This one is self explanatory.
Highlight events, speaking engagements, webinars. Sponsoring or hosting a local event? Speaking at an event? Doing a live video? Hosting a webinar? While these all may not apply to you, they are great things that can not only increase your exposure in your local community, but build your audience.
Ask for reviews and referrals! As with the previous suggestion, email is a great way to encourage your existing or previous customers to leave positive reviews. Include links at the bottom of your page or make it a prominent piece of your newsletter. And we all know how important referrals can be in the legal space. Encouraging these same clients to refer (or offering some sort of referral bonus) is a great way to build your reviews
Upsell to existing customers. Estate plans can change or require change over time; especially as families grow, businesses evolve, and people grow older. It's often a great opportunity to encourage existing customers to expand their packages. Tailoring monthly newsletters or a combination of one off email newsletters to existing customers is a great opportunity to encourage customers to continue to build their plans.