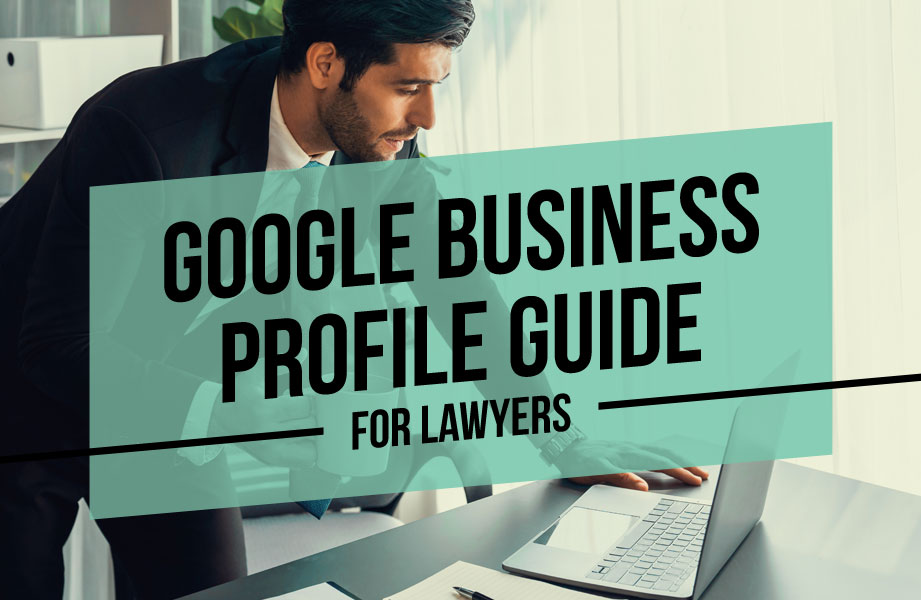 Every business needs a Google Business Profile, and that certainly includes lawyers. Civille is here to help with our Google Business Profile guide for lawyers. We'll walk you through everything that you need to know about your law firm's Google Business Profile. To start with, how about a little terminology? Google Business Profile is also known as a GBP page and was previously known as GMB or Google My Business. No matter what you call it, let's learn how to set one up.
How to Add or Claim Your GBP
Before you can do anything with your Google Business Profile, you need to claim ownership or control over it. If someone at your firm already controls it, then they can grant access to anybody through "Business Profile Settings" which is accessed through the three vertical dots in the upper right of your profile page. In the "Managers" tab, owners can add or remove members and even transfer ownership. If no one has ownership, then you will either have to claim or add your profile. You'll want to start this process signed into Google from an account that you will always have access to. If you are the firm owner, it's best to do this from a personal account. This is in case you would ever decide to change business names, email addresses, etc, you will still have access through your personal account.
To start, you will want to go to Google Maps. Once there, type your address into the search bar. Even if no one has ever created a profile page for you, it is possible that Google has already begun one. If this is the case, you will see your business pop up, but there will be a "Claim this business" option. If the address doesn't have your business tied to it yet, then you will see an "Add your business" option.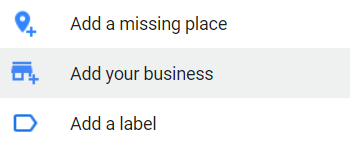 Afterward, follow the on-screen prompts. These can be a little different for each business, but just make sure you are accurate and that you have all the information you need including address, phone number, website address, and business name before you begin the process. For your website address, you may also want to consider using a URL that includes UTM codes for the purposes of proper tracking in Google Analytics.
Everything else you can tweak to your heart's content, but tweaking these items can cause verification issues. In the "Business Information" section below, we will cover a lot of stuff that could appear during this setup process further.
How to Verify Your Firm's GBP?
There is no simple answer to this question other than to say that Google will tell you what it needs. Sometimes claiming or adding a page is as simple as doing it, and no further steps are required. Most commonly, they will require a postcard to be sent to that physical address. This card will have a code on it that will be needed for verification.
Google has gone further than this though. It is not uncommon for Google to request photos of the building with signage and address or even a verification video of someone showing signage and walking into the building. It's also not uncommon for a page to be verified and then lose its verified status and need to be re-verified. This re-verification is commonly triggered by business name changes and updates to key info like address or even phone number. For these reasons, you will want to make sure that your initial setup is done properly the first time. Re-verification isn't the end of the world but it is a pain to deal with.
What Business Information Should You Edit on Your GBP?
A lot, if not most of this should have been handled when you went through the setup process, but if you were claiming a page that already existed or if you just skipped it in the process, then you will want to pay close attention to this stuff. We will go through it in the order it appears.
Editing the "About" Section on Your Firm's GBP
The "About" section is the first in the lineup. Most of this should have been done in your initial setup.
Business Name—This will be your firm's name. You can also include some keywords to help your firm rank, but do so sparingly as this can easily be a reason for de-verifying or even suspending your account. This is a field you should not change often if at all after initial setup.
Business Category—Here you will categorize your business. These categories are important to how and when Google will show your firm in search results. Though it appears like you can write whatever you want in these categories, you cannot. When you begin typing a drop down will appear. Any business categories that you want associated with your firm must be present in the drop-down. For law firms, there are several categories including many that are practice area specific like "Divorce lawyer" or "Personal injury attorney." Try to find all the categories including generic ones like "Law firm" that would apply to you. You will also select a "Primary category" as well, so keep that in mind during this step.
Description—This is just a place to describe your law firm in 750 characters or fewer. Be sure it includes all your practice areas and try to make it engaging.
Opening Date—Opening date is basic information, but it will allow Google to populate with how long you have been in business and serve that up in search. You can also use this to set a date up to one year in the future if your firm isn't open just yet. If that's the case, your listing will begin to show up in search 90 days before your opening date.
Editing the "Contact" Section on Your Firm's GBP
Making sure that your clients and potential clients can reach you when they need to is half the reason for creating a Google Business Profile at all.
Phone Number—While phone number is pretty self-explanatory, this is another field that can sometimes trigger a re-verification request. You can also set up more than one phone number but you will have to list one as the primary.
Website—Here, you can just link to the homepage of your website, but ideally you will want to include UTM codes for proper tracking in Google Analytics.
Editing the "Location" Section on Your Firm's GBP
Having an accurate address and map pin will ensure that people can find you, and building out your service area may help people find your Google Business Profile when they are in need.
Business Location—You can edit your address and even shift your pin on Google Maps. Editing the address will almost always trigger a request for re-verification even if it is a minor edit. Moving the pin should also be done with care.
Service Area—Your firm can have multiple service areas listed. This is more meant for businesses that travel to do their work, like plumbers, but since Google leaves it open to everybody, you should take advantage and make a list of all the medium to large cities or communities that are likely to have potential clients for your law firm.
Editing the "Hours" Section on Your Firm's GBP
It's important to keep your hours up to date. Along with your phone number, address, and website, your hours is what people expect to find, and they expect it to be accurate. Even if your law firm is by appointment only, people will reference your hours before they make a phone call.
Hours—Keep your business hours up to date to reflect your office hours. Edit this section as needed.
Holiday Hours—Here you can add special hours for individual holidays. You can choose to adjust business hours on the day to be listed as closed. Google will suggest upcoming holidays but you can also add your own.
Add More Hours—You can add additional hours for specific services, but you do have to pick from the list that Google provides. Most of these will not apply to lawyers and attorneys, but you could add "Online Service Hours" especially if you have a chat tool on your website or if you employ any sort of a call center.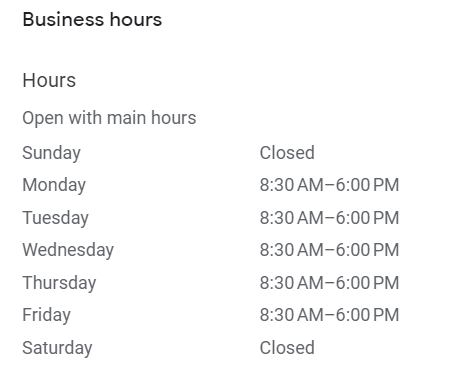 Editing the "More" Section on Your Firm's GBP
This section is likely to get outdated quickly as Google has made a lot of tweaks here in the last few years. Any one of these has the potential to show up in searches alongside your result if Google deems it to be relevant.
From the Business—This allows you to identify your business as Asian, Black, Latino, LGBTQ+, veteran, and/or women-owned.
Accessibility—Here you can add the wheelchair accessibility features of your office including elevator, restroom, and seating.
Amenities—You can add features such as a restroom. Some of these options will vary from business to business, but restrooms and gender-neutral bathrooms are the most common inclusions for a law firm.
Crowd—The Crowd option just has toggles for "LGBTQ+ friendly" and "Transgender safespace."
Planning—For a law firm this is typically just a toggle for whether or not appointments are required.
Service Options—This area will include whether online appointments or onside services are available. You can also add in language assistance services for a variety of languages including American Sign Language, Spanish, etc.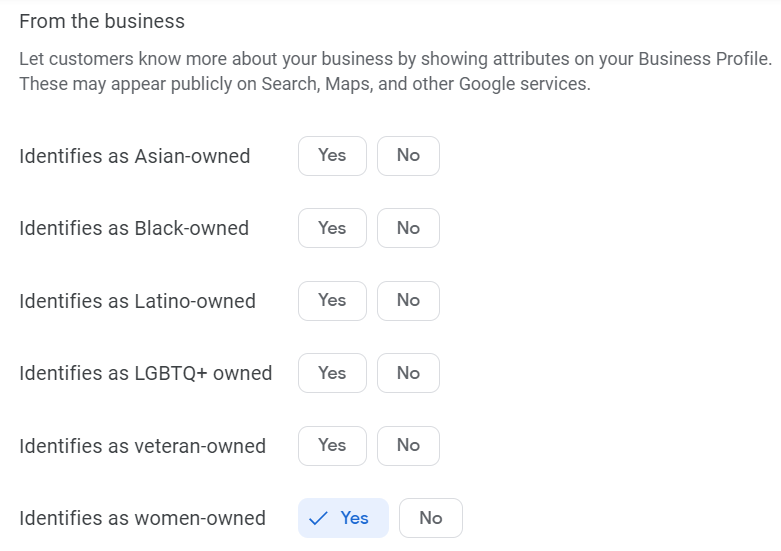 Should You Add Products to Your Firm's GBP?
For most law firms, products don't make sense, but since products show up right underneath your business info, it is prime realestate that should not be ignored. A good thing that you can use this space for is your law firm's practice areas. However, since a practice area is not a traditional product, you will have to do things a little differently.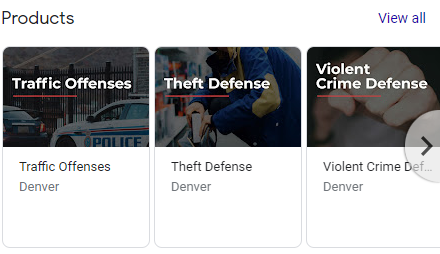 You can begin by selecting "Add Product" from your top bar of options. You can name your product after your practice area and for your category you can add your primary city or your law firm's name. Unless there is a specific price that you have for one of your services, you can leave price blank. Write a nice description for the practice area, and then include a URL preferably one that links directly to a relevant page on your website (don't forget the UTM codes again).
Finding the perfect image size can be fickle as these display differently depending on how they are being accessed. We've found that an image size of 720 X 486 gets them to show up nicely in most places.
What Services Should You Add to Your Law Firm's GBP?
Under each of your business categories, which you can edit in your "Business Settings," you can add in services. Google will often suggest some that you can add, but you can also add custom services under each category as well. You do this by clicking "Add more services" at the bottom of each category. Here you will have the option to add some suggested services or to "Add custom service."
Unlike with business categories, here you can type waver you want. You can think of services a lot like keywords. They should align with your business and where you can help. You can add as many services or customer services as you want, and when you are done, click "Save."
Once you have services added, you can click on them individual to edit each on further. Here you can adjust the service name and add a price, though for most law firm services a price will not be necessary. The important part about this page is the ability to add a description.
What is the Purpose of Services and Descriptions?
Again, they work a lot like keywords and can greatly improve your rankings. Generally, they are not exposed directly to people searching unless Google believes that it's relevant. One of the ways that it can surface is with a "Provides" checkmark like you can see in the image below.
Getting Photos Right on Your Firm's GBP
There are three types of photos that you need to be aware of. You have your cover image, your logo, and our photo feed images. The first two types of images will only have one image assigned to them. Your cover shows up first on your profile and the logo will appear to the right of your law firm's name.
Your Firm's Cover Photo
For your cover photo, you want to use an image with a 16:9 aspect ratio. A good size to use is 1024 x 575. Google recommends using a storefront image, but we've seen a lot more engagement using lawyer headshots whether it's a solo image or a group image. It puts a friendly face to your brand.
Your Firm's Logo
For your logo, you want a square image. Not all logos fit that aspect ratio of course, but you can always put your high-res logo file on a blank canvas and save as PNG to have something that works. The recommended image resolution here is 720 x 720. Make sure you have a starting logo image size that is that resolution or higher otherwise it may appear blurry.
Other Images For Your Firm
You can also upload other images for your firm as well. Google recommends these images be 720 x 720 though they can be larger. The minimum dimensions at 250 x 250. The file size should be between 10 KB and 5 MB. In this same feed, you can also upload videos but they have to be short 30-second long clips up to 75 MB in file size. This makes it another perfect place to cross-post some TikTok videos.
Additionally, other people can upload photos and videos as well. These videos will be tagged as from the owner and can be helpful to show and validate your business. Is it important to post your own images? Yes, absolutely. This si something that we referred to in the services section as showing a pulse. Routine updates to your Google Business Profile will help you rank.
Should Your Law Firm Post on its GBP?
In addition to everything else, your Google Business Profile also has its own post feed that works a little bit like a social media feed except that it only shows on your profile. These posts are a great way to improve your rank, spark engagement, and keep people updated on your firm. In short, it is definitely something you should be taking advantage of.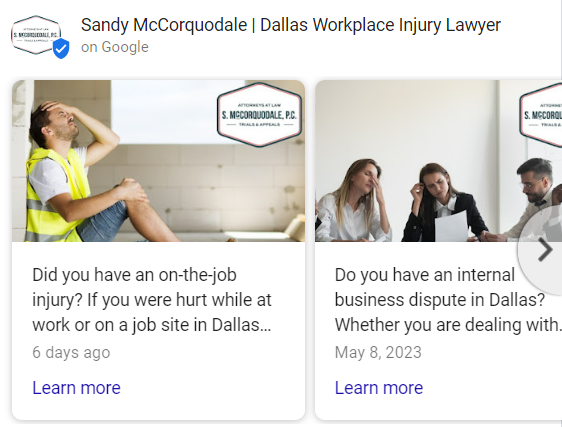 Types of GBP Posts
There are currently 3 types of posts, which we have outlined below.
Update—This will likely be your most common type of post. These are generally more informational. In the past, these posts would "expire" and fall off your feed after a certain amount of time, but that is no longer the case. Now they will stay in your feed until deleted.
Offer—These are a little more complicated. They have titles, a start and end date, and images. They can also include offer details, coupon codes, redemption link, and terms and conditions.
Event—Similar to an Offer, an Event will have a title, start date and end date (with option times) details, and an image. You can also add an optional button with link.
How to Make a GBP Post
We'll walk you through how to make an update. The other post types are almost the same except for the added fields. Posting is as easy as clicking the "Add Update" button which will be in your top list of icons but will also appear near the bottom of your profile right above where the updates display. The latter option will only let you post an update.
Each post can carry up to 1,500 words, up to 10 images (a single image work best), and a button. The button can link to wherever you want, but the button text has to be one of 6 predefined options. The catch-all option is "Learn More" but you may also have uses for some of the others. If you want to track the success of posts or even specific posts on your profile, you can use UTM codes to track where visitors came from in Google Analytics.
What's the Right Size Image for GBP Post and Update Images
Getting the right size for your image is going to be tricky here because Google uses multiple crops depending on where the image is displayed, on top of that, the cropping Google uses is not consistent and good dimensions to work from are 720 X 540. You will want to give some padding to any text elements, logos, and anything else important to the image to ensure that the 9:5 crop still has everything you want on it as this is the crop that will more often be seen.
Why Is Google Cropping My Business Profile Photos?
In the update feed on your profile, images show in about a 9:5 ratio, but if a visitor clicks into one without clicking the link directly, they will see a feed with larger versions of the same images but at a 4:3 ratio.
Before you get ahead and try to out game the system, making an image to the 9:5 aspect ratio will only cause Google to crop the 9:5 image even more as it seems to make the 4:3 crop first then crop the 4:3 to fit the 9:5. This is why It's best to work from the 4:3 ratio.
What do You Need to do to Maintain Your Law Firm's GBP?
You have your profile all set up and established. Now what? Are you done? Absolutely not. We established several things above that you should be doing regularly including posting, adding photos, and creating new services. Even that is not all. Here we will briefly cover a few other maintenance items that you need to be thinking about and checking often.
---
Does a Small Law Firm Need SEO and Blogs?
Can You Remove Photos Form your GBP That You Didin't Add?
You will want to keep a close eye on your image gallery. Sometimes people might post images that show your firm in a poor light or they may even be uploading on the wrong profile altogether. You can't remove these images directly, but you can flag an image to request removal from Google. If the initial flag doesn't work, you can also appeal the decision, but after the appeals process, all decisions are final.
How to Handle Law Firm Reviews
Reviews should be responded to. With reviews for a law firm, you have to remember to maintain attorney-client privilege, but you can still thank clients for their reviews. Negative reviews are another matter. If you think a review is unjust, just like with photos, you can flag them for removal. If Google denies the removal, you can appeal.
When you are stuck with a negative review on your profile, you should still respond in most cases. Try to keep your response light and encourage a conversation by including a phone number. Remember, everyone will be able to see your response, as it is public. Keep that in mind as you are trying to craft the best response.
---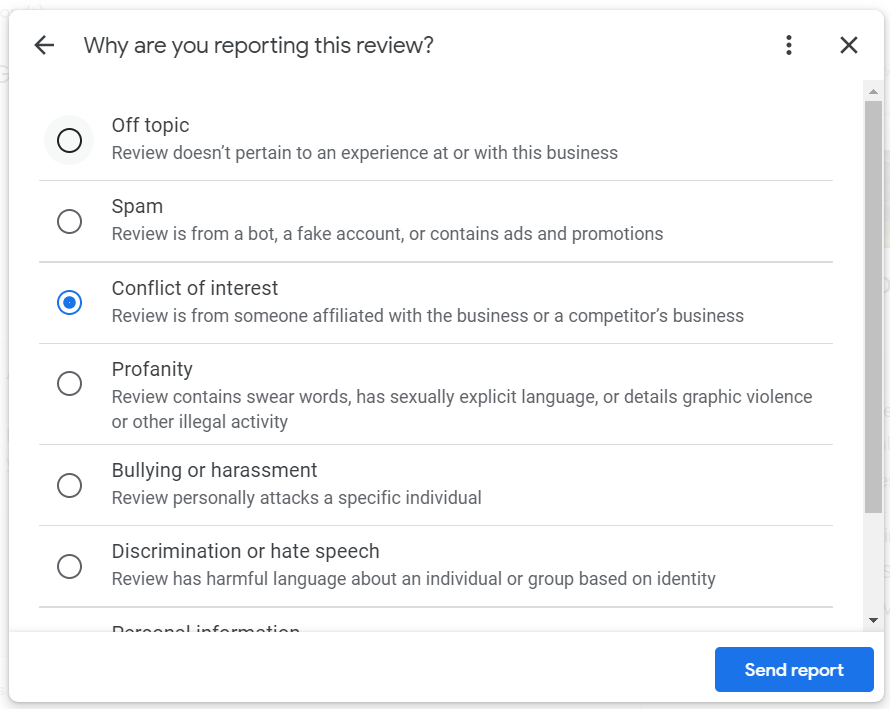 What to do About Profile Edits on My Firm's GBP
Users and the Google algorithm itself will frequently make edits and suggestions to your profile. For the most part, you can either accept or deny these edits, but you do want to stay on top of them. Some edits may misrepresent your business, change your name, remove services, or even modify your hours. Do not ignore these edits or assume that they are always in your best interest.
---
See the 25 Best Custom Law Firm Websites of 2023
Get Civille to Handle Your Google Business Profile
If you would like someone to set up, optimize, and continuously manage your GBP, then Civille is here to help. We do websites, content marketing, GBP, and more but if you want us for just one of our services, then we are more than happy to help. Reach out to us to ask about GBP or get a whole Free Website Review today!