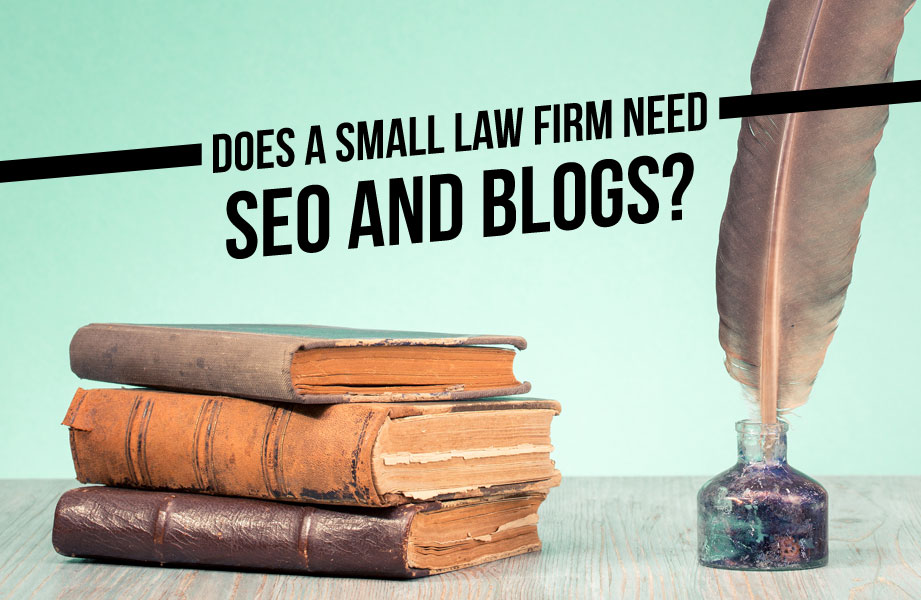 As a small law firm, it can be easy to feel left out of the conversation when it comes to what you need and what you should have. Civille doesn't think like that though. Many of our clients are small law firms. It's a segment in the legal space that is growing rapidly and more so than in other legal spaces, small law firms are looking for places to innovate and do things differently. How can you do things differently? Does a small law firm need SEO and blogs? Civille can help you navigate through this question.
Does a Small Firm Need a Website?
Let's start here. You can't explore your SEO options or have a blog without first having a website. In truth, websites are one of the, if not the most affordable advertising option you have at your disposal. If you are going to have any sort of advertising budget, sticking your money into a billboard, TV spot, or a newspaper ad is going to do very little to move the needle compared to a website. Not to mention, it's a big boost to any of those previously-mentioned types of ads to have a website in addition to a phone number to point to. People don't remember phone numbers. They remember URLs.
How to Ensure Your Website Has SEO
First, do you know what SEO is? If not, allow us to give you a brief primer on the subject. SEO stands for Search Engine Optimization. It's essentially the art of getting websites to rank on popular search engines like Google. There is a lot that goes into it and much of it comes right down to the bones of your website. In other words, it could come down to the platform you choose. Here are things that you want to ensure are handled correctly by your website:
Page Speed—This is where we see so many otherwise decent websites fall apart. All things being equal, search engines would rather show pages that load fast as opposed to ones that load slow. Civille, for example, has spent a great deal of time ensuring that our law firm websites load as fast as possible. We use Google's own page speed tool to test, and we are not satisfied unless our websites score 95 out of 100 on mobile or better. You can check out the tool for yourself on your own website with the link below:
Google Page Speed Tool
Meta and Schema—If you don't know what these are, that's okay, but they are important. Making sure that your meta titles and meta description are both populated and enticing can help improve your click-through rates and are often ranking factors. Utilizing schema ensures that important information about your law firm or specific pages is surfaced in an appropriate way to search engines. This helps search engines like Google answer queries better, and if your site is the best answer, that puts you in the front seat on search results pages.
Content—When it comes to the Internet and SEO, content is king. If you don't have good well-written content with high-value keywords, then the rest of your work in SEO will be for nothing. This means speaking intelligently about the law, answering questions that people want to be answered, speaking to your practice areas, and optimizing for your location within content.
And More—It may sound like a cop-out to leave things out, but in truth, there is so much that goes into SEO that it's hard to cover in a blog post. You want to make sure your pages follow an optimized URL structure, you want your images to be optimized in size, format, and alt text, you want to make sure your sitemap follows best practices, and all that is not even to mention your off-site SEO. In short, it's a lot.
---
Should Your Law Firm Use ChatGPT For Website Content?
How Do Blogs Help Your Law Firm's Website
Remember when we said content was king? We weren't kidding. The simple truth is the more content you have on your site, assuming it is of value to searchers and properly optimized, the better chance you will have to rank for any terms associated with your firm and your practice areas. A good blog doesn't just earn traffic on its own, it also boosts the potential traffic of all other relevant pages as well.
The wonderful thing about blogs is that they are yours forever. A blog that is published on your site today is like an ad that keeps working for you long after it is paid for. Blogs can also be topical, capitalizing on new trends in legal or new legal information as it becomes available. Did your state just have a recent change in how it handles estate planning? Imagine if people in your state land on your website when they are looking for information regarding that change. How powerful is that?
Read More: Make Your Firm the Source of Truth for Legal Content
Selecting the Right Vendor For SEO and Blogs
When it comes to your small firm's website, you want a vendor that will cater to you, design a website around your needs, and one that will always have SEO in mind during every step of the designing and build process. You also want a vendor that has worked with small firms, and can provide examples
Civille comes from an SEO and blog writing background. We came to the tech side of the legal industry because we saw a significant gap in the best SEO practices and what many law firm website providers were putting out. In short, we will work with you and cater to the specific needs of your small firm. We know SEO too, and if you want examples of our work, then go ahead at take a look at them here: Civille Website Examples.
Are you interested in our services? Reach out to us for a free website review today!