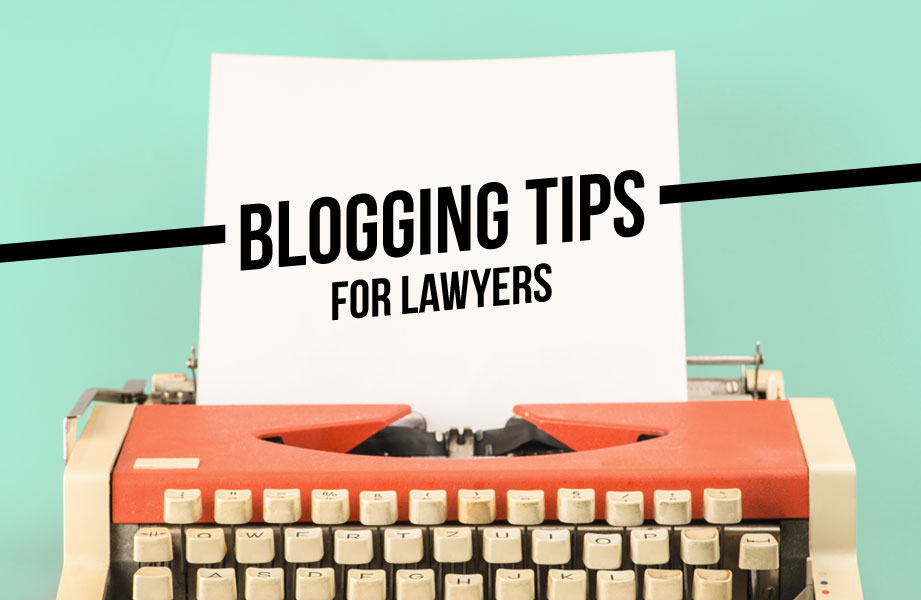 Take a trip around the Internet, and it's apparent that everyone is blogging all of the time, even lawyers. Some of those lawyers are really just shouting out into the void putting their blood, sweat, and tears into words that no one will ever read. That doesn't have to be you. Now you have two choices: 1. Never write a blog and miss out on a ton of traffic and potential clients. 2. Learn what makes an effective legal blogger and see your traffic numbers soar. Let's go with option 2 and explore some blogging tips for lawyers.
What is the Biggest Mistake in Legal Blogging?
Behind every successful blog post is a lot of research and experience. You may think of yourself as a good writer, but the writing is only half the story. It's what you choose to write about that is the real battle.
You have to cater to a searcher's intent. Unless you are already a successful influencer with thousands hanging on your every word, people are not going to care what you had for breakfast or where your next vacation is planned.
We've seen it on countless law firm websites—a blog without direction and purpose. What do you want to get out of your blog? If you are just looking for a public place to journal, then perhaps current clients will find that interesting, but it isn't going to drive new visitors to your site. If your goal is to drive awareness of your brand and your services, then you are going to have to take a different approach.
How to Select Legal Blog Topics?
Selecting a topic often takes a lot of thought and care. There are several approaches to finding a successful topic, and we don't recommend using only one, but all of them in conjunction with one another.
What is your competition doing?—Do you have a major competitor in your practice area? Find out what keywords they are going after and what keywords they are having success with. There are tools that can help with a lot of this, but the more direct approach is to browse their website and search for terms that they have pages for to see how they are ranking. If they are ranking but you think you can provide that information in a better way or even in a different way, then it may be worth going after.
What are people searching for?—Once again, there are a lot of tools that can help you with this, but when you're just starting out, it can be as simple as typing in one of your practice areas and seeing some of the questions that come up. Do you remember those competitors that we spied on a little bit earlier? When you're doing this you may discover Internet competitors that you were unaware of. Whether it's large firms reaching for keywords that aren't even in their area or digital-only legal services reaching for anything, their use of keywords may be stealing clients that you didn't even know about.
What questions are your clients asking?—This is a big one in marketing, especially in marketing that focuses on organic results like blogging. When a client comes through your doors, they often have questions on their mind, and these questions can sometimes make great blog topics.
What aren't you ranking for?—It's not shameful to search your own law firm on Google. That's the easiest term that you should rank for. However, what about other terms? Are you a divorce attorney in Culpeper? Then ranking for "divorce attorney Culpeper" should be important to you. If you aren't ranking for that keyword, consider employing it in your topic selection strategy. It can be a topic on your site for starters, but you can also choose adjacent topics like "How Much Does a Divorce Cost in Culpeper, VA?"

Things to keep in mind about your blog topics. Questions work great in general but ensure that they are both specific enough that they apply to your services without facing massive keyword competition, and that they are common enough to get searched. You also want topics that you can actually write about. If the answer to a question is just a yes or a no, then you're going to have trouble filling out a healthy blog page.
Do You Always Have to Write About Law?
The goal of your blogs should be to bring in potential clients. Even a post that ranks across the country is important because it will also be ranking for locals as well. Does this mean you should write about the latest exploits of Kim Kardashian? Probably not, but it doesn't mean that you always have to write about the law either.
If you're not talking about what you do, then you should at least be talking about where you operate. If you are an estate planning attorney in Albany, then of course you should be writing about estate planning topics, but you can also write about Albany too. Tell people about trick-or-treat times in the area, when and where the fireworks will be held, or who sells the best ice cream. These topics are great because a lot of people search for them, and all those people are in the area where you do business.
How Do You Layout a Legal Blog
When it comes to layout, what more do you need other than a title and some text? That's far from the truth. Your title should be that same optimized keyword/topic that you already decided upon, and that should be an H1.
Don't know what an H1 is? It's just a little HTML heading tag that you don't have to be afraid of. H1's will typically be the largest text on a page, and they are just the beginning of your page's structure. There are even more heading tags and the larger the number, the smaller the text, but the size isn't everything.
Think of a good blog like a novel. Your H1 is your title. Below that, your H2s are the parts of your novel (Part I, Part II, etc.), the H3s are the chapters, and beyond that H4, H5, and H6 just get more granular. From a user's perspective, this lets the reader know what relates to what in the text, but even more importantly it lets Google know.
Do not neglect the contents of those headlines either. Each one should have a good amount of thought behind it. Ideally, every subheading in your blog could also be something that people search for. Look at the heading of this section for example. We could have titled it "Blog Layout," but that's a vague keyword. Instead, we titled it "How Do You Layout a Legal Blog."
There is a lot of other stuff you may want to think about including in your style.
Images—Images are not a requirement, but they can do wonders for your blog. Images can provide an eye-pleasing invitation into your blog and they can keep your readers interested beyond just your words. Beyond that, you can even rank for just your images. Just be sure you don't oversize your images and slow your page down (usually 200kb is a good limit to keep in mind). Also, include alt text for accessibility, and source all your images legally of course.
Links—You know what's even better than getting someone on your blog? Getting them to click through to another blog post, or even a contact us page. Using strong links both as standout elements of your blog and as in-text links will not only help drive users to other pages, a successful blog can provide something called link juice to pages that it is linked to thereby increasing the success of other blogs and pages in the process.
Tables—Tables are a great way to display specific types of information. It's tempting to make people sift through our blog's text to find the answers that they need, but realistically, they will just hit the back button and look for a different source that gives them the info they are looking for.
Lists—Bulleted or numbered lists are a great way to provide information. See what we did there? It often also helps to bold elements or make them stand out so that a reader can understand what each item is about at a glance. The truth is, most readers will not read your entire blog. They are looking for information. Making that information accessible will help them, and may entice them to read further.
Read More: Utilizing Schema in Your Legal SEO
Outside of all that, have fun with your layout, or at least as much fun as the CMS you are working with will allow. WordPress is a highly versatile CMS allowing you to add columns, videos, blockquotes, buttons, and more. WordPress is what we use at Civille as a basis for our platform. Other backends might not be so friendly. As you are experimenting with layout, be sure that everything looks good on mobile too, and avoid creating too much ugly white space.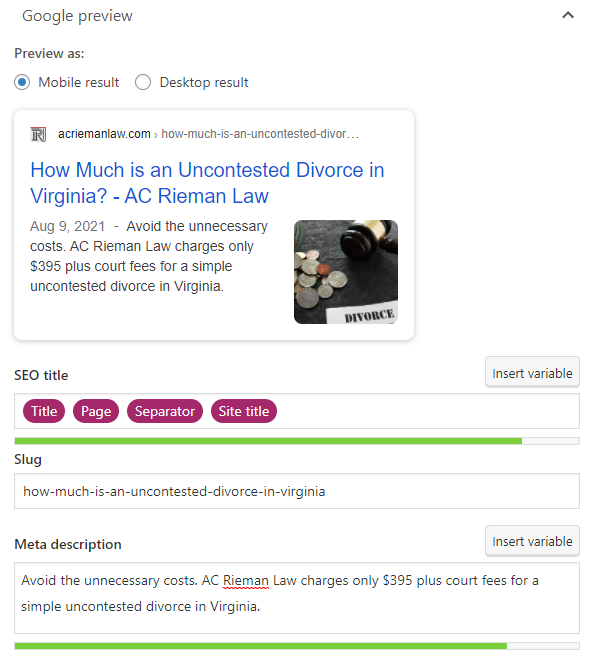 Does Your Blog Need a Meta Description?
No, we are not talking about the silly new name for Facebook's parent company. We are talking about some additional text that you will want to put some thought into. Every CMS is different, but in WordPress as an example, you have the opportunity to edit your SEO title, your URL, and your meta description.
Keeping your URL and your title close to your keyword is just good SEO practice, but your meta description is your quick chance at a sales pitch. This text will often appear under your title in the search result. You should use it to entice a click from searchers. Do keep in mind that Google doesn't always use the meta description you wrote. It might grab text from your blog instead, but this is still an opportunity you won't want to pass up. Additionally, if your CMS has a place for keywords, you can largely ignore it. It's a vestigial holdover from the early days of search engines and is largely no longer used.
How do You Track and Measure Blog Success
When you are making any change to your website, whether it's switching providers or even adding a blog, you should have a goal. Every blog might be a little different. Perhaps for one blog, simply outranking a competitor's page is enough to consider it a success. Maybe you are aiming your sites even higher, and you want to get a featured snippet for a blog. This means that for that keyword you will rank even above the paid ads as Google provides a small but relevant snippet of your blog.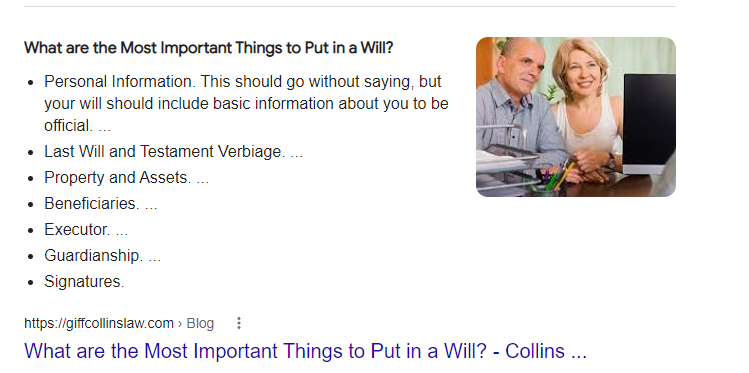 For more concrete tracking and measurement, most will turn to data analysis, and the most-used tool for that is Google Analytics. Within Google Analytics you can see the traffic that your blog posts generate, where that traffic is generally coming from, how long people stay on that page, what pages they go to next, and more!
Beyond that, you can establish goals within Google Analytics. Perhaps you want your blogs to generate form fills for a newsletter or maybe you want to drive traffic to your lead qualification tool. Ultimately, tracking and measuring come down to what goals you have and what tools you are comfortable using.
Don't be discouraged either. Ranking with a blog takes time. Often the first several months of blog writing will show little to no traffic growth. If you stick with it though, you will see the traffic begin to grow.
How Often Should You Post?
For many, this might be a tough pill to swallow, but if you are going to get success with your blog, you need to be posting at the very least twice per month, and that's a bare minimum. Putting all this work into the topic, writing 400 to 1,000 words, finding and editing images, planning a layout, optimizing your post, and measuring the success of it all is a lot already. Why do you have to do it so often? There's a saying, if you aren't growing you're dying. That is certainly true on the Internet more so than anywhere else.
Routinely updating your blog does a few things. Posting regularly shows Google and other search engines that your website routinely changes and therefore should routinely get crawled. News sites, for example, get crawled constantly because the search engines know that new stories are being posted all the time. When you post about something, you want it to start doing work for you as soon as possible, and posting often will ensure that you get crawled often.
Individual blog posts will grow in popularity, but they will eventually fade. To keep building your momentum with organic traffic, you need to keep posting new and relevant content. What's more, old blogs that still have popularity can feed traffic to new blogs (especially if you update them), and new blogs can continue to push those old blogs. Without that routine posting, your organic traffic will soon stagnate and fade.
---
Best Digital Marketing Strategies for Solo Law Firms
Do You Have the Time to Run Your Legal Blog?
There are certainly attorneys out there that take on the blogging for themselves, and some can even see success. The truth of the matter is, most will not have the time to write blogs. Even fewer will be able to keep up with the pace that a blog demands.
On top of all that, you'll want to keep up with best practices, stay on top of your goals, and routinely check your blog for errors like broken links, images with missing alt text, and more. Let's be honest, you are a lawyer, not a blogger. We mentioned two options at the top of this blog, but there is a third. You could hire someone to manage all this for you, and that's where Civille comes in.
Civille is not just a lightning-fast and gorgeous website platform. We are also SEO experts. We know how to write blogs, and we know how to get them to rank. Don't need a website? We can still provide blog content writing, SEO services, and more. Get Civille today!