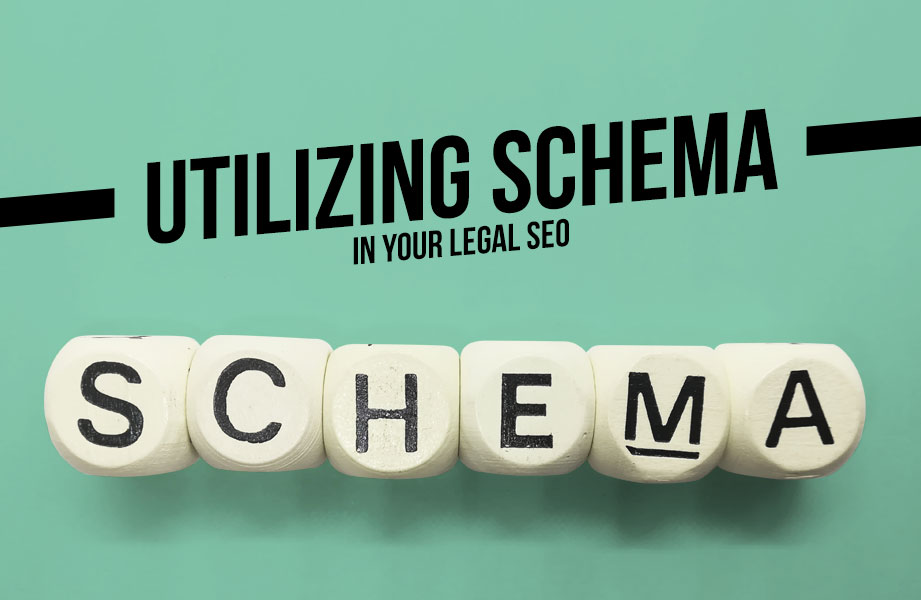 SEO is important to any business, and especially to a law firm. You have to consider things like your social channels, your Google Business Profile, and all the inner workings of your website. Does your website have all its meta descriptions in place? Are you optimized for the right keywords? Does your website utilize schema? You may know the answer to the first two questions, but most people that don't bury their heads in SEO blogs and tech articles every day likely haven't heard of schema. Don't worry, Civille is here to help you set the record straight. We'll help you learn what schema is and the many benefits of utilizing schema in your legal SEO.
What is Schema and Why Should Your Law Firm Care?
When you are starting to learn about the SEO world, there are so many terms and so much jargon that's thrown around that it's easy to get lost. It's just like the law. Some terms need explaining, and SEO schema is one of those terms.
The quintessential resource on schema is Schema.org, but even going there will explain little about what it is and what it does. To put it simply, schema is a markup structure that is the result of a huge collaboration between most of the major search engines including the big three in the U.S.—Google, Yahoo, and Bing. This markup helps tell a search engine more about the page that it is crawling and about your business as a whole.
The easiest example comes in the form of basic business information. Imagine a page where you list your business phone number, but you also list the business number of several colleagues. Without schema, a search engine like Google is going to have to decide based on context which number is more important to your business. Do you really want to leave an important piece of information like that up for Google's interpretation? With schema, that number can be tagged on each page.
That's just the start of what schema can do. Schema can also tell a search engine about the structure of a page to create richer results on a search results page. The proper use of schema can boost the rankings of your pages and even give you a chance at ranking for the coveted position 0 with a featured snippet.
Why Should a Lawyer Care About Schema
You know what schema is, or at least have a working idea of the concept, but what can it do for you and your law firm? There are three simple reasons why you should care:
Get Discovered—Most people don't have a lawyer in their back pocket ready to go when a legal issue arises. This means that the time between them not knowing any lawyers that can help and having a whole list of lawyers is the time it takes for Google to complete a search. Proper schema can help you get on that search.
Be Considered—Now you are on a list of other lawyers, your ranking was perhaps improved by schema, but what will make the difference? The lawyer with the richer search result is often going to get the most clicks. If you happened to get a featured snippet for the search, then all the better.
Get the Client—You may think that the work is over, but how many times have you spent time talking with a potential client only to realize they were not actually looking for the services you offered or that they weren't in an area that you typically practice law. With the right schema in place, the people that will be clicking through to your site or calling you directly will more often be the right people.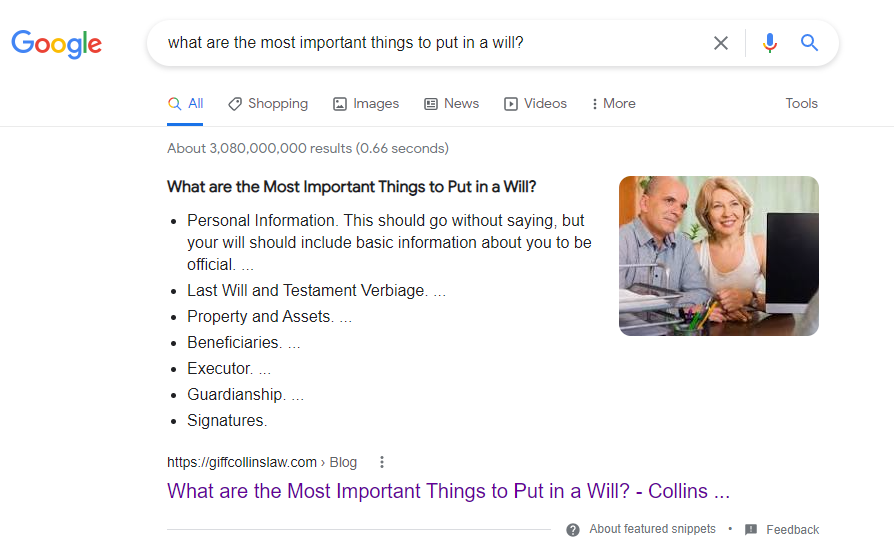 Let's be honest, as a lawyer, you have enough to worry about. So perhaps you shouldn't worry about schema at all. There is a better option though. Ensure that your website provider does worry about things like schema, and then you never have to think about it again. In other words, trust a legal website provider with strong SEO practices like Civille.
What Schema Should Your Law Firm Be Utilizing?
There are a lot of schemas that are currently supported. There is even a special schema just for recipes. Assuming you don't have a casserole recipe to share, what schemas should your law firm be using?
Local Business—If you did one thing with schema, this should be it. Local business schema lets you declare the name of your company, your full address, and your phone number.
Blog Post—Does your legal website have a blog? It should, a blog can do wonders for your site. If it does, then the schema should be included. Not only can you use schema to tell a search engine about your topic, but you can use advanced schema structures to detail things like Q&As, FAQs, How-Tos, and more. These same schemas can be used elsewhere on your site as well.
Logo—You spent a lot of time on your logo. It's important to you and your law firm's brand identity. Make sure that search engines know what image on your site is your logo.
Review and Rating—Though typically used for products, it is possible to implement a review and rating schema which can populate your review score alongside your search result
Does Your Website Use Schema?
Schema is not a new thing or a new idea. It was first launched in 2011 and reached large-scale use by the midpoint of the decade, but still, many websites do not use schema, and if they do, they may use an outdated version of schema that has fallen out of favor by the big search engines. The Civille platform proudly uses up-to-date schema on all the websites we create. If you are interested in getting a Civille website, please reach out to us today! We can even do an audit of your current site and let you know where you could be improving.