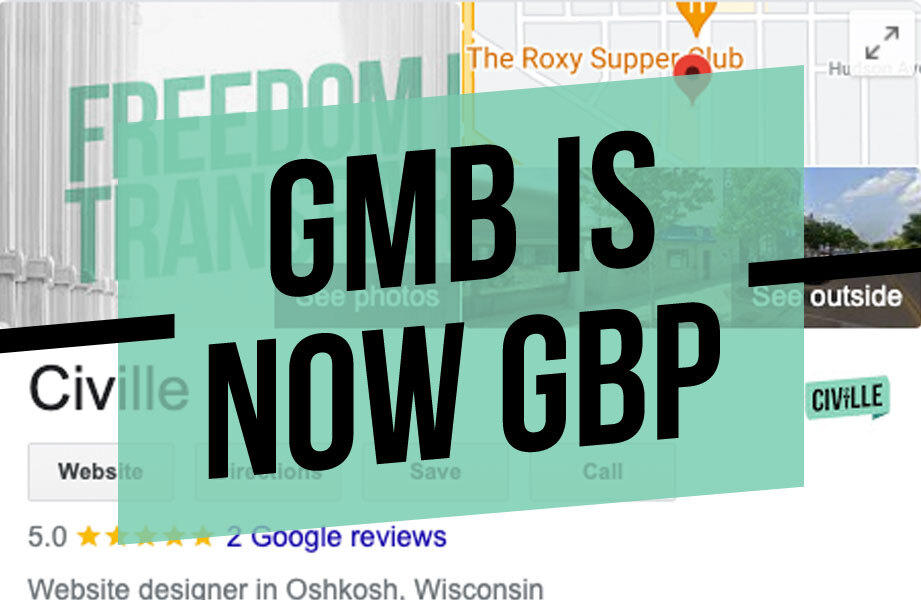 With Google, change is the only constant. Those of us that have lived in the SEO world are used to this. We learn and adjust.
Last month, Google announced one of these many changes – this time a name change to one of its most influential products. Just as we'd settled in making GMB a household term to anyone that would listen, it got switched to GBP. Doesn't roll off the tongue quite the same.
For those unfamiliar, we are talking about the almighty Google My Business. It has been officially changed to Google Business Profile. If you were down with GMB, you better get down with GBP.
Google Business Profile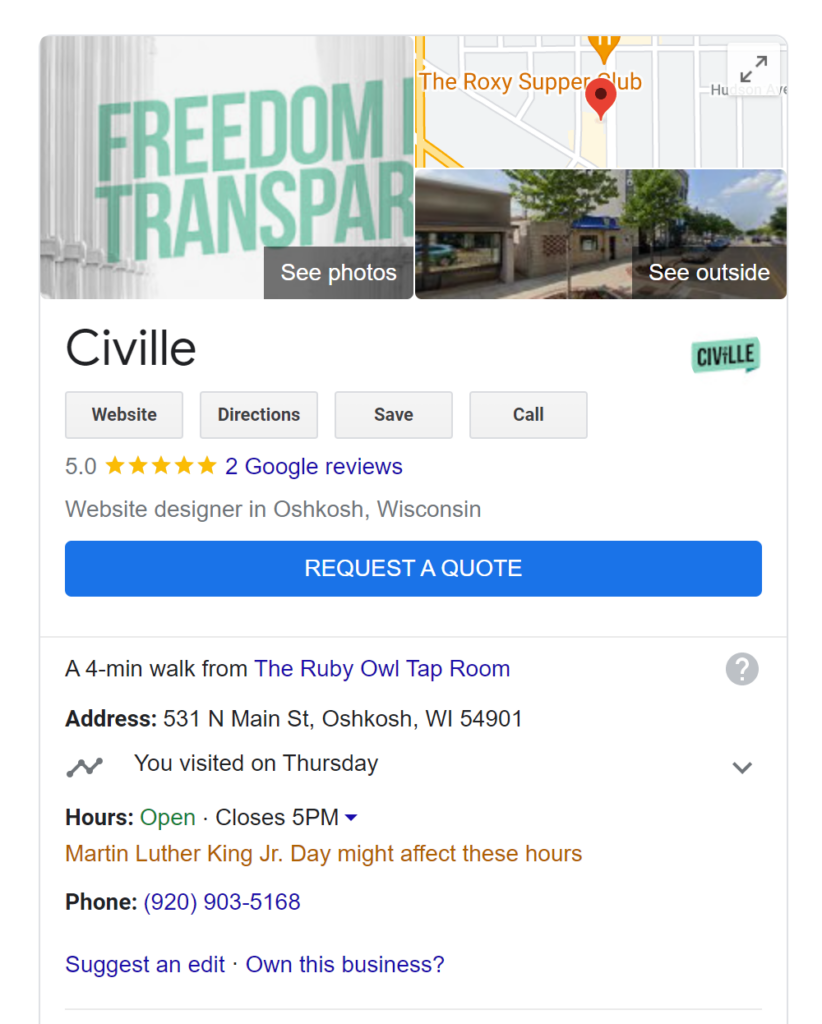 The Google Business Profile appears when you type in a business name or associated keywords for a relevant business. It occupies the right side of the desktop page and is often the first result on mobile and within Google maps.
The Google Business Profile is of vital importance for law firms of all sizes. Too often, the profiles are left to sit and may have even been auto-generated. But if optimized and managed properly on a regular cadence, the listing is an excellent source of leads and an integral part of law firm SEO strategy.
GBP Law Firm Case Studies
At Civille, we've found much success for our law firm partners by optimizing their Google Business Profiles. For all of our tips and tricks, see our GBP Whitepaper. Here are a few of the success stories for firms in different business life stages. 
Established Large Law Firm Wanting to Stay Ahead
One of our premier Civille partners is an established social security disability and veteran's attorney in a mid-major midwest city. Their Google Business Profile is a solid source of traffic and direct calls, but they want to be first for significant terms given the practice's name recognition, size, and authority.
Using our strategies to build out their page further and continued optimization, we were able to move the needle for them, putting them at the top of the maps listing for "Disability Attorney City State." The GBP page now accounts for nearly 10% of the traffic that transfers into the website, in addition to over 500 monthly calls. The year-over-year growth attributed to GBP is apparent.
Established Small Law Firm Looking to Grow Digitally
Many small law firms are in a place to want to grow beyond their traditional lead acquisition strategy and make a legitimate push into digital. These firms understand that digital is emerging and cannot be ignored if they want to grow their practice.
A new client was established in the Northeast as a divorce attorney but had a web presence optimized for many other practice areas and a GBP profile that existed but wasn't built out and optimized. Civille was charged with helping them grow organically, and we kicked off the process with a new website and GBP optimization. By having the website and Google Business Profile match with all NAP (Name, Address, Phone) information, in addition to SEO buildout of both, we've already more than doubled their online lead volume in a concise period.
While comparison data wasn't gathered due to lack of tracking and setup prior to partnering with Civille, having 20 website conversions, 128 visits, and 98 phone calls is double to triple what the client was tracking on their own previously. 
While the results are somewhat predictable, this small firm market has been slower to react to the digital push, which creates opportunities for those who make the leap. A few weeks after launching the site and GBP update, this client called us up to tell us. "I have to tell you; I'm really surprised and pleased with how many people are contacting me."
Startup Firm Wanting to Stand Out
The other segment where the GBP listing is an essential piece of the marketing mix is a new firm trying to establish itself in a specific segment or segments.
A client we brought on six months ago is a solo attorney who broke away from a large firm to start their practice near the east coast. In this situation, a new site and creating a Google Business Profile is steps one and two of getting the digital branding started.
With a brand new domain, gaining SEO authority was a vital component of the marketing strategy, which we did through content development, overall optimization, link building, and more. Even so, it takes a few months for things to grab hold. But what was evident from the start was that the Google Business Profile can move quickly to drive early results.
In the earliest few months, 34% of both organic traffic and leads came from the GBP listing thanks to optimization, in addition to over 50 monthly calls. Given the rural setting of the firm, these were strong numbers that proved the expanded reach of the Google Business Profile.
Google Business Profile Management for Law Firms
No matter what size firm or situation, optimizing the Google Business Profile is a winning strategy. At Civille, we've been executing our strategy successfully for all forms of clients. 
Get in touch with us today for a free audit of your GBP listing. Just forgive us if we still call it GMB from time to time.