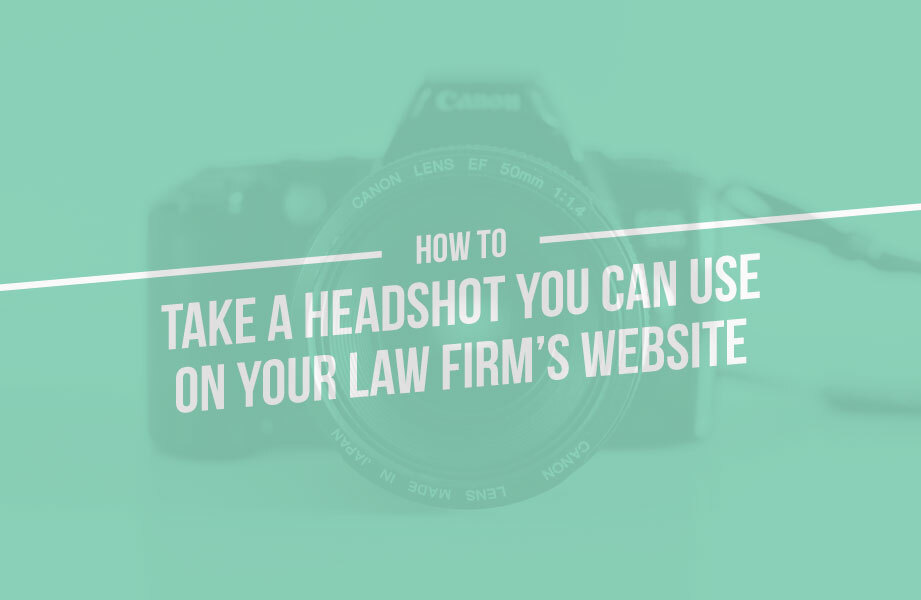 Taking a headshot can be stressful. You're usually your own worst critic. And those issues are compounded if the photos aren't shot in a way that allows you to use them throughout your website and social media pages. Below are a few helpful tips to get the most out of your next photo shoot.
Bring Your A-Game
Make sure you dress for success. Try on your outfit the day before to ensure everything fits how you want it to. If you have a pet, use a lint roller before the shoot to make sure no stray hairs show up on your photos. Keep patterns to a minimum, as they can create vibrations when the photos are displayed on the screen, or worse, you look like Saul Goodman dressed you.
In addition to your wardrobe, make a game plan for the rest of your look. If you get a haircut, get it at least a week before so it can settle. Any facials or waxing should also be done ahead of time, so your skin doesn't appear irritated on camera. You'll want to avoid alcohol, caffeine, and excess salt for two days before the shoot, so you don't look puffy on screen. If you need to shave on the day of the shoot, go slow, grab a fresh razor, and use plenty of hot water to avoid irritation. And if you do have a blemish, don't pop it. It's much easier to Photoshop a pimple than the red, irritated skin where a pimple used to be.
When posing, look directly through the camera lens to appear confident and forthright. Point your chin slightly down to avoid having a double-chin, but not too far down as to not appear submissive. Leave the gum and mints at home. They will show up in the photo, and not in a good way. It's good to experiment with a slight body turn to create a slimming effect, but don't take it too far. This isn't ESPN's Body Issue. It's also a good idea to try different poses in a mirror to see which one you like. If your photographer asks you to try a pose, go for it. You don't have to use it if it doesn't turn out the way you hoped. Lastly, don't lock your knees when posing, as you don't want to pass out in the middle of your shoot.
Don't Forget to Include Your Personality
Show everyone who you are by wearing an accent piece with a splash of color, or don't for a more conservative appearance. If your greatest skill is listening to your clients, opt for a caring facial expression over the intense steely look of a professional litigator. What you have in the background can also influence how people see you. If you want to lean on your years of experience, you can play into the legal stereotype of a well-stocked bookcase or library. If your niche is corporate law, a modern office building may be the perfect setting to allow people to picture you in that environment, while shooting on your local Main Street will give you a down-to-earth appeal.
Shoot Some Wide Photos
A standard 8×10 headshot doesn't work for every situation. Have the photographer shoot some wide landscape orientation headshots to give the people using those photos options. A tightly cropped headshot can't function as a website header because the aspect ratio is vastly different. Extra negative space around the subject (that's you) will give the various designers down the line more options for placement and cropping your photos in a way that puts you front and center on your website and social media profiles.
Make Sure You Get Large Files
If you are pulling your headshot off of your Facebook profile to give to your web developer, they won't be able to do much with it. Unlike vector graphics, photos and other image files are based on a finite number of pixels. Because of this, you can shrink a photo without any loss of quality, but if you try to make it larger, the image will look blurry and pixelated. To compound the issue, screens can be as large as 4000 pixels wide, meaning that 400 pixels-wide profile pic will barely fit on a tenth of the screen.
Lastly, try to relax and have fun. If you're nervous, the camera will pick it up, and you'll look nervous in your photos. Talk to your photographer about any insecurities you have, as they will likely have strategies to work around them and highlight your best attributes. And don't be afraid to shoot as many photos as possible to get it right. It's better than having to reschedule and prepare for a second photo shoot.