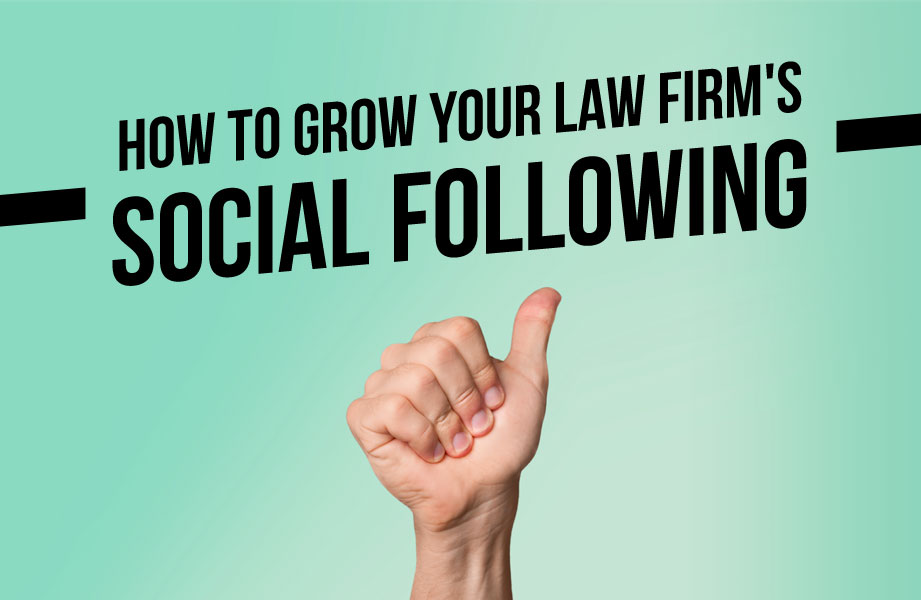 Building a law firm social media strategy can be an excellent way to build your online presence and connect with your target audience, especially if you're a solo or small law firm. The challenges that many solo and small law firms face are doing it correctly, efficiently, and/or growing their following.
There's no playbook on social media for every single business type or company. It's not cut and dry as other digital strategies. The most successful social media accounts do it well because they've figured out how to be unique, how to speak to and engage with their audience, and ultimately how to grow their audience. That often takes time and effort, but it's doable. And when done correctly, it can be a real game-changer for your law firm. If you're a solo or small law firm struggling with their social media presence and growing your following, this is the blog for you.
Let's dive in.
Define And Know Your Target Law Firm Audience
We talk about defining and knowing your target audience in many of our blogs. The reason being is it's at the forefront of every digital and web strategy. If you don't know who your target audience is, you're setting yourself up to fail when it comes to digital marketing, especially social media. Before you try to grow your law firm's social media following and presence, ask yourself:
Who are your ideal customers?
What are the common demographics your customers share?
What are common concerns or questions your customers ask?
And ultimately, what social channels are they using?
Knowing what things are important to your customers and where they hang out online can give you a better understanding of how to grow your profiles and speak to your target audience.
Set Up And Optimize Your Law Firm's Social Media Profiles
Growing your law firm's social media following most likely won't happen if your social profiles aren't optimized and built out. Before you dive in and start optimizing or setting up your law firm's social media accounts, make sure you're prioritizing the social media channels your customers are on (hence, defining and knowing your audience above). Once you know what channels your customers are on, focus your efforts there. If you've already set up your social channels, go through and first make sure you're following best practices.
Law Firm Social Media Best Practices
Use A Professional Photo/Logo (And Correct Sizes). Every social media channel has different image sizes for logos and cover photos. Make sure you're using high-quality imagery/photos, as well as the right sizes. If you need help with headshots, we have a great how-to article here.
Use The Same Branding, Logos, And Imagery Across Profiles. Having high-quality images is great, but this should also be consistent across your profiles. As you're auditing/optimizing your pages, make sure you are using consistent imagery, cover photos, logos, etc. across all of your law firm social media channels.
Optimize Your Social Media Page Names And Handles. Your handles and URLs should be reflective of your law firm's name and overall branding. Use consistent naming and handles across all of your law firm social profiles to make it easier for people to find you.
Update Social Media Descriptions and Bios. Make sure your descriptions/bios highlight who you are, and what you do, and contain keyword-rich information. Having rich keywords can help make you more visible on search engines
Fill Out All Of Your Social Media Profile Pieces. Make sure the appropriate pieces within your profiles are filled out – including your hours, services, etc.
Post Engaging Law Firm Social Media Content
If there's one thing that will grow your law firm's social media following more than anything else, it's the content strategy you put forward. Creating and promoting original content is at the forefront of any business social media strategy – for law firms, it's no different. As you're considering the type of content, it's important to use best practices when it comes to posting.
Post Consistently
Consistent posting is critical when it comes to law firm social media. And it's especially important if you want your audience to engage with your brand and if you want to grow your followers!
Post With A Purpose
Just like posting consistently, if you're not posting engaging content, they won't follow your account or engage with your brand. Your audience needs to find your content helpful, actionable, and inspiring. Here are some ideas: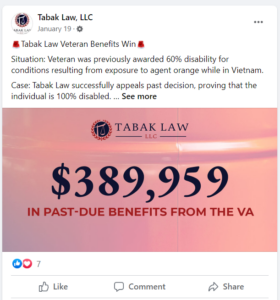 Blog content
Useful legal facts 
Common questions from clients
Client testimonials 
Legal insights
Tell your law firm's story
Highlight your team/attorneys (and new members) 
Highlight Client success stories
Promote webinars or speaking engagements you're hosting
Events in your local area 
Business updates – hours changes/new partners/location
Holiday posts
Use Visual Posts
Did you know that visual content has 94% more views than content without images? Images (and videos alike) are the most appealing content to users.
Include Posts/Images with People
Just like visual posts, people are more likely to engage with content that includes people. In fact, on average, there are 28% more likes on photos with faces.
Share And Add More Video To Your Posts
Video content fits the bill when it comes to being visual. And in today's social media age, more and more brands are adopting video and using video constantly on their social media channels. For law firms wanting to increase their social presence and following, video content shouldn't be ignored.
Encourage Your Audience to Engage
Engaging with your audience can be a struggle, especially if they aren't willing to engage with your content. Some great ways to encourage engagement could include:
Ask them to comment or tag a friend in the comments
Pose questions to your audience
Mix in surveys/polls in your content
Respond to Comments, Queries, and Messages
If you're asking your audience to engage with your content (or they are doing it naturally), don't forget to respond to comments, answer questions, and actively engage with your audience. Even if they are just general (and positive) comments, thank users for commenting! And don't forget to respond to direct messages in your inbox.
Use Hashtags Appropriately To Get Found
Hashtags are a great way to gain more exposure on many social media platforms, especially on Instagram, Twitter, and LinkedIn. When posting, use hashtags to highlight what your content is about, your focus practice area, location keywords, and other popular hashtags that may be trending. Be strategic, and try not to overload it in your posts.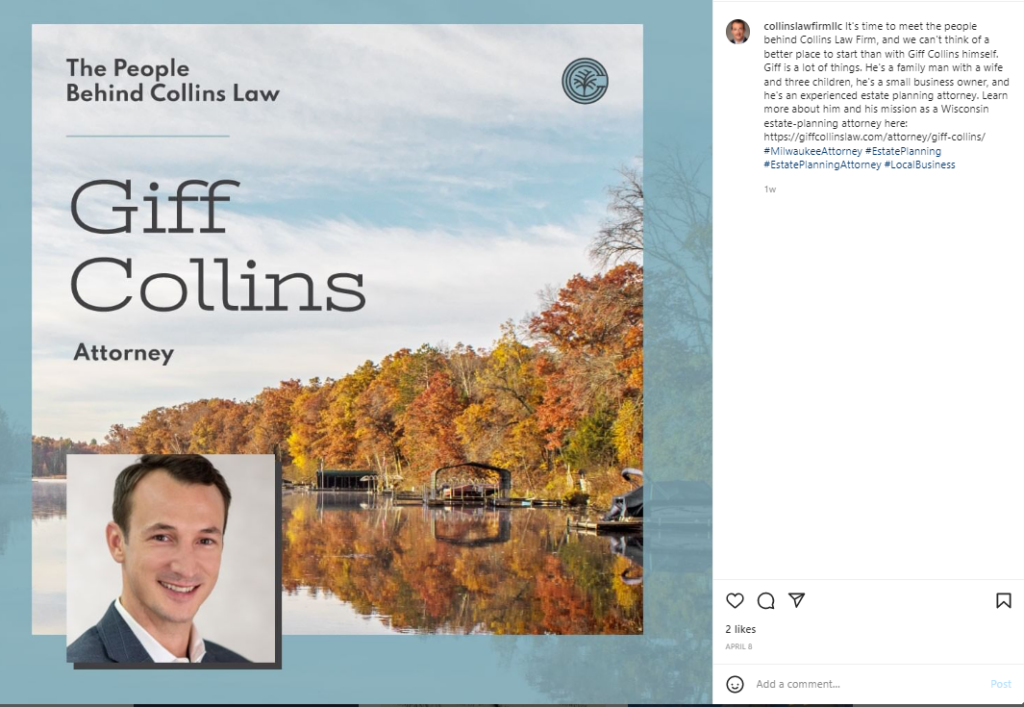 Use Social Features Like Stories, Reels, And Twitter Polls
Most social media platforms have unique features that not only make them different from one another, but they are things people use often. Using these features is a great way to mix up your content as well and show things in a different format.
Share Your Law Firm's Social Profiles/Media Across Other Platforms
If you're sharing content that drives back to your website, why not share content that drives back to your other law firm's social media profiles? Encourage your customers to follow your other pages by sharing your profile pages. Sharing other content (like YouTube, TikTok, or Instagram videos) also can give you a great way to repurpose content and encourage people to follow those channels.
Follow Other Brand Profiles
Most businesses (and law firms alike) get caught up in the content and the management of their own profiles but forget to follow and engage with other pages. Following other local businesses, partners, legal publications, state bar associations, and more are some great ways to build relationships and increase the following on your page. For one, following other profiles often opens the door for them to follow your law firm's social media pages. It's simple enough, but growing your page doesn't necessarily ONLY need to be potential customers.
Use Other Brands For Inspiration
The other piece is similar brand profiles (other law firms, local businesses) can often give you more ideas for content for your pages. You don't need to copy verbatim (and you really shouldn't), but following other great social media pages can give you a lot of inspiration and ideas when it comes to the content you want to post on your law firm's social media. If the content other pages are sharing is working and getting a lot of engagement from their audience, you can often take a similar approach to your law firm's social media.
Reshare Valuable Content
Resharing and engaging with their posts is another great value add. Resharing valuable content gives you two things – more relevant content on your page and to your audience, and it shows those brand profiles you're a great follower, which can open up the door for them to follow your page, and share your original content.
Collaborate With Other Brands
And lastly, following other local pages and profiles opens up the door for collaboration. While following other profiles could open the door for a quick follow-back, the real value add is when you can collaborate with the brand to cross-promote each other's content, host an event or webinar, interview each other, etc. Some great starting points could be other law firms that you may refer to, financial/insurance institutions you refer business to, local chamber of commerce, and more.
Add Social Buttons to Your Website, Email Signature, and Newsletter
The quickest way to get your law firm's social media profiles in front of your prospective clients, and ultimately encourage them to follow is by adding social buttons. For most law firm websites, adding social buttons in your website's footer is pretty standard. But don't ignore other means like your email signature and newsletter. It's a great way to build your
Invite Your Friends And Family To Like/Follow Your Page(s)
Another great way to get new followers with a few clicks of a button is to invite your friends and family to like your page. Facebook and LinkedIn give you easy options to invite your friends and network to your page. You don't need to invite everyone, but it can easily give you a quick boost to your following. If you prefer to go the more organic route, share your page's content on your personal profile. This helps your page reach more people, but it also encourages those within your network and group of friends to like your page, without abruptly inviting or asking them to like.
Consider Building a Paid Social Strategy
There are many benefits when it comes to a paid social strategy. For many law firms, it allows you to get in front of people that don't follow your page directly. Getting leads from any paid strategy is important, but don't ignore the ways it can also help grow your law firm's social media following. Here are some ideas:
Consider a Like or Follow Campaign
Facebook, Instagram, and LinkedIn all have options to run campaigns with the primary goal of growing the likes/followers on your page. If you're a small firm that doesn't have a lot of budgets, this may not be at the top of your list, but even a small budget can go a long way to gaining more followers.
Conversion Focused Ads Can Still Build Your Followers
When it comes to paid social, most law firms' goals are lead generation. And while that may be the main priority, running these types of campaigns does also build followers. It's mostly indirectly related – people see an ad, maybe engage with it, but like what you're doing and follow your page. If you're building a law firm paid social strategy for the first time, this may be the best option to see what it does in terms of new follower growth and lead acquisition over time.
Boost Highly Engaged Content
If you have certain posts that get a lot of engagement or they drive back to your website, consider boosting those pieces. Facebook, Instagram, and LinkedIn often point out highly engaging content, encouraging you to boost it on your page. If you know the content works with your existing followers, it's a tell-tale sign that it could work with non-followers. And what will non-followers do? Engage and follow your page. You'd be surprised how much even $10-$20 on a given post.
In Conclusion
Growing your presence and following takes time. It takes time and analysis to learn what works, what doesn't, when the best time to post, how often, etc. The point is, it doesn't happen overnight and you need to continue to fine-tune your strategy as you go. But if you learn and utilize many of these tips, the chances of you growing your followers can be much quicker than many other law firms out there. And as always, if you need help or a partner, contact us here. We're here to help!