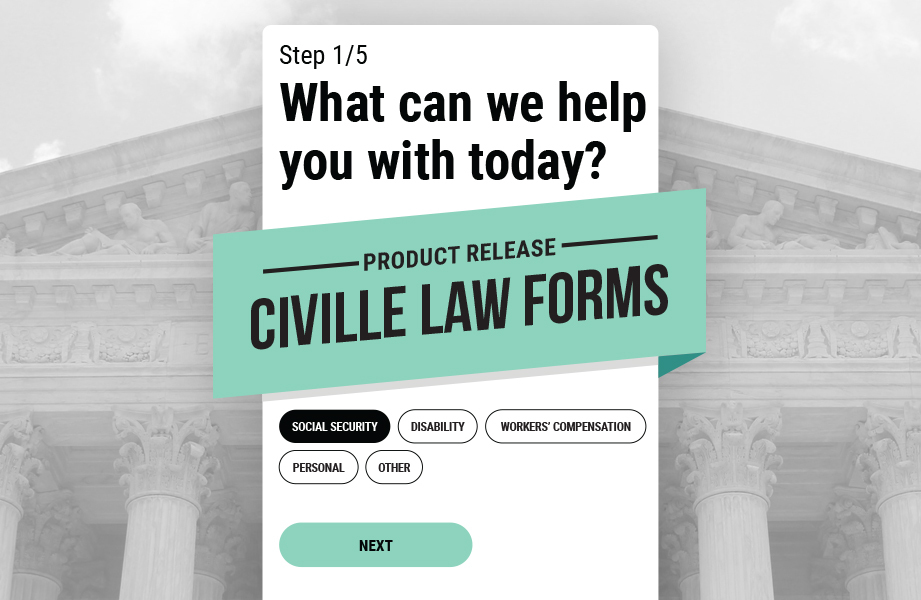 Contact forms on law firm websites aren't something new. Every firm has them, and most will tell you that the value behind them isn't extraordinary. In fact, on average 74% of leads from a law firm's website are generated from calls, text messages, or chat. And most firms will also tell you that the quality and value behind phone calls are also much greater. The person answering the inquiry is able to gather more information, answer questions, and so on–which obviously makes that call much more valuable to your law firm.
So here we are, announcing a new product release on forms. And after reading that first paragraph, you're probably thinking—Forms have little to no value, and you should be optimizing everything in your law firm website and marketing for phone calls.
NO. And the reason being is because forms still have value–they still are an important piece to your law firm's website. Many users won't call. Forms are integral to your business during offline hours, for marketing campaigns, and so much more. This and more is why we've pushed a lot of effort into building a piece that enhances the quality and quantity of forms on your law firm's website, and solves many issues that users experience today. To better understand our positioning, let's take a look at some of the problems with forms today in the legal space.
Why People May Not Fill Out Your Law Firm's Contact Form
You're Asking For Too Much Information. Consolidating form fields isn't something new, and most firms are doing this. But once in a while, you'll find a firm asking questions like "how did you hear about us?", "Address", "Zip Code", or much more in-depth questions to qualify a person. Even multiple fields as "First Name" and Last Name" can decrease conversion rates on a form. More fields on one big form hurt the likelihood of someone filling it out.
Your Forms Aren't Optimized for Mobile Devices. It's not all that surprising when many law firms aren't optimizing their website for mobile. And even those that are, forms are often overlooked. The length of the form, as we discussed above, is often too long. Inputting fields on a mobile device on a form can be difficult for users. Many forms also aren't enhanced to use things like autocomplete, predictive search fields, dropdowns, etc. All of which makes it easier for a user on a mobile device to complete. 
Your Form Isn't Formatted Or Isn't Appealing. The other problem that can pose an issue is forms sometimes aren't responsive or fully optimized for all devices. That obviously makes it much harder for the user to navigate and give their information. Styling can also be an issue on all devices. Spacing, CSS issues, etc, can often make the form hard to navigate and fill out. Ultimately, if you're not creating an appealing form that makes users comfortable, you're going to have issues. 
Your Form/Page Takes Too Long To Load. One of the problems with forms on your website, specifically with ReCaptcha, is it slows down the load time of a web page. Slow loading pages make the user experience less than ideal, and ultimately turn people away from filling out a form. 
Your Forms Are Too Hard To Find. Having a dedicated contact page is always a good practice, but you'd be surprised how many firms don't make it easy to locate that page. Marketing pages alike often are being sent to pages that aren't optimized for conversions or don't have clear CTA's. Call to actions matter throughout your website, and having a form/contact page that's easy to find will make it easier for someone to get in touch with you. 
People Don't Like to Give Out Sensitive Information Online. If I've never done business with you or don't know you, I'm less likely to give out sensitive information about myself or my situation. This usually results in people calling or doing more research to try to find a firm they trust before inquiring. 
People Don't Trust You (Yet). It's human nature to research, read reviews, etc before doing business with someone they've never dealt with before. If your contact page isn't showing your value props or isn't trustworthy to users, they won't give their information. 
People Tend to Call To Get Answers or Ask More Questions. If someone calls your firm, they are likely trying to get immediate answers to questions. Your contact form today most likely doesn't help a user or ask specific questions that may pertain to their inquiry. 
Increase Quantity of Leads with Civille Law Forms
Knowing that many problems exist with law firm web forms, we set a goal to not only solve these issues but to bring additional value-adds to improve lead volume. Here's why Civille Law Forms can help improve the number of leads for your law firm:
Makes User More Comfortable. One of the main benefits of using Civille Law Forms is to break down your long form into steps or multiple pieces. Simplifying a long form makes it much less intimidating for a user, easier to navigate, and makes them feel more comfortable. In the legal space, we understand that reducing fields in a form isn't always feasible especially when you need many details, but even with the simplest forms, moving them into steps can be beneficial.
Makes Your Forms More Personable. From the design to the questions, we've made it easier to personalize your form and page to your prospects. The design of the form can be simplified, but adding a photo of you (or several throughout) for example, can help make users feel more connected and help establish trust. In a conversational setting, users are also likely to give out more sensitive information, rather than just submitting a generic contact form. Questions can also be tailored to the user to make them more personalized. For example,

Address users by first name in your next question

Question 1: What is your name?"
Answer: John Civille
Question 2: Thanks John! What are you inquiring about today?

Showcase Your Value Propositions. Part of the form customization and personalization also allows you to tailor responses, which in turn gives you a chance to showcase your value propositions. For example, if a user selects "Personal Injury" from the question "What can we help you with today?", your response or next question may begin with something like:

"We've helped win over $1.5 million in personal injury cases for our clients. "

Avoids Any Unnecessary Confusion. Oftentimes with a long form asking more in-depth questions, users can get confused, based on the complexity of the form and questions. Our customization can give examples to answers and break down in-depth questions into smaller fragments to help avoid unnecessary confusion.
Easily Distinguish What Practice Areas They Are Interested In. If you have a CRM or need to automatically tag your leads by type, this is the ticket for you. By asking questions and prompting users to select a practice area, leads can be marked accordingly within your CRM.
Allows You To Ask Different Questions Based on Practice Area A User Selects. Another customization piece within the Civille Law Forms is to change your questions depending on the practice area they select. For example, you may ask a different set of questions if they select SSDI vs personal injury and vice versa. Our conditional logic function makes it easy for you to put people down the appropriate path when they are trying to submit a lead.
Allows You to Embed Forms Into Content. The Civille Law Forms doesn't always have to live only on the contact page. Embedding on content and practice area pages gives you an added CTA that doesn't feel forced. Embedded form questions can also be changed depending on the page they are added to. For example, you may tailor the form on the SSDI practice area page to specific SSDI questions vs generic questions. Here's an example where the Civille Law Forms is embedded into the content.
It's Built for Functionality and Speed on ALL Devices. Knowing the issues that many other forms and providers face with mobile, we made sure that Civille Law Forms works flawlessly and fast no matter what device your customers are using.
Ultimately, the Civille Law Forms gives you many customizations that a traditional form can't, without sacrificing functionality and more importantly, lead volume.
Qualifying Website Leads With Civille Law Forms
Another piece of the Civille Law Forms is it can play an important role to improve the quality of leads, and/or reduce the number of unqualified leads. Two scenarios below show how this can be done:
You Don't Want More Leads, But More Qualified Leads
Part of the purpose of building a multi-step form tool was to add an additional layer/questions to qualify leads. More questions can help you better understand their needs, and if they are a right fit for your law firm. In this scenario, you'd build out qualifying questions, similarly to those you may ask a potential client on the phone or in person. If they meet the criteria you set, we send them to your email or CRM, just as you would with a normal lead.
If they DON'T qualify, we can put them on another path. For example, display messages to a user that you cannot help, but prompt them to call another firm or the state bar. Or, we could still send them to you, but mark them differently so you can respond appropriately either via automated email or as you would normally manage other leads – including referral.
You Want Both! More Leads and Qualified Leads
The best-case scenario may be a combination of both. You want the ability to qualify leads, while still maintaining or increasing the lead volume. Similar to the details above, you may want to standardize a subset of questions for EVERY practice area you focus on. By doing so, you can push people down a path to qualify them depending on the practice area they select. Here's an example of a firm using this piece to qualify for every practice.
Additionally, you may also look at embedding the Civille Law Forms on practice area pages, blogs, and marketing landing pages that are specific to a certain practice area or topic. By doing so, you are getting more visibility on your form, and qualifying leads at the same time.
Marking the qualified and non-qualified leads in your CRM is also something we can do prior to sending leads over. In this case, you still may find those non-qualified leads valuable or may want to refer to another law firm, while you focus your attention on the qualified leads.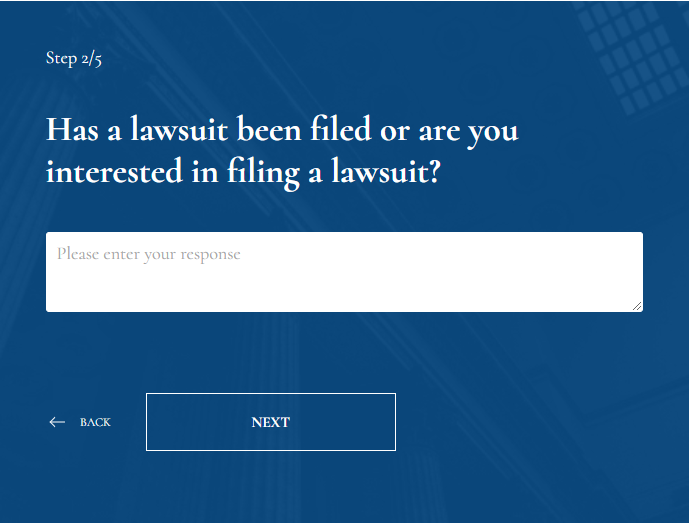 Get Started With Civille Law Forms
Given the functionality and customization of our tool, it can certainly fit the needs of any size firm. If you'd like to get started with the Civille Law Forms, drop us a line or call 920-903-5168.