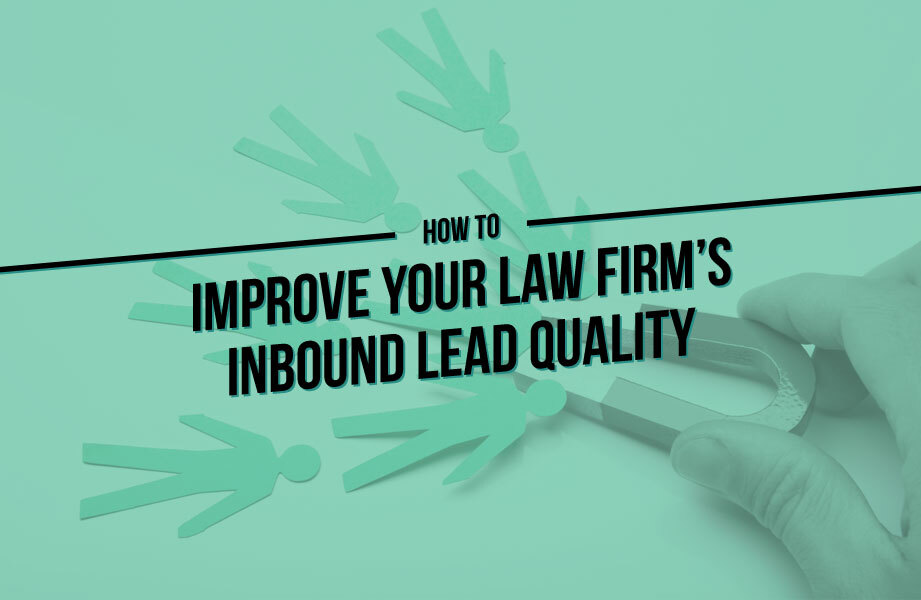 If you're a law firm struggling with low quality leads, especially those coming directly through your website or marketing efforts, you're not alone. Many small law firms don't have the resources to manage a large intake of inbound leads.  And even those that do have the resources, often spend a lot of time on those that aren't qualified or those that don't fit their ideal customer. If you have a referral network and are referring the leads to other firms, the dollar value isn't all lost, but it isn't as valuable as a new client. 
So if you're in the boat of "I don't want more leads, but I want more qualified leads" or you just simply want to build a better pipeline of quality leads, this guidebook will help you build a better inbound lead strategy to allow you to focus on the leads that matter the most. Everything that we've outlined are real life examples, many from small law firms like yourself, that have built a better lead strategy by simply optimizing and using tools to enhance flows, processes, and more. 
#1: Perform a Website & Marketing Audit
DO NOT SKIP AHEAD! This is the MOST IMPORTANT STEP! Auditing your website and marketing is critical to help identify the gaps, issues, and opportunities within your existing digital landscape. Even if you have a new website, there are often things that an audit can uncover that may have been missed upon build. Here are some things you may find within an audit that will help shape some of your next steps in improving your lead quality:
Law Firm Website Audit
How fast is your website? Slow mobile page speeds are more often than not something most firms struggle with. Improving your speed can go a long way into reducing friction with potential customers.
Is your website and content optimized for search engines? Do you have any errors? A simple SEO audit can help uncover issues and opportunities that are critical with search engines. SEO errors, duplicate content, poor link building, and more are common issues many firms face. If your website isn't fully optimized for search engines, people aren't gonna find your firm. And those looking, may be quality leads you're missing out on.
Is your website secure? Website security is important because without a trustworthy and functional site, you're missing out on leads. SSL Certificates help build trust with the consumer, but aren't the only thing that you could be missing out on from a security standpoint.
Is your website design modern & responsive? An audit may not tell you this directly–you can probably make that judgement yourself. But did you know that most people won't pursue contacting a business that doesn't have a modern or responsive design? If you haven't updated your website (or don't even have one), you're missing out on leads and potential clients.
Law Firm Marketing Audit
What does your marketing mix look like? Where are you spending money? Auditing your marketing spend is a crucial part of this exercise because it can help identify gaps within your current marketing. Auditing your current spend (even traditional marketing) can also help you figure out what your ROI looks like and where it may make sense to cut or invest more in.
Where are you lacking in marketing opportunities? As you're auditing your marketing mix, identify areas where you're lacking in. Do you have a social media presence? If so, are those social channels optimized? How often are you posting? What content are you posting? Do you have an optimized and structured GMB page? What does your content strategy look like? Do people respond to your content? Be critical of yourself.
What marketing channels are driving conversions? What marketing sources aren't working? HINT: If you're still investing in local newspapers, billboards, etc. over digital marketing, you're doing it wrong. Whether you're a firm that is or isn't, closely examine your channels, and analytics behind those to figure out what's working and what's not.
What pages are people converting on? What pages aren't people converting on that are being used in marketing? If you're using Google Analytics, this can easily be done in your behavioral reports. If people aren't converting on the page they land on, that's an opportunity for you to improve that page, content, or try something new.
Auditing can be a lot of work, but it's crucial to your inbound lead strategy. If you're looking for some quick help, check out our Free Website Review to get started.
#2: Enhance Your Law Firm's Website Forms with Qualifying Questions
If you have a form on your website, you most likely have something that is simplistic that asks the minimal questions that you need to contact someone. And while this is normally a best practice in minimizing the amount of questions, it doesn't really help you qualify a customer. Adding more qualifying questions not only gives you better lead quality, but it also allows you to better serve the customer.
Now you could simply take your current form, add more qualifying questions, and be done. But now it increases friction for a customer. More form fields doesn't typically help increase conversion rates, and it may reduce the amount of leads and turn down potential customers. So what's the best approach? There could be a few:
Reduce current form to only the necessities – Name + Email, and replace phone, address, or anything else with qualifying questions.
Add in qualifying questions on your thank you page
Break down your form and qualifying questions into a multi-step form
We have found that one of the best approaches is using a multi step form to improve the quality of a lead. Using Civille Law Forms, we break down a form in steps that makes it easy for the customer to understand, while working in qualifying questions to help you weed out the bad leads. Civille Law Forms come with a Liberty site, and can be upgraded on our Core website packages. If you're not ready to commit to a site with us, we can also license the plugin to add to your current WordPress site.  Breaking your form and qualifying questions into a multi step form can be one of the quickest ways to improve your lead quality. You can learn more about Civille Law Forms here. 
#3: Add a Chat Tool to Qualify Leads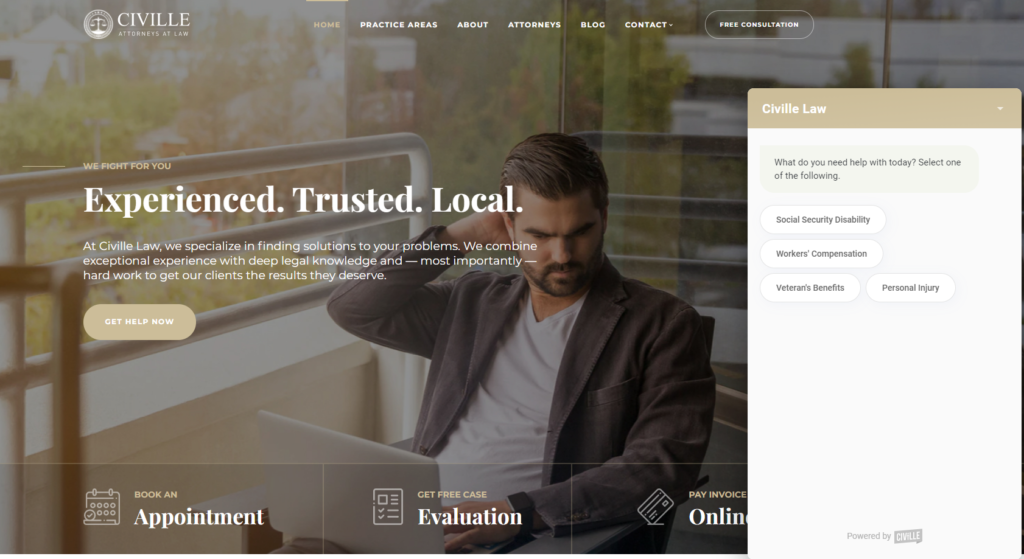 A quick win solution for your law firm could be partnering with a chat provider to help increase your leads and qualify leads at the same time. The problem with tools and providers, is it often comes with an added cost. And if you're a firm with not a lot of budget, it may not be the best solution for you.
Luckily, we have also created a solution that provides very little overhead expense and resources on your end–Civille Chat Tool. Using a combination of AI, steps, and qualifying questions, the Civille Chat Tool is just another piece that can help qualify customers while not sacrificing quantity. If you're interested, our recent blog explains in more detail of the tool and the benefits.  
#4: Improve Your Law Firm's Marketing Landing Pages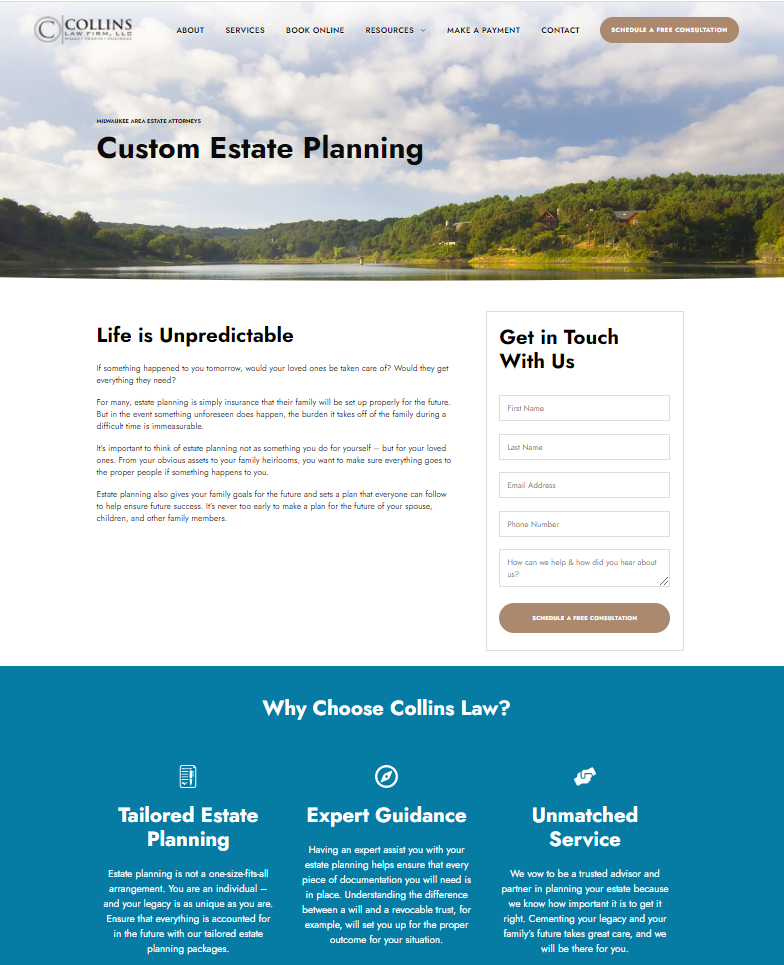 Your marketing landing pages are an important part of your customers (and potential customers) journey. Which is why it's important to audit (see above). Your landing pages could be anything you use in paid advertising, content marketing, or urls that you're directing people to in traditional advertising. Even if you've done an audit and it showed that your pages are converting, don't stop there. There's always an opportunity for you to improve on your current metrics, while still focusing on improving quality. Here are some steps that may help you improve the quality on your existing pages:
Improve your page speed. Have fast page speeds on mobile is extremely important.
Change up the content. Be more specific, change up your voice, bullet point, highlight, or make text bigger on things you want your customers to see
Add in more value propositions to your page. Ask yourself why should they do business with you? What sets you apart from your competitors?
Add in a form (or multi-step form) directly on your landing page. Pages with forms improve conversion rates and quality of leads.
Add in or change up your call-to actions. Here are some examples: "Free consultation", "Free 30-minute review", "Start Your Case"
#5: Know Who Your Ideal Legal Customer Is
How you shape, build, and optimize much of your marketing and website depends on who your audience is. If you're an established firm, you most likely already have data or insights behind many of your existing customers that can help you shape personas and understand your target audience.
Some questions you may ask yourself (or them) in building your most ideal customer(s):
What are their ages?
Where do they live?
What is their income level?
Are they married? Do they have children?
Many of these questions you can easily answer if you've met or have a relationship with those customers. Expanding upon them to identify interests and more detailed demographic information will also help you build an ideal persona. Even basic information can help you build more focused marketing campaigns and content on your website.
Here are some ways you can utilize your ideal customer info in your marketing to find more quality leads:
Overlay income or demographic data on your paid advertising. Facebook and Google all have options to overlay demographic data.
Use persona imagery in your content/social media. Imagery that speaks to your ideal customer is key to getting them to engage with your brand and your ads.
Focus content on your ideal customers. Speak to your customers' needs in your landing pages. Write blogs and other content that spark their interest.
#6: Work on Your Law Firm's Positioning & Messaging
In the legal space, it's never been more important to stand out from the crowd. Reaching your ideal customers often starts with how you've positioned your brand and the messaging you're using. Legal branding is important because no matter how well crafted your marketing strategy is, a poor logo, website, and inconsistent brand will undermine your marketing strategy, including lead quality. Having a clear, consistent, and differentiating messaging helps attract the best leads and disqualifies the worst leads. Take a strong, and hard look at your brand by analyzing:
Your web design. Do you have a modern look and feel? Is it responsive to all devices?
Your messaging, content, and CTA's throughout your site. Does your messaging speak to your ideal customers? Is your CTA compelling and consistent?
Your logo, colors, and fonts. Is your logo clear, professional and concise? Does it communicate your values? Is it legible on all devices? Does it differ from your competitors?
Your messaging in paid advertising. Is your messaging consistent with your brand/website? Does it differ and stand out from your competitors?
#7: Build & Automate Marketing Funnels
If you're a small law firm, you may find it difficult to manage a large amount of leads. We often hear from customers that they can't handle more leads and that they don't want more leads. Even if you're not in this situation, take a strong look at how you're handling your leads and the systems you're using to figure out how you can automate some of these pieces. By automating, you can save time, and spend more time focused on those that are in need now.
A good example of automation, may come within your form lead follow up process. If you're not using Civille Law Forms, or some qualifying questions within your form, you could qualify your customers by simply creating flows to send those qualifying questions in an email.
Another automation piece could come in the form of retargeting. If a person comes to your website and doesn't fill out a lead or call, an easy way to get them back or interested again is with retargeting ads on FB or Google display network. Simple concept, but allows you to target the right users and helps improve lead quality.
#8: Refocus (Or Build) a Legal Paid Advertising Strategy
For most firms, paid advertising isn't anything new. The problem is that most firms struggle in generating leads (and quality leads) from their paid advertising efforts. Luckily, we've helped many firms figure out how to build a better quality pipeline by implementing additional pieces to their current strategy. Even if you've never done paid advertising, there is opportunity for you to bring in higher quality leads at a low investment. Here's a few ideas:
Target keywords with higher intent. Instead of focusing on just attorney keywords, focus on more long tail keywords that offer intent. "Local", "Near me", "Free Consultation", "Milwaukee" etc. All these are examples that offer more intent in a search
Overlay campaigns with segmentation. Overlay your ideal customer demographics in paid search or FB ads to target your ideal customers. Adding similar audiences or lookalike based on your existing customers could also help build better quality leads.
Add in Local Service Ads. Local service ads campaigns are available to all lawyers no matter where they are located. They offer detailed segmentation from the types of practice areas you focus on and the locations you focus on.  And better yet, you pay per lead; which is often much cheaper/reasonable than other paid avenues.
#9: Optimize Your Law Firm's GMB Page + Local SEO Strategy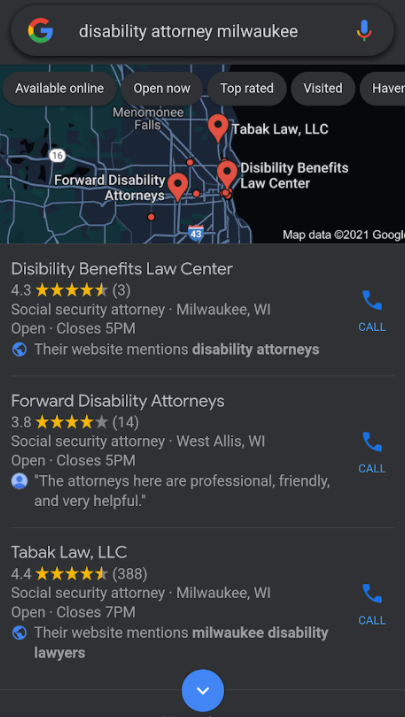 Optimizing your GMB page helps increase exposure for your business. And while that may increase the amount of leads, it's more than likely going to give you more quality leads. By optimizing, responding to reviews, adding more photos, and more, it helps you show up higher in search results for key local search terms. If you're not showing up for those today, your competitors are. And they are taking those quality leads. If you're looking for more GMB optimization tips, you can download our whitepaper here.
Similarly with GMB, optimizing your website, pages, and URLs for local search is another crucial step to build a better lead quality pipeline. Taking it a step further and optimizing your pages and content with high intent keywords will not only help you show up higher in search results, but drive more qualified leads as well. Local SEO and content can be a beast to manage, which is why it's often best to work or consult with a company that knows what they are doing. HINT: That's us.
#10: Ask Happy Customers For Referrals + Reviews
One of the most cost efficient ways to drive more quality leads is from your current customers. Happy customers are always good, and the happier they are, the more likely they are to refer you to friends and family. Here's a few ideas to increase referrals and reviews:
Encourage them to submit reviews on your social media and GMB pages. More positive reviews helps increase exposure and attract more customers. 
Incentivize them to submit reviews. If you ask for reviews, and still don't get them, incentivize your existing clients to leave reviews! 
Ask and/or incentive them for referrals. Reviews are one thing, but getting referrals from happy customers are going to give you the highest quality leads. Incentivize on their bill or with gift cards.
Retarget your current customers with an offer for referrals. If you have a large enough customer base, advertising to them with an offer to refer someone would be a great option if you haven't had luck in asking or emailing them
Final Thoughts
Are you ready to start filling your legal pipeline with high-quality leads? It's not always an easy task especially when it comes to enhancing your website and your marketing. Which is why we at Civille are always here to help. With affordable marketing and website packages, we can help you build a higher quality inbound lead strategy and grow your business. Get in touch today.