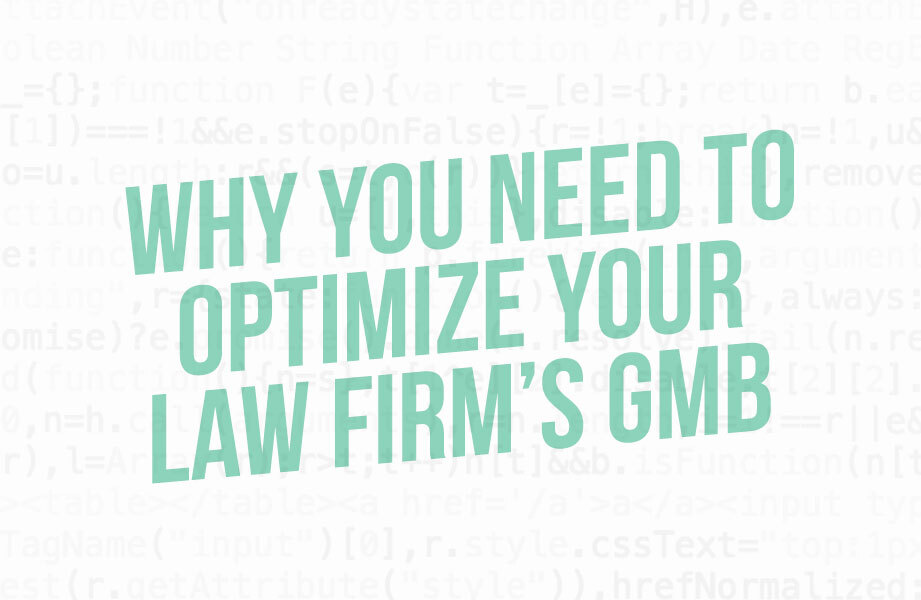 Take Advantage of Your Law Firm's GMB Opportunity
Law firm websites are a core piece of what we do. We know how much value a quality website has for a law firm.
But if a solid website is priority 1 for a law firm's online presence, the Google My Business (GMB) listing is 1a.
The reason is pretty simple.
Approximately 65% of the traffic from people seeking legal services comes from mobile. If you type "Disability Attorney City State" into your phone (or desktop, but laid out differently), what comes up? A map paired to the GMB pages for law firms relevant to the query AND that maintain and update their page regularly.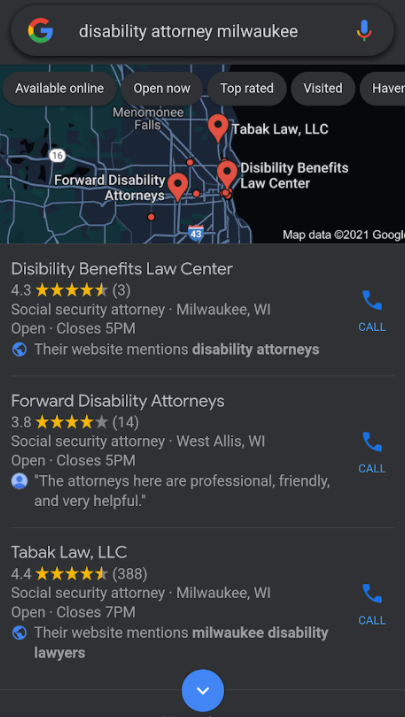 At that point, most visitors will do one of three things right from this interface.
Call your law firm (25%)
Visit your website (55%)
Get directions to your law firm (20%)
One of those actions is a lead (calls). The other two are as close to leads as you can get. Someone coming in from GMB to your website is likely to convert if you have a quality site. This means that it is professional, modern, fast, and optimized. Someone who gets directions to your firm is either a current client or a lead ready to happen.
To understand the percentages above, it's essential to know what kind of raw numbers they are derived from. The average business is found in over 1,000 GMB searches per month. For businesses that optimize their GMB correctly, it's much more significant. That equates to a healthy number of extra leads per month.
GMB Case Study 1
Let's look at a use case from a current Civille customer.
This data is from March 2021. This is a prominent social security disability and workers' compensation law firm in a larger, competitive market. We run their GMB for them and it has a top-three map listing for competitive terms as a result. 
As the data shows, they got 403 website visits, 402 calls, and 126 directions in one month. Of those website visits, 39 converted into a lead.
GMB Case Study 2
Here is another use case from a law firm that we just started running GMB for in January.
In this scenario, the law firm focuses on personal injury and workers' compensation and is located in another large, competitive market. As the chart shows, once the GMB page was optimized, it started appearing for more customers and driving conversions. In this case, conversions were counted as calls and directions. The website visits from GMB for March were 327.
In addition to being found in search, optimizing the GMB page is great for branded search, as it accompanies the website as a top result. Google automatically displays the GMB page to users on mobile and offers it on the right of the typical search results page on desktop.
If there is no GMB page, you are missing out on building your brand through these searches as well.
Things customers can interact with directly when clicking into the page on a general search or within a brand search that features your business include:
Business hours
Reviews
Photos
Products and Services
Google Posts
Business Q&A
Now that you know what GMB can mean to your law firm, you'll want to make sure you optimize your page to reap the benefits. Luckily, we've compiled a free how-to GMB for law firms.