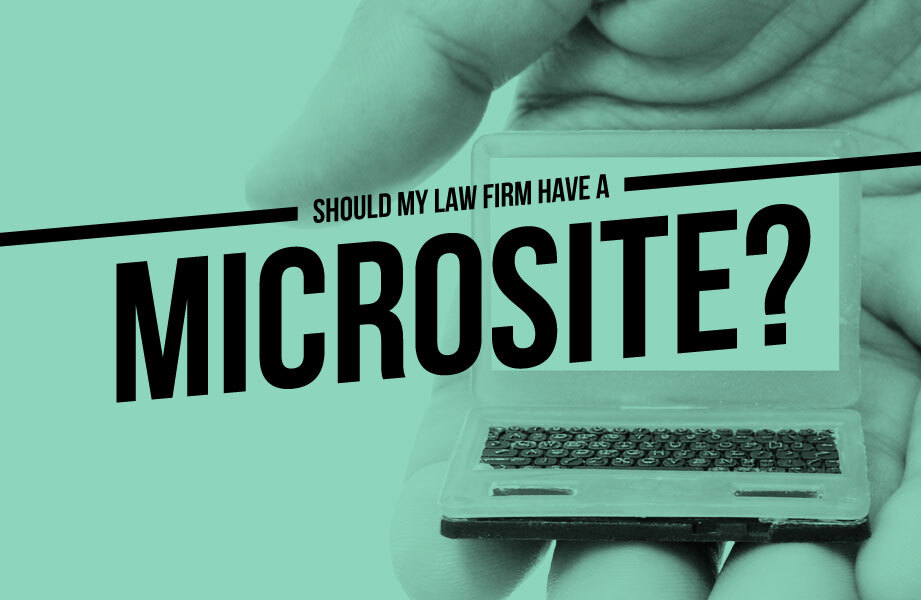 A website is an important part of any business. For law firms, your website serves multiple purposes. It's your virtual billboard or front door. Your site is where first impressions are made and more often than not, where they can be lost. It's where customers and potential customers alike go to find information and resources. Your front door servers as your virtual business card and receptionist. In 2022, having a modern, fast, and resourceful website for your law firm should be a priority.
If you're already prioritizing/optimizing your website, or plan to in 2022, then you're already ahead of many of your competitors. And if you're trying to grow your online presence even further, you may be looking at multiple avenues. While many tactics can be successful or help your business grow, you may want to consider expanding your website presence with a law firm microsite.
What is a law firm microsite?
A law firm microsite is essentially what its name suggests – a micro or mini-website. For most, it's designed to function outside of your normal site (but doesn't always have to). A micro-site can vary as a single page or a collection of pages. Depending on the strategy or need, it could exist under your main domain (getciville.com/estate-planning), a subdomain (estateplanning.getciville.com), or a completely separate domain (oshkoshestateplanning.com).
When Does It Make Sense to Build a Microsite for Your Law Firm?
There are many reasons why it can make sense to build a microsite or multiple microsites. Let's look at some of the scenarios:
You're a Solo Practitioner and Your Law Firm Doesn't Have a Website
Normally, a microsite serves as an extension of your "normal" website. But for some, especially those that don't have a website or are brand new to the space, a microsite could be a very serviceable and affordable option. As a solo practitioner, if you're focused on a certain niche, it could also make perfect sense. At the very least, it starts helping you build your online presence. And if done right, it hits all the checkboxes we discussed earlier and gives you something to build off of.
A great example of this – saaslaw.io. For context, Rob Congilere is a solo practitioner that has a highly focused law firm specializing in legal help for SAAS (software as a service) companies.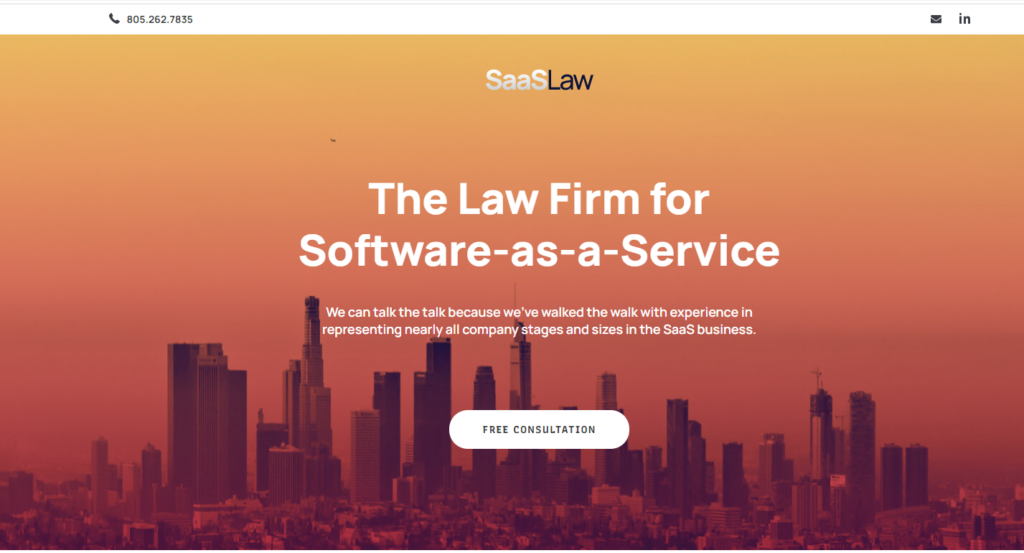 You Want a Dedicated Page(s) for Marketing Campaigns or Paid Advertising
Law firm microsites could also serve a purpose if you're doing creative marketing campaigns or paid advertising. For specific creative campaigns, co-branded partnerships, sponsorships, or large events, a microsite could be a great opportunity to build awareness and use across multiple platforms. A great example may be a nonprofit partnership that showcases your involvement and ongoing support.
For paid advertising, there are many varying opinions about creating a microsite vs landing pages. It really comes down to how big your budget is and how exhaustive your campaigns are. A great example could be a personal injury law firm. Personal injury covers a very wide variety of keywords from slip & fall to dog bites and auto accidents. A microsite that's tailored to each of those segments or keywords could help provide much more relevancy to your audience (which could reduce your cost), while also improving conversion rates.
You Want to Expand a Practice Area(s) or Focus Your Content
One of the biggest benefits of a microsite is the ability to really focus and tailor your content. Adding more content to your normal law firm website definitely has value (and shouldn't be ignored). But by building out a microsite that is focused on one particular practice area, geography or target audience, could reap just as much, if not more SEO value for your law firm.
If you're unsure if this is the right strategy, things you may ask yourself:
Does my law firm have a lot of locations?
For those law firms with 3+ more locations, building out separate microsites can not only rid yourself of cluttered navigation, but it could also help you tailor your site content for each location, and ultimately increase your SEO rankings for those geographic areas. By breaking out each location into a subdomain for example, you're tailoring your URL and all of your technical SEO and interior content for that specific geography. With multiple locations on a "normal" website, it's much more difficult to increase your local rankings. A microsite strategy most likely would include a subdomain (oshkosh.getciville.com) or an expanded domain name (getciville.com/oshkosh-wi) in this instance.
Does my law firm specialize in a lot of practice areas or niches?
For many medium-large law firms, it's not uncommon to specialize in multiple types of law and practice areas. At some point, it can be very difficult from a navigation standpoint, and also very difficult for clients to find what they're looking for. On top of that, it also comes back to how well you can focus your content/SEO. With multiple specializations, fitting that all into your content, title tags, etc. can be difficult. A great example of this could be litigation attorneys that handle divorces, personal injury, etc. Having a microsite can allow you to better highlight those practice areas and tailor your SEO.
Does my law firm have different target markets or audiences?
Another thing that may warrant a microsite strategy could be your target audience. You may not have A LOT of practice areas, but maybe your practice areas are very diverse. For example, you specialize in criminal defense, estate planning, and divorce. All of those are very different practice areas and a very different target audience. It may make sense to build a microsite strategy on a new domain or subdomain to tailor your content and web design for those particular clients.
A great example of this is tabakvaattorneys.com. Tabak Law (tabakattorneys.com) is similar to the example above, where they specialize in more niche practice areas (primarily SSDI, Worker's Compensation, and Veterans Benefits). While their main site does encompass all of their practice areas, it's primarily focused on SSDI. Seeing an opportunity to focus more content and site design overall to Veterans, they opted to build a microsite (tabakvaattorneys.com).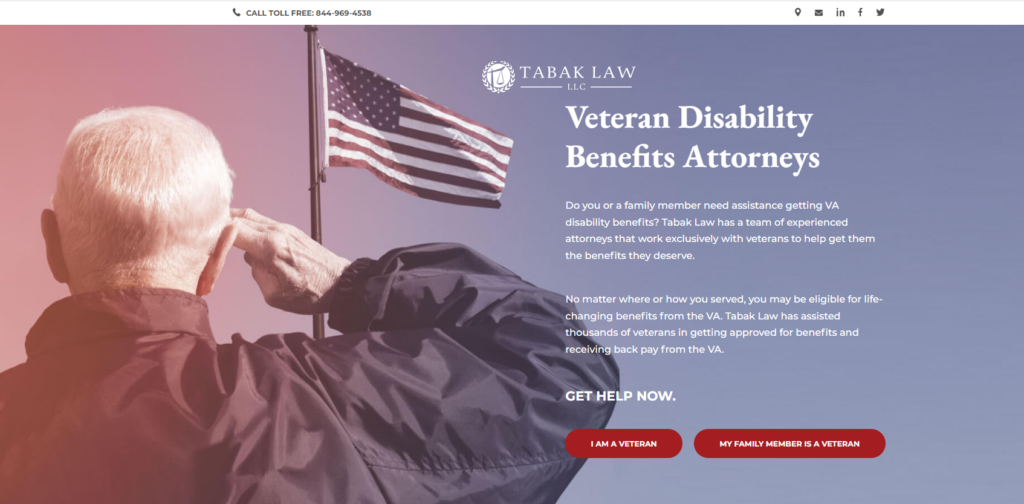 Does my law firm have clients or a target market that speaks other languages besides English?
Similar to the last scenario, your audiences and potential clients may vary in terms of the languages they speak. A common scenario is English vs Spanish. If your geographic market has a high density of Spanish-speaking individuals, it certainly could be a great opportunity to build a microsite and tailor your content to those individuals, in the Spanish language.
This obviously is a much bigger undertaking than many of the other examples given the need for translation and setting up the appropriate processes. But if you have the resources (or right partners) and bi-lingual team members, it could be a very rewarding opportunity, especially since it's a highly untapped market in the legal space.
Do you have a lot of recruiting needs?
If you're a small firm, this probably doesn't matter or isn't needed, but for those large law firms that are looking to build their teams and find better quality candidates, this is a great opportunity. By building a careers-focused microsite, you can tailor your content and design to your candidates (vs your potential customers) and build a more personalized experience. A great example is Latham & Watkins (https://www.lwcareers.com/)
Does My Law Firm Really Need a Microsite?
The short answer is…that depends. It's really a necessity if you don't have a website already. Outside of that, it's more like a cost-effective marketing tool that can provide a lot of budgetary, user experience, SEO, content, and lead generation benefits if done right (and it's needed). Not every firm needs it, and a lot depends on your SEO and digital marketing strategy. We've not only built many microsites but have helped steer many firms in the right direction with our free website audit.