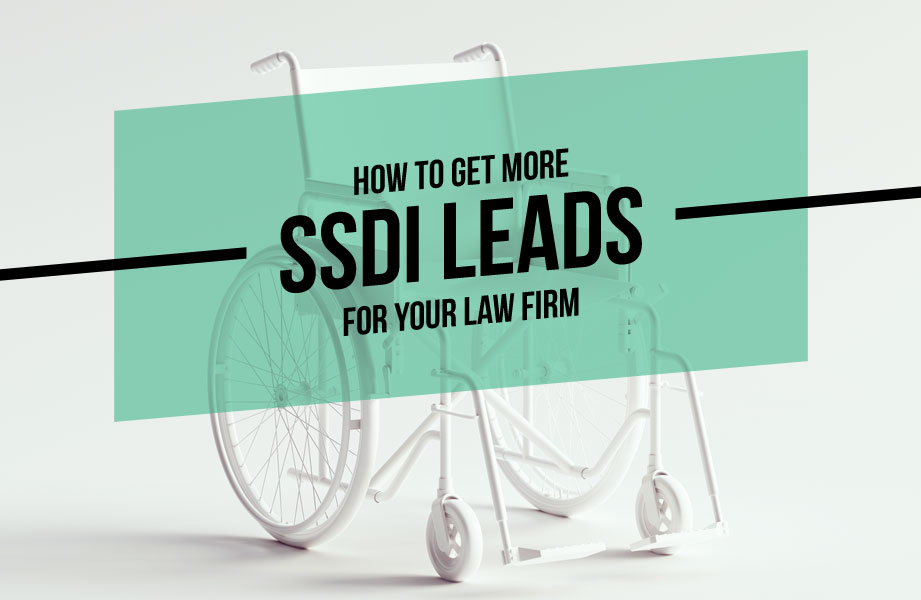 Being a disability attorney can be rewarding work. Having the unique skill set to assist individuals suffering financial hardship due to their medical condition sets disability attorneys apart from many other practices. 
Unfortunately, it isn't always possible to help everyone. As you know, not everyone qualifies for disability payments, and many of the individuals applying for benefits have already been disqualified, or are receiving benefits and incorrectly believe they can increase their benefit amount.
For social security disability insurance (SSDI) attorneys, it can be difficult obtaining new clients, and even more difficult to obtain the right kind of clients. But if you are willing to put some time into it – or find the right tech partner – the digital space is ripe to allow you to set your law firm apart and get the best SSDI clients.
How to Get More SSDI Leads for Your Law Firm
The first step to increasing your lead volume and quality is to analyze your current processes. How are you obtaining leads currently? And what is the ROI of each lead source? You should have clear data on what your current lead acquisition mix looks like and which sources are most profitable for your law firm.
Buying online leads is a popular strategy in the SSDI space. According to the American Bar Association, 49% of law firms say their best marketing channel is buying online leads. In addition, 78% of law firms say that first-party leads convert better than other sources.
But if you are buying these SSDI clients from a lead aggregator, you really should be doing an ROI analysis of the leads. These lead aggregators aren't doing anything you can't do for your firm yourself with the right strategy. Often, they are utilizing one-off websites to obtain these leads and sell them to law firms.
There are plenty of strategies that allow you to break free from third-party leads and win your own leads in a cost-effective way.
SSDI Microsite
If you are SSDI specific, you can utilize your website and skip to our next strategies. But if you are general practice and want to increase your overall case percentages with more disability cases, creating a specialized social security disability firm microsite makes a lot of sense.
With a microsite, you can 100% optimize the website for disability search terms to help get found in your local area and nationally. From here, you can develop an SEO and paid strategy that leads potential disability clients to your site.
By having the site only focus on SSDI, you are building trust with potential clients that want to work with someone who is versed in disability benefits and working with the Social Security Administration. A microsite allows you to convey that specialization that a general practice website can't.
Content Marketing
Whether you go the microsite route or focus on building up your main site, content marketing is an extremely effective way to attract more SSDI clients.
Search volume for disability terms is high, and not a lot of law firms are doing the kind of content marketing that can move the needle for organic traffic acquisition. By investing resources or partnering with a content agency, you can quickly move up in national rankings for terms that hundreds of people are searching for each day. And since social security disability is a national program, you can choose to either target locally or nationally, depending on the structure of your firm and ability to take cases throughout the country.
Search terms such as "How do I know if I qualify for SSDI?" have over one million results, and there are multiple "People Also Ask" questions that give you clues of what other related content is being searched by individuals looking for benefits – many of who will seek the help of an attorney.
At Civille, we've had great success building up SSDI firms with an effective organic strategy that includes keyword research and deep, long-form content.
Google Business Profile Optimization
In addition to the website and content marketing strategy, your Google Business Profile listing is another surefire way to get your firm front and center for individuals looking to secure disability benefits.
To rank in the maps 3-pack and to show up for competitive terms with your profile, Google does ask you to do a lot. This includes one-time, daily, weekly, and monthly updates of the page, including, but not limited to:
Category optimization
Adding and updating hours
Review response
Q&A response
Adding Google Posts
Adding new photos
Description optimization
Adding products
Check out our full guide on how to optimize your Google Business Profile as a law firm.
Paid Search
Some attorneys have been burned by paid search in the past. Trying to run it yourself or having an inexperienced agency run your campaigns can burn money quickly. When it comes to SSDI, there are a few tricks that can help you get leads without breaking the bank.
A service that has been rolled out within the last year or so is Google Local Service Ads. The ads placement gets your face at the top of the search results page, and if you do it right, you'll only be paying for the leads that you convert.
Another trick is to utilize lead ads on Facebook. With lead ads, prospective clients fill out the lead within the Facebook ad. These leads typically cost a fraction of typical search leads if optimized correctly. And if you utilize an integration, you can have these leads pass directly to your CRM.
Lead Qualification
Some of the above tactics are better than others in terms of getting quality leads. This is where your website can do the dirty work for you. By utilizing tools like the Civille Lead Qualification Suite, you can qualify leads that come to you, to ensure that you and your team aren't wasting time on leads that you can't help. 
For example, disability attorneys can't help individuals who are already receiving benefits, since this number is defined by what you have paid into the system and work history. Having a form that asks someone "Are you currently receiving benefits?" helps define the quality of the lead. You can have the interaction end there, or have our team define this as an 'A' or 'B' lead that then routes to your CRM appropriately.
Tying it All Together
In the end, there are many opportunities right now for SSDI attorneys to gather more leads – through organic and paid search. You should know all of your current sources, their costs, and their return on investment before you can start deciding on what avenue to invest in next.
Often, doing a mix of the above services effectively can save a lot of costs from buying leads and other sources. To take it to the next level, qualify the leads that hit you up via online forms, chat, and calls to redefine the cost structure and ROI of your marketing efforts.