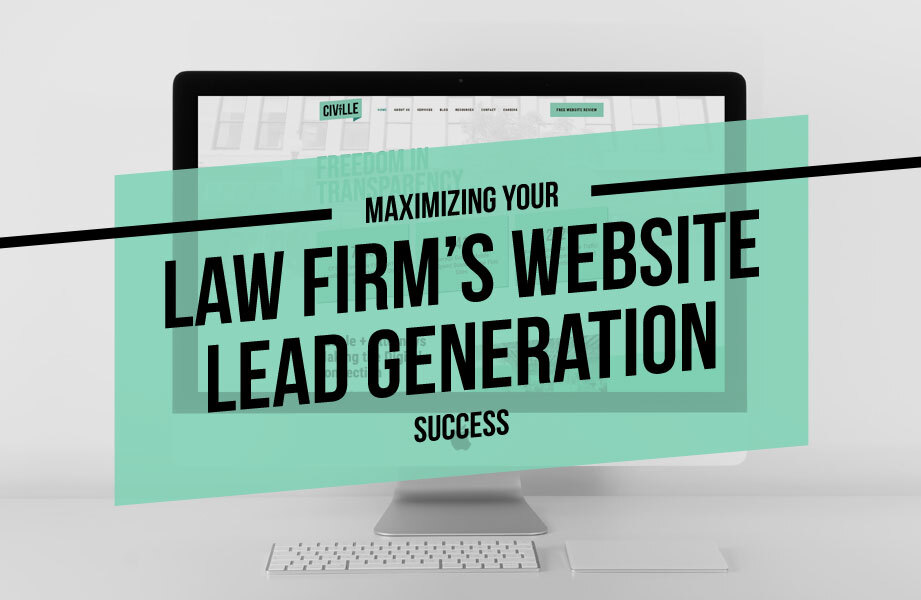 Lead generation for the legal space isn't something new. Whether you're a small firm or a large firm, generating leads is important to the success of your business.
Like most industries, there has been a dramatic shift in consumer behavior over the last several years – more people than ever before are turning towards the internet to do their research, find legal advice, and ultimately, contact a lawyer. A recent study has shown that 76% of consumers go online to find an attorney, while the days of using the phone book and looking at billboards are dwindling to nothing.
Even if your business relies heavily on referrals from your network and clients, don't be fooled into thinking that your website and digital lead gen efforts don't matter. People are still researching your firm (and other firms, for that matter) before they ultimately give you a call or connect with your firm. Your digital presence is significant for quality leads and growing your business.
It doesn't take a genius to understand the basics of online lead generation. People come to your website (or other online channels) and contact your law firm. And wallah! You have generated a lead. But finding the right people (or the right people finding you) is often the tricky part. And once they find you, having the right communication tools, the correct information, and a working/secure/modern/fast website is even more important. And even if all those are "right" in your mind, the response times, intake processes, and communication from your firm all play a role in actually getting a potential lead to become a client.
The truth is, a successful lead generation strategy is not as simple as just having a website, writing some content, and posting on social media; there are multiple pieces that all work together to help you find success.
If You Build It, They Will Come
Whether you're looking to build your online lead generation strategy or improve the results of your strategy, the core of it all begins with your website. Why? Because 99% of the time, it's the first thing people see or go to before contacting your firm online. The content on your website provides visibility on search engines for them to find your business. Building, maintaining and improving pieces within your website drive your digital strategy.
So what's at the core of a successful website for lead generation?
#1: Page Speed
When the internet came around, nobody cared about speed. Everything online was slow back then. But in 2021 and beyond, speed and access to information are at the forefront of everything we do daily. People want instant gratification, and that mindset is no different in how they search and browse the internet. Having a slow-loading website today is crucial to lead generation. A website that loads faster and delivers content more quickly satisfies the user's needs faster
Most think that their website's page speed is fine, especially when they access it on a desktop. And they are right – the majority of law firm websites have above average page speed scores on desktop. But the problem isn't desktop – it's with mobile devices. In fact, the average website page speed on a mobile device is 3X slower than desktop. That's the average across all websites – the legal sector ranks near the bottom of all industries.
Seventy-seven percent of time spent online is from mobile devices, and that number continues to climb year over year. The truth is mobile users expect fast load speeds and the slower your website loads on mobile decreases the chance of them converting and becoming a lead. Forty percent of consumers will abandon a website that takes more than three seconds to load. This is even more crucial in the legal space because if they need help now, and you can't provide that with a fast-loading website, they will go to someone else who can.
Page speed also plays an important role in organic rankings. Google now uses mobile page speed score as an SEO ranking signal. Slower page speeds most likely mean decreased rankings or at least a lower likelihood of showing up higher within search results.
The nuts and bolts of it all – a slower website = fewer leads. Focus on page speed, and continue to monitor and check for improvements. If you want to know more about improving your page speed, check out our page speed blog article here.
#2: Modern & Professional Design
First impressions are important. If there was a rule that all businesses and personnel alike should follow in person, you need to make an excellent first impression. But in 2021, your first impression isn't made in person; it's made online. It takes about 0.05 seconds for people to form an opinion on your website. An outdated website, one that hasn't been updated, or one that isn't personable, doesn't make a good first impression.
Too many times in the legal space, we have heard "my website is fine" or "I don't need a new website." But the fact of the matter is that most sites in the legal space, especially those smaller firms, haven't been updated, or they continue to ignore simple, modern, and professional elements.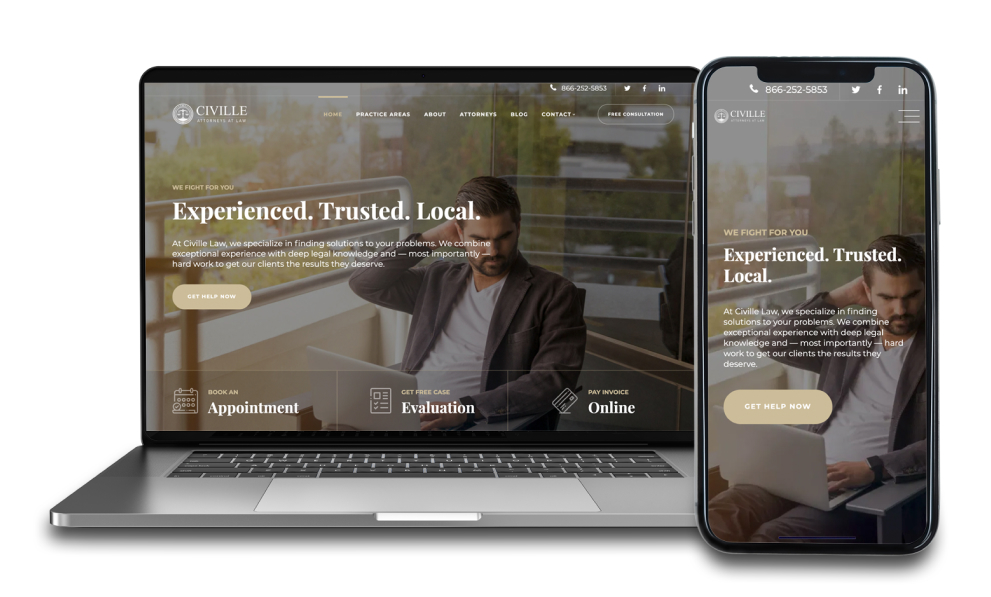 Websites should be updated every two years, and some even more often. Being a law firm in the modern age means you need a modern-looking website with modern elements, features, and communication tools that people are using. People are still looking at your website even if you rely heavily on referrals or third parties for lead gen. You put time and effort into making your office, billboard, advertisements, and all other elements of your appearance look good—the same should be applied to your online presence.
So, where do you start? Well, it could begin with a simple redesign of your site, but it may be in your best interest to audit all the pieces that go along with your site. Here are some thoughts:
Your Logo, Colors, and Fonts. Going through a rebranding process sounds scary, and it certainly can be a process, but your brand is often the piece that makes initial impressions. Even if you don't need a new logo or colors, ensure your fonts, color, and brand are consistent throughout your website and other online channels. Our blog post here details why branding is important and other things you should consider when building your brand.
Your Website Imagery. High-quality images on your site are essential to making your website look professional and modern. Imagery that reflects your brand and your local area is also important in making users feel comfortable.
Your Headshots. Too many times, we've seen sites with headshots that are the same–they are either your standard professional headshot or outdated and low quality. If you want your site and you as an attorney to stand out, be creative, and at the very least use headshots that aren't outdated and pixelated.
Your Page Design – Page design and flow is important to a users' experience. Good use of negative space, contrast, CTA's, and cohesively organizing your page can quickly help you improve your page design elements.
#3: Mobile Responsiveness
Like page speed, mobile design plays a vital role in how users engage with your website, and ultimately how they perceive your brand. A website that isn't responsive (or adaptive) on all devices, especially on mobile, creates user experience issues. And issues decrease the likelihood of users connecting with your firm.
And just like page speed, the legal space falls near the bottom in terms of optimizing their website for mobile devices. Even if your site is responsive, the mobile design of pages, images, CTA's, and everything else in between is often overlooked. If a user's experience with your website isn't good on mobile, it's most likely going to result in fewer leads.
So what can you do? Audit your website. Test all elements of your website on all devices. Ensure that your mobile experience is just as good, if not better, than your desktop experience. Take a close look at other page elements besides your content, including forms, buttons, and imagery. If it isn't great, redesigning your website to be mobile-first is the next, if not the best, option for your firm. After all, a fresh and updated design is always good for your online presence and your brand.
#4: Website Security
Site security is often one of the most overlooked pieces on your site. Many firms in the legal space tend to build a website or pay for one upfront and ignore security and updates as time goes on. This causes issues with site security. And with lead gen, sites not using an SSL certificate or those with problems with other security elements will decrease the likelihood of customers submitting leads.
On your end, continue to monitor site security, update plugins, and upgrade hosting to use an SSL certificate. Other pieces within your site can pose issues to site security as well. For a complete list of optimization techniques, check out our blog here.
#5: Call-To Actions & Communication Tools
Communication tools and options have continued to change for most businesses. Twenty years ago, phone calls were the primary driver for most companies who dealt with lead. Today, the digital landscape has shifted communication preferences across several pieces, including chat, email, forms, phone calls, and text messages.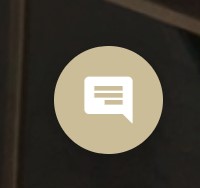 Using best practices with CTA's and communication tools is the key to improved lead generation with your law firm's website. Your site should always be geared to providing your potential customers with valuable information but also easy ways for them to get in touch with you. Utilize CTAs appropriately to drive to communication tools such as chat, forms, text messages, and calls throughout your site. The best practice is to always include those options in your header, footer, and contact page while incorporating pieces within your home page and interior content.
#6: Localized & Quality Content
The content on your website is one of the most significant pieces that provide valuable information to your customers, but it also helps your site's organic rankings (if done right). We often see the problem with local law firms is that much of the content isn't specific to their local areas and their local customers. Many get in the habit of writing legal-specific content that often doesn't focus on their ideal customers or doesn't focus on their brand personality. Doing so hurts lead volume and doesn't set your law firm apart from the rest.
So how do you know if your content needs improvement? If you're struggling to appear in search results, or many of your users are bouncing when they land on your site, it could easily point to problems with your overall SEO and content strategy. Start auditing the content on your site and your pages. Ensure that your voice and brand are consistent throughout and is client-focused. Ongoing content creation is necessary for higher visibility and continued success. Local keyword optimization is essential within your content and headings, URL structures, meta, and title tags. Optimize your interior SEO elements for localized search to help increase visibility for local searches. If you're interested in more specific strategies in maximizing your content and SEO success, check out our blog here.
Closing Thoughts
Your website is at the core of your business, no matter what way you look at it. If you're trying to maximize your lead generation success, you need to start with your website and continue to optimize as you move along. If you need help, Civille has you covered.