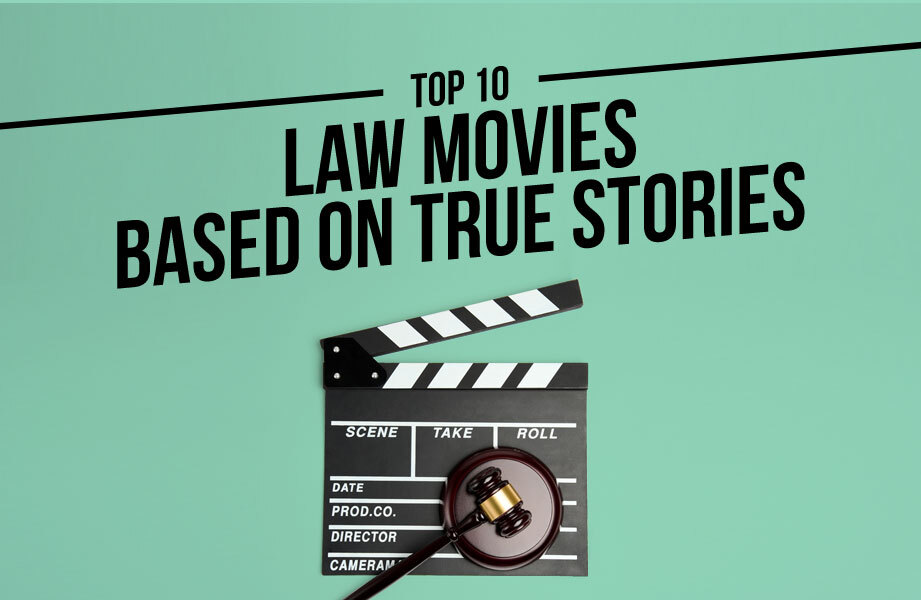 We eat, sleep, and breathe legal here at Civille.
When we are not creating custom websites for law firms across the country, we are talking about how we can better serve our clients and their law firms with custom SEO content, digital marketing, analytics, and more. When you get that deep into the legal world, it is hard not to fall in love with the intricacies of the legal process, the drama of courtroom discourse, the tension of a courtroom verdict, the passion of a closing argument, and the exhilaration when justice is served.
That passion and excitement is something that many people are drawn to and a reason why many of us enjoy legal dramas and law films on the silver screen. The magic of Hollywood can make the courtroom come to life for those of us at home on our couch and films like – A Few Good Men, To Kill a Mockingbird, My Cousin Vinny, and Legally Blonde – have entertained millions with drama, suspense, thrills, and comedy.
We know that many lawyers, attorneys, paralegals, and partners watch legal dramas and thrillers from a different perspective with an eye on the details of the film. Not all legal films are created equal and we know that many of our clients appreciate films that are grounded in reality and we cannot help but agree. To celebrate our favorite legal films, we have created a list of the Top 10 Law Movies Based on True Stories.
---
READ MORE: Top 10 Lawyer YouTube Channels
---
10. On the Basis of Sex – 2018
Cast: Felicity Jones, Armie Hammer, and Justin Theroux
Rotten Tomatoes Score: 72% Tomatometer Score and 76% Audience Score

A legal drama that debuted in 2018, On the Basis of Sex is classified as a biographical legal drama that details the life of Supreme Court Justice Ruth Bader Ginsburg. The film is based on her life, with a focus on the Moritz v. Commissioner of Internal Revenue case that challenged gender biases in the American legal system. On the Basis of Sex provides incredible insight into the life of an American icon and the legal case that catapulted her to prominence.
9. Marshall – 2017
Cast: Chadwick Boseman, Josh Gad, Kate Hudson, and Sterling Brown
Rotten Tomatoes Score: 80% Tomatometer Score and 84% Audience Score

Thurgood Marshall – like Ruth Bader Ginsburg in the previous film – is a prominent figure in the American legal system as the first African American appointee to the U.S. Supreme Court and Marshall is an incredible biographical legal drama that highlights the legal case that thrust him into the spotlight. Thurgood Marshall was an attorney for the NAACP in 1941 and successfully defended Joseph Spell in a sexual assault case in Connecticut – where Marshall was not allowed into the courtroom do to his race – and the late Chadwick Boseman plays the role to perfection.
8. The Hurricane – 1999
Cast: Denzel Washington, Vicellous Reon Shannon, Deborah Kara Unger, and Liev Schreiber
Rotten Tomatoes Score: 83% Tomatometer Score and 87% Audience Score

The blockbuster film The Hurricane – starring Denzel Washington – is based on the true story of professional boxer Rubin "Hurricane" Carter who was wrongfully convicted of a triple homicide in 1966. The story details the actions of a young man named Lesra and his peers who fight to get justice for Carter. The courtroom case, which was built on unreliable eyewitness testimonies, revealed racial biases and flawed evidence. Rubin "Hurricane" Carter was released from prison in 1985 after twenty years.
7. Erin Brockovich – 2000
Cast: Julia Roberts, Albert Finney, and Aaron Eckhart
Rotten Tomatoes Score: 85% Tomatometer Score and 81% Audience Score

Julia Roberts won an Academy Award, a Golden Globe, a Critic's Choice Award, and a Screen Actor's Guild Award for her role in Erin Brockovich – a film that was based on a real-life case. A legal clerk at the time, Erin Brockovich played a key role in a massive environmental lawsuit against the Pacific Gas and Electric Company that was dumping dangerous toxins into the ground of Hinkley, CA. The toxic chemicals caused cancer, birth defects, miscarriages, and more for the residents. Brockovich and her firm won a record-breaking $333 million settlement for their clients.
6. Dark Waters – 2019
Cast: Mark Ruffalo, Anne Hathaway, Tim Robbins, and Bill Camp
Rotten Tomatoes Score: 89% Tomatometer Score and 95% Audience Score

The film Dark Waters is based on lawyer Robert Bilot, his client Wilbur Tennant, and their legal battle against the DuPont chemical company in 2017. The environmental case and the film homage details how the DuPont chemical company was responsible for toxic runoff at one of their plants that was proved to cause kidney cancer, testicular cancer, and much more when it contaminated the local water supply. Attorney and environmental activist, Robert Bilott, won more than $671 million in damages for his 3,500 plaintiffs.
5. Judgement at Nuremburg – 1961
Cast: Spencer Tracy, Burt Lancaster, Richard Widmark, Marlene Dietrich and Judy Garland
Rotten Tomatoes Score: 92% Tomatometer Score and 93% Audience Score

The Nuremberg Trials are iconic in the legal world when members of the Nazi party were put on trial for war crimes at the conclusion of World War II. Judgement at Nuremberg is a classic film that uses a fictional trial of four German judges at Nuremberg to highlight the real-life horrors and implications of the Nuremberg Trials. Themes within the film include individual responsibility, moral values, world politics, and much more.
4. A Few Good Men – 1992
Cast: Tom Cruise, Jack Nicholson, Kevin Bacon, Kiefer Sutherland and Demi Moore
Rotten Tomatoes Score: 84% Tomatometer Score and 89% Audience Score

No list of legal films would be complete without A Few Good Men and Jack Nicholson's iconic dialogue. This film is primarily fiction, but is based in truth and on a similar case that involved Marine William Alvarado, Marine Colonel Samuel Adams, Marine David Cox, and additional defendants. Within the scope of the film, the "Code Red" results in the death of the Marine – but in the real-life case, William Alvarado survived the assault – although one of the defendants was murdered after the trial and the killer was never found.
3. Inherit the Wind – 1960
Cast: Spencer Tracy, Gene Kelly, Fredric March, Harry Morgan and Florence Eldridge
Rotten Tomatoes Score: 93% Tomatometer Score and 91% Audience Score

The Scopes Monkey Trial – aka The State of Tennessee v. John Thomas Scopes – took place in 1925 and helped set the precedent of the separation of church and state. Inherit the Wind is a film based on that case where a Tennessee science teacher named John Thomas Scopes taught his class about the theory of evolution, which contradicted the Butler Act that prohibited theories that denied the Bible's account of creation. John Thomas Scopes was found in violation of the Butler Act and the case went on to the Supreme Court, where it gained the attention of the media.
2. To Kill a Mockingbird – 1962
Cast: Gregory Peck, Mary Bradham, Phillip Alford, Brock Peters, and Robert Duvall
Rotten Tomatoes Score: 93% Tomatometer Score and 93% Audience Score

A class legal film – To Kill a Mockingbird is based on the book written by Harper Lee. While the film and book are works of fiction, they are believed to be grounded in reality. The novel is believed to be inspired by the trial of Walter Lett in 1933 – where an African American man was accused of sexual assault of a white woman in Alabama. Lett was found guilty by an all-white jury and received the death sentence. The sentence was later commuted by the governor – but Lett ended up in a mental institution and died shortly after from tuberculosis.
1. Anatomy of a Murder – 1959
Cast: James Stewart, Lee Remick, and Ben Gazzara
Rotten Tomatoes Score: 100% Tomatometer Score and 91% Audience Score

It is difficult to argue with a 100% score on Rotten Tomatoes and the impressive audience score of the film classic Anatomy of a Murder. The film is based on a book written by Robert Traver – aka John D. Voelker – who was a lawyer and Michigan Supreme Court Justice who served as the defense attorney in The People v. Peterson. The trial involved Army Lieutenant Coleman Peterson who was accused of murder over the alleged sexual assault of his wife.
Honorable Mention: The Social Network – 2010
Cast: Jesse Eisenberg, Justin Timberlake, Andrew Garfield, and Armie Hammer
Rotten Tomatoes Score: 96% Tomatometer Score and 87% Audience Score

The Social Network is a popular film that may or may not fit into the legal drama category – but it does have what is considered by many legal experts to have one of the greatest Hollywood depictions of a legal deposition in the film and is based on the trials and tribulations of Mark Zuckerberg and Facebook.
---
READ MORE: The 20 Best Family Law Firm Websites of 2023
---
Do you love movies? Do you love legal dramas or crime thrillers? We know we do here at Civille and we created a list of the Top 10 Law Movies Based on True Stories. Maybe you can find a new favorite film on our list.
Contact the Civille Team today to learn more about our website platform for law firms!