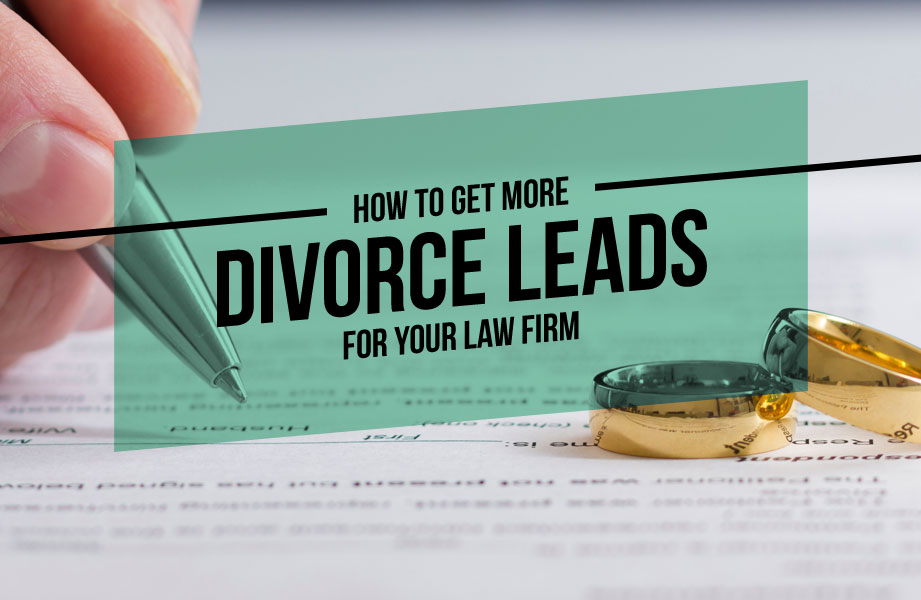 With any law practice, the key to growth is to build a healthy pipeline of leads. For family law and divorce attorneys, it's no different.  For most firms, it's easier said than done, especially if you're in a competitive market. But even in competitive markets, it shouldn't be stopping you from trying and finding cost-effective ways to reach new clients and grow your lead intake. If you're a divorce attorney struggling to gain quality leads, or even if you want to increase the number of divorce leads, this is the blog for you.
Understand Your Target Family Law Market
If you've read any of our other lead generation articles, you'll know that we often lead with something along the lines of "knowing your target audience." When it comes to family law and divorce (or any law practice for that matter), knowing your audience is crucial. Because without understanding your target demographics, their interests, behaviors, and more, it's hard to put together a refined strategy. So before you dive into divorce lead generation strategies, refine and analyze your target market to identify your ideal clients. Here are some ways to start:
Look at your existing customers – Analyzing your existing divorce clients can help you understand some of the commonalities in your target market. Maybe not every client is your ideal client, but it at least should give you some insight into things like:
Age/gender, family size
Job occupations
Income levels
Address/cities/zip codes
From there, you should also consider (and note) common questions/concerns, and reasons why they chose you as a divorce attorney. Things to ask or note:
What questions are they asking you above divorce?
What are their main issues and challenges?
What are their goals, and outcomes they are looking for?
Why did they choose you or your firm?
Build Your Brand and Understand Your Value Propositions
Setting yourself apart from other divorce attorneys starts with your brand and defining your value propositions. If you ask those divorce attorneys that can build quality leads and relationships, most will probably tell you it starts with their brand and messaging. Here are some questions that can help shape your brand:
What's your story? And why did you become a family law or divorce attorney?
What makes your family law firm unique?
What do you do better than any other law firm?
Defining your brand and value propositions is a great way to shape your digital marketing and web strategy. And ultimately a unique brand will build trust in your firm and more quality leads.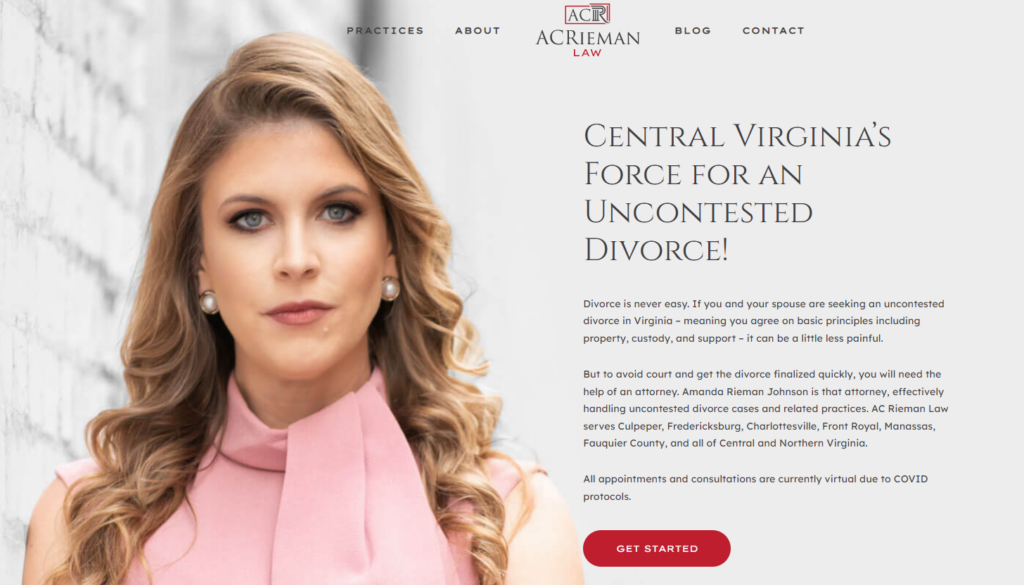 Optimize Your Divorce and Family Law Website
Quality lead generation most likely will not happen without a website. And more importantly, an optimized website that is geared towards lead generation, promoting your brand, and is set up for SEO success. Some things to consider in optimizing or building your website:
Showcase and highlight who you are. If you've gone through the process of defining and building your brand, don't stop there. Ensure you're highlighting yourself, your experience, and why customers should do business with you through your website. Your brand is important, and it should speak to your customers. Don't ignore it.
Optimize your site for speed and functionality. A quality website starts with your brand. But it should also be built for search engines and usability. Ensure your website is fast on all devices because, without it, it decreases SEO visibility and hurts user engagement.
Make it easy for prospects to convert. Your website can serve multiple purposes for clients, but the most important is lead generation. If you want to increase your divorce leads, your website should have ways for clients to get in touch with you. Ensure you optimize and add a combination of calls to action, call buttons, contact forms, and/or scheduling tools throughout your site.
If you're looking for inspiration on some optimized divorce attorney websites, check out some of our divorce attorney clients below:
AC Reiman Law – Uncontested divorce attorney in Culpeper, VA
Carvajal Law – Divorce attorney in North Bergen, NJ
VanLandingham Law – Family Law and divorce attorney in Denver, CO.
Build Out Interior Pages
Your interior pages serve a purpose not only from a navigation standpoint but from an SEO standpoint as well. More interior pages increase the likelihood of ranking on search engines. And higher rankings on search engines lead to more visitors.
When visitors come to your website they are looking for information. You must have content not only on your home page but throughout your site to answer those questions people are looking for. Quality interior pages and practice area pages can help not only answer those questions but ultimately get people to submit their information. Don't stop at just creating one page with answers. Look at building out more specific pages. Here are some ideas:
Types of divorce your serve (traditional divorce, uncontested divorce, etc.)
Divorce pages optimized for specific cities/target areas
Divorce FAQs
Divorce Forms
Differences between types of divorce
Divorce cost breakdown
Separation agreements
Start a Blog Strategy
Much like interior pages, a blog strategy helps increase your SEO presence, while providing quality content to your site visitors. A blog strategy also allows your family law firm to continue an ongoing content strategy, which is extremely important in growing your organic rankings. Here are some ideas to get you started:
Write blog content on common divorce questions you get from clients. As noted in building your ideal divorce clients section, common questions and FAQs can serve as great blog content.
Go to google to find common divorce questions to use as blog content. Google can also tell you some of the most common things people are asking and looking for. Cost, time, property questions, child support, etc. are all common things people are looking for and can be tailored into a blog, even at a local level.
Find opportunities from other divorce attorney competitors. With any digital marketing strategy, it's about standing out from the competition. If your competitors are doing content marketing, it doesn't mean there's no opportunity for you. Look at what they're doing and how you can do it better. And find holes/opportunities in topics they aren't taking advantage of.
Write blog content about local events. Your blog doesn't always have to be focused on divorce topics. A great way to rank and get more exposure for your law firm is to write about local events. It certainly could be things you're involved in, but even things centered around holidays can serve as great blog content and show you care about things happening in your area.
Focus On Improving Your Google Business Profile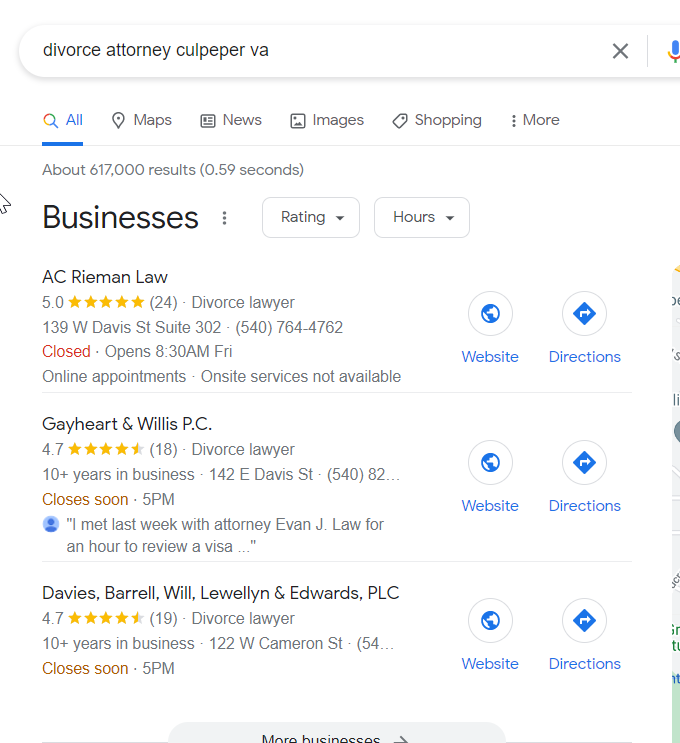 If there's one lead generation strategy in this article that you should focus on, it's your Google Business Profile. Ultimately, your Google Business profile serves as a second website. It has your business information, reviews, contact info, and more. It's often the first thing people see when they are looking for an attorney. It's free, takes minutes to set up, and can be a significant part of your divorce lead generation strategy.
Sounds easy enough, but most law firms will tell you that they have one, but it isn't doing much, or they aren't showing up in search results. But, that doesn't mean your divorce and family law firm can't.
Where most law firms go wrong, is they don't set up their profile properly, and they don't continue to optimize it. Doing those steps correctly and continuing to optimize your profile can significantly increase your visibility on Google search results and Google maps listings. If you're struggling to show up in the top 3 results check out our Free Google Business Profile Guidebook here. 
Get Started With Local Service Ads
Investing in your website and content strategy should always be at the forefront of your lead generation strategy. And while you wait on building that strategy, getting started with Google Local Service Ads is another great way to boost your divorce lead volume. 
If you're new to the advertising space, Local Service Ads are essentially highly engaging ads on google search results that appear on local practice area searches. For divorce attorneys, ads would likely appear for searches like "divorce attorney Oshkosh" or "divorce attorney near me."
Unlike Google Ads, Local Service Ads offer a different format, right at the top of search results and map listings. And also unlike Google Ads, you only pay per lead (and not per click). If you have a limited advertising budget, Local Service Ads are a great way to get leads at a set cost. With some fine-tuning of your account, target areas, and practice areas, you can easily see results in the $30-$60 per lead range. If you need help setting up your account or fine-tuning your strategy, check out our blog here.
Ask Customers To Leave Reviews And Testimonials
Like any other industry, most potential customers will look to reviews before hiring you. The same goes for an attorney. People trust other people's opinions, regardless if they know them or not. If you want to make potential customers trust you, even more, get more reviews. Because without good and high reviews, people are going to look elsewhere when it comes to needing a divorce lawyer. Encourage your current clients to leave reviews on Google, Facebook, and/or other lawyer directories. These are also great things to feature on your website. If you're struggling with how to ask or gather more reviews, here are some ideas:
Send follow-up emails asking for reviews after you've worked with a client
Add a link to leave reviews in your email signature
Add your Google review link as an announcement bar on your website
Share out your review link on social media channels
Add a QR code to your Google review link on your business cards
And don't forget to provide great customer service – most reviews come naturally if your customer service is top-notch
Get More Divorce Leads With Civille
There are many other ways to increase lead volume as a divorce attorney. Social ads, Google Ads, Referral networks, and many others could be worthwhile options. But with any of these strategies and the ones mentioned above, it definitely can be a complicated and time-consuming process. That's why we're always here to help. If you need help with your website, SEO, or divorce lead generation strategy, contact us today!