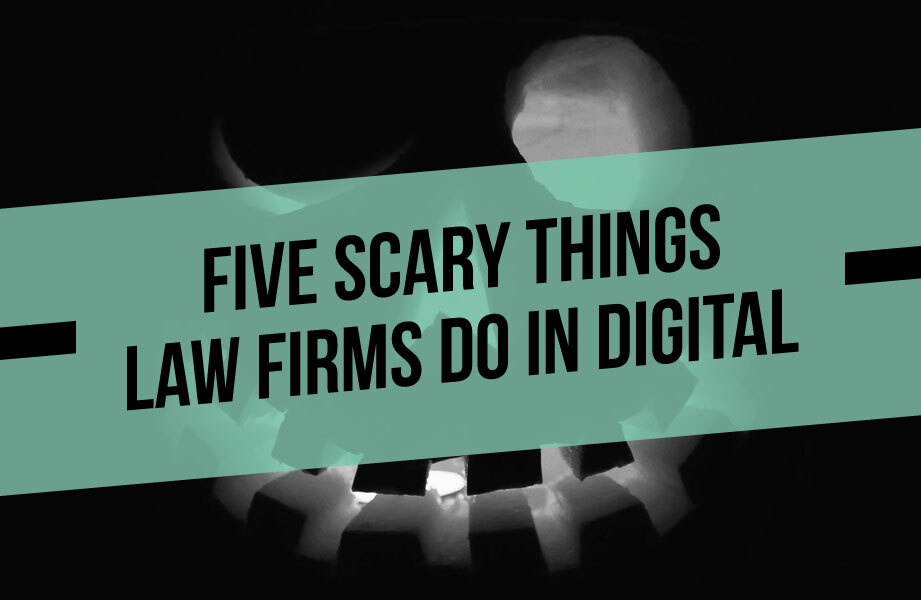 Our website was just redesigned in 2011.
I don't think anyone manages our GMB.
We don't need any more leads. 
These statements are scary. And not in a Halloween-fun kind of way. Yet, we hear them all the time when auditing the online presence of law firms.
Yet with every problem, there is opportunity. This is true in legal. Every law firm in your service area that isn't taking care of its online presence gives you an easier route to success. And there are many. The best clients are there for the taking, like an unattended candy bowl at the neighbor's house. Take your pick.
Five Scary Things Law Firms Do in Digital
Sites that are Creeping
Google can't tell us in any more plain terms that site speed is important for online success. If your site loads quickly, it will rank higher for competitive terms, get more traffic, and drive more leads.
70% of people say site speed affects their decision to interact with a business
38% of people say they will leave a site if it takes more than five seconds to load
Every second of load delay results in a 7% drop in conversions
70% of law firm website traffic comes from a mobile device
Pretty simple – you need a fast site to compete online. Yet, the average page speed score for a law firm mobile site is 41 out of 100, which is not acceptable for Google.
Get rid of the creep on your site.
You're Being Followed
Have you ever gone to a website and felt like the same eyes are always staring at you? Well, they are – it's called stock photography.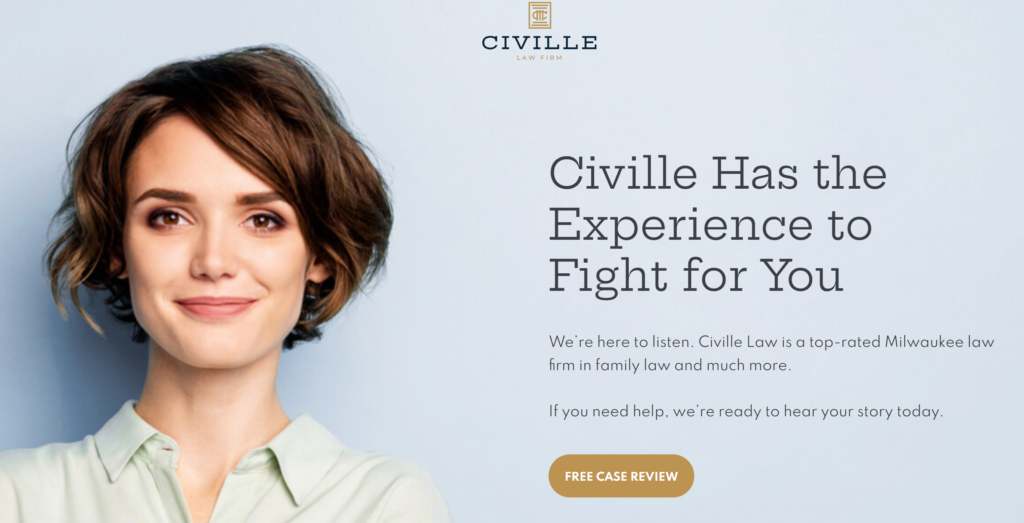 The legal space is an incredibly personal industry. Many people are looking for help at some of their most vulnerable moments. They need to trust the law firm that they are going to call. In addition to the website content, having a picture of you and your staff at the firm is vital to making an instant connection for a potential client.
Loading up your site with stock photos is a good way to get passed up – and make your entire brand look generic. Not to mention, Google rewards unique photography, and actual images convert better statistically.
Web pages with authentic photos convert 35% higher than web pages with stock photos
Don't give website visitors that chilling feeling. Use your own photos.
The Ghost of Websites Past
"Our current website is fine, thank you."
We were just on the website. It was built somewhere around Obama's first term. The design is dated. The SEO elements are wrong. The content isn't accurate. Links and navigation are broken. It loads very slow. It isn't mobile-friendly.
How is this okay? So many firms think because they built a website once, they never have to worry about it again. Even if it isn't considered a leads driver for the business (it should be, read below), it should at the very least look presentable. The website is your digital storefront, whether you understand the value of it or not. Putting something out to the world that has had no care put into it is selling you and your entire staff short.
And if you are purposely neglecting your website partly because you don't feel it's a worthwhile leads driver, your efforts are also misguided on this front.
78% of law firms say first-party leads convert better than other sources
Kill your dated zombie website. Get something better.
Lost in the Google Maps Graveyard
The world operates through mobile phones in 2021. When someone needs legal help, they are going to type it into their phone. The law firm that shows up in the maps results often gets the first call.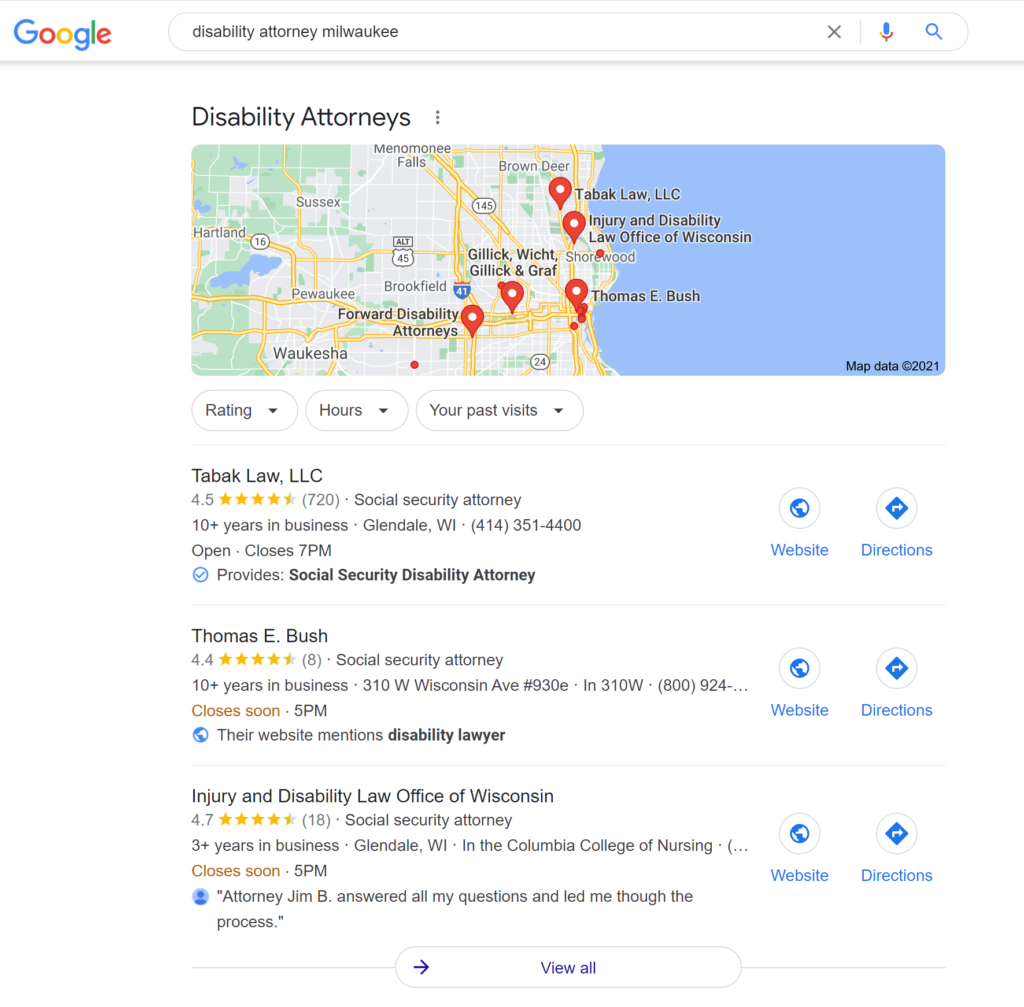 This map result is known as the Google My Business (GMB) listing. Whether you claimed your law firm's page or not, you likely have a listing set up if you have a location. But if you didn't claim it or aren't spending any time optimizing and maintaining it, you aren't going to show up first – or even close to it.
Law firms that understand the importance of GMB are getting more calls, messages, website visits, and overal intractions. Most visitors will do one of three things immediately once seeing your listing:
Call your law firm (25%)
Visit your website (55%)
Get directions to your law firm (20%)
Don't be lost in the maps graveyard. Optimize your GMB page.
Scared of More Leads
One of the wildest reasons for being okay with a sub-par website and overall online presence that we hear is that the firm is too busy to get more leads. Essentially, they feel like a new website and GMB page will do too well, and overload their business. Therefore, it's better to remain sub-par in this vital component of their business.
While it sounds good to be busy, it depends what kind of busy it is. If your firm is simply busy with intake, that doesn't necessarily mean that business is great. You are likely leaving a lot of money on the table by not optimizing your business through online tools.
Having website tools that can help with intake and lead qualification, like chat tools, multi-step forms, and even call answering can help deal with the customer flow and ensure that the only leads that take up your time are the leads you want.
And if you invest in your website and digital efforts, you will have the first chance at the best leads. If you don't, you are likely getting leads through your site that have already been denied by other firms. But since you rank poorly, they are just getting to you, and subsequently wasting your time.
Don't be scared. Optimize your online presence to save time and money.
If you have questions on any of the products or processes mentioned, don't hesitate to reach out to a professional at Civille by calling 920-903-5168 or filling out a form here.