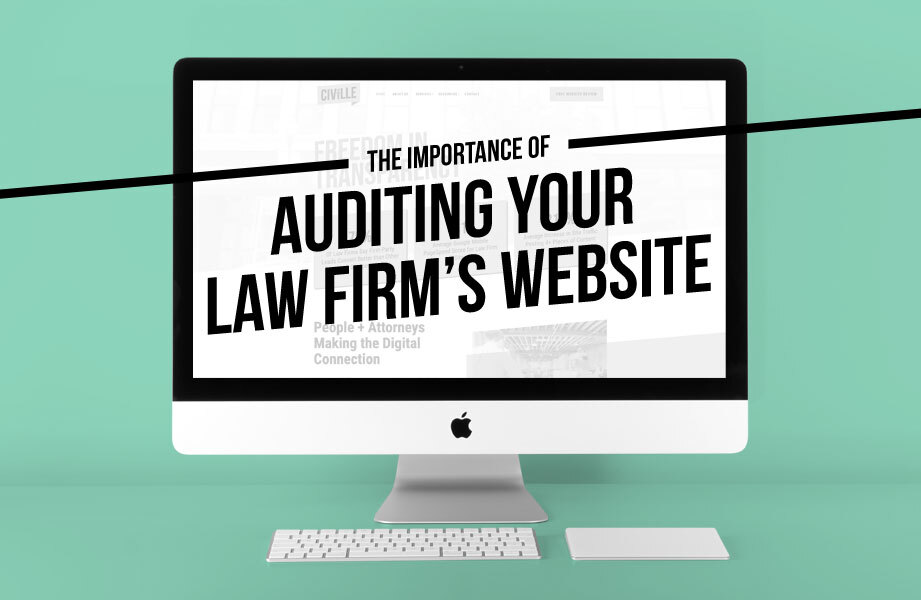 Whether you believe it or not, your website is the face of your law firm. Regardless of how you gain more leads or clients, the majority of people are going to your website first before they contact your firm. Or in many cases, before they DON'T contact your firm.
We've harped on the importance of having a good website many times, but the point is your website needs care and attention just like any other part of your law firm's business and brand. And just like your car, it can worsen and depreciate over time. Your website needs care and attention too; and that means frequent updates, design changes, new tools, changes and everything else in between.
The problem we often see in the legal space is that the same service, care and attention you give your car isn't happening with your website. And even if you think it is, most law firms (and often vendors) ignore or overlook things behind the scenes. Site speed is a big one. SEO issues is another. And the list goes on and on.
It's understandable though–your website and digital marketing for that matter can be a beast to manage and handle. There's not only many pieces that go in the build of a website, but many pieces that need to continually be monitored and "right", especially when it comes to search engines. And those things continue to change as well. Site speed continues to change with new technology. Google now looks at site speed completely differently than it did years ago. SEO tactics continue to change as search engines look at more and more pieces. The point is, the things that have worked or have been done before, aren't always the same things that work now. And continually doing them, not improving or monitoring them, can have consequences when it comes to ranking and user experience.
As a website provider in the legal space, we take a lot of pride in making sure that the site is optimized not only from a UX standpoint, but also from an SEO standpoint. Building great websites comes with the technology and teams that are behind them. Site speed, content, SEO, and design elements are just a few pieces that our team spends extra care and attention with. And with every launch, every one of those pieces is top-notch before a site goes live.
But once a site goes live–then what? Just like you should be doing, at Civille, we continually monitor and perform website audits. 
The Most Important Piece of Your Website & Digital Marketing
Auditing is one, if not THE MOST important ongoing piece you can and should be doing with your website and digital marketing. Even if you're working with or using a vendor, doing an audit is still important, because at the very least, it holds them accountable. It might sound like a daunting task, but using the right tools and systems can make it easy for you to streamline and take action, continually. Before we dive into the tools, let's first take a look at what website auditing entails and how it can help your law firm. 
What Is A Website Audit? 
An audit essentially involves analyzing pieces of your law firm's website and digital marketing for issues, gaps, and opportunities. On the website side, the main things an audit can help you uncover are issues and opportunities with functionality, user experience, SEO, and site security. These are extremely important not only when it comes to how users interact with your website, but also visibility within search engines.
On the digital marketing side, auditing your law firm's social channels, campaigns, messaging, and everything else in between can help identify the similar issues and opportunities. It's important because we all know things change. Things can change in your branding, advertising/social channels change the way they do things, competitors change their marketing strategy, etc. It's important to not only remain consistent, but remain ahead of your competitors and on top of the latest trends. 
Frequency is the key piece when it comes to website audits. Even if you have a new website or are frequently monitoring your site and marketing, there should always be checks and balances when it comes to your digital presence. A monthly audit of your website and marketing provides exactly that.  At the very least, it ensures that you're doing things right. And at the best, you're improving your lead volume, ROI, and kicking butt. At Civille, with any website, auditing is not only the first thing we do, it's something that's done every month.
What Pieces Should You Be Auditing on Your Law Firm's Website? 
Whether you have a large website with a lot of pages, or a small site with just a few pages, there's still many pieces that should be closely audited. So what should you be auditing within your law firm's website? 
Auditing Your Law Firm's Website Analytics + Tracking
Before you dive deep into auditing other pieces of your law firm's website, it's important to set and track goals (especially in Google Analytics) and thoroughly understand your KPI's. Reason being, it'll help you clearly understand what's working and what's not, but also help you focus on the pieces that will have the biggest impact on your law firm. In order to set up goals and KPIs, you need to make sure you've not only installed tracking/analytics, but that it's installed correctly, it continues to work, and continues to be enhanced. Some things you should prioritize when auditing your law firm's analytics and tracking are below:
Campaigns are being tagged and tracked appropriately in Google Analytics. Some advertising/social channels like Google ads, have settings to do this automatically. Facebook Ads, GMB, etc. is a manual process. Make sure you tag links and add appropriate tracking so you're seeing these in your data. Make sure that your campaigns tracking codes are added and implemented correctly on your site and goal pages. 
Filter Spam, bots, and internal traffic out of your data. Monitoring your traffic is important especially to filter out bad data. When auditing your law firm's website analytics, first see if bot traffic filtering is turned on in your properties. And then continually monitor referrals and direct traffic for bots. Last thing you want to be doing is reporting and comparing traffic that contains spam and bots. Internal traffic should be filtered out as well, especially if you have a multiple people that use the website daily. Before filtering, make sure you're also setting up a separate view for your filtered data. 
Cross domain tracking & tracking third parties. If you're a law firm using subdomains, ecommerce functionality, or third parties for scheduling and/or contacting your firm, it's important to make sure you're tracking those users when they leave your main site. Implementing cross domain tracking can be tricky, but many vendors have support to do this and track things appropriately. If you've implement GA in tag manager, you can easily add cross domain tracking there. Tracking third parties like Chat, scheduler or forms, often takes working with your vendor. Some providers, like Smith.AI do throw events into the data layer, which you can easily grab and implement in tag manager. 
Personally Identifiable Information. Personal identifiable information refers to any data that can be used to identify a specific individual. It has become even more important because it can put you at risk in Google's eyes, or even from a legal standpoint if you're collecting data and storing it in your Google Analytics. Common issues are often found in older sites, but often, PII can happen with custom dimensions, page urls and more. If you think you're at risk or want to check, analyze your custom dimensions and urls in Google Analytics. To remain compliant, make sure there's no individual data being passed through (name, email, phone number, etc.).
Google Analytics Events. On your typical Google Analytics installation, event tracking isn't something that's setup by default. Point being, track events on things that matter to you. Set up events with a GA installation, especially on forms, phone numbers, and etc. Expanding that could include tracking buttons, link clicks, and anything else that relates to engagement and your KPI's. 
Auditing Your Law Firm's Website Mobile Page Speed
You should also consistently monitor your law firm's website mobile page speed. Page speed is important because it affects how users engage with your site, and it also affects your Google ranking. At Civille, we build every website with speed in mind and we continue to optimize page speeds to remain high. You should be doing the same. 
Luckily, there are several tools that you can use, like Google page speed insights, to help you see what your page speed score is and where you can improve. Ultimately, in auditing your website's page speed, you need to continually maintain and monitor. Your law firm's page speed can change as changes happen on your site, hosting, and everything else in between. Google continually looks at more and more pieces that affect loading and user experience. All pages are important, but as you're auditing your website page speed, start by analyzing more than just your home page. Pages with high traffic, those you use in campaigns, etc. should be high priority when it comes to improving page speed. If you have questions about improving your page speed, you can also check out our blog here. For more detailed information, check out our whitepaper. 
Auditing Your Law Firm's Website Security
Your law firm's website is the most important online asset you have. And as with any business asset, you should be protecting it. And that comes with making sure your law firm's website is secure. Our blog on securing your law firm's website details many things you should implement. At the top level, you should be auditing and asking yourself the following first: 
Do you have an SSL certificate? An SSL certificate not only secures your data and site, but it also provides users with trust. SSL is important because without it, your website can be vulnerable to hackers. If you don't have an SSL, connect with your hosting provider. 
Are your plugins and versions of your site consistently updated? This is probably one of the things that most websites forget to do, or don't do as regularly as they should. With new versions of WordPress, updates, and more, plugins can become outdated or need updates quite frequently. If you don't update plugins regularly, it opens up the door for vulnerabilities and UX issues. 
Are the plugins you're using reputable? Are the plugins you're using actually useful? If you're using WordPress, you probably know that there's a lot of plugins out there. Make sure before implementing, that it's reputable, and make sure there's no security issues/concerns with those plugins. Audit your existing plugins and make sure they are reputable, remove those that you're not using, and/or not needed. 
Is your hosting provider backing up your website? Backups are important because it essentially allows you to reinstall or restore your website if something goes wrong. In the website world, there's often things that can happen with user error, plugins, data corruption and more that can cause issues. You should back up all of your sites frequently, even if it's just a safeguard.
Are you using strong passwords for ALL users? In today's day and age, we all have so many passwords. And we all can often get in the habit of using those same passwords across multiple websites and logins. If you're doing that, stop, and at the very least, make sure your passwords that you're using for admins and editors for your website are unique and are strong. And while you're auditing passwords, audit your users to make sure those that have access to your site, are those that SHOULD have access to your site. 
Auditing Your Law Firm's Website Accessibility
Did you know that 98% of websites aren't ADA compliant? Over the past 3 years, there has been an increase in lawsuits by 200% on sites that aren't compliant. Having a website that is functional and readable for ALL users is important because it is now becoming legally required to provide equal access to anyone that visits them. On top of that, having an ADA compliant website also improves your search engine visibility, by allowing crawlers to easily identify content/structure in your site more easily. 
So what can you do to make sure your website is accessible and ADA compliant? First, start by auditing your law firm's website using a tool like Accessibe. From there you may have a better understanding of where your site isn't compliant. According to ADA.gov, here are some common things you can do from the get go: 
Add Text Equivalent to Every Image on Your Site. Adding "al text" to your images allows screen readers to read your image. Your alt text should describe what your image is, which can help screen readers understand and read images. 
Post Documents in Text Based Formats. If you're uploading documents or pdfs, you should make sure they are being posted in text based formats so they can be read by screen readers. 
Include Audio Descriptions and Captions on Videos. Videos should include descriptions or captions to make them accessible to everyone. 
Avoid Dictating Colors and Font Settings. If you're using complicated fonts and colors, it can make it difficult to read, especially by those with visual impairments. 
As with most of the website audit pieces, at Civille, we take accessibility very seriously. Every website we build is combed through to make sure it is accessible and compliant. We also take it one step further by installing an accessibility tool that checks and ensures compliance as well. If you're worried about ADA compliance issues, we can point you in the right direction. 
Auditing Your Law Firm's Website Technical SEO & Content
SEO has always been an extremely important thing for websites. In the legal space, it matters even more because most people are going to search engines to find legal advice or connect with a lawyer. If you're not there (or high in rankings), it's most likely because you're either not prioritizing SEO, you don't have an SEO strategy, or you're experiencing SEO issues. Auditing your SEO and your site's content is the first step that should be taken if you're experiencing issues, and it should be a continual thing even if you're not.
So, how do you get started? If you're looking for some quick help, we do offer a FREE SEO/Website Review that outlines specifics on your law firm's SEO and content errors. You can also use paid tools like aHrefs, Moz, or SEMrush to also do similar things, as well as continually monitor your SEO pieces. 
Once you identify your SEO errors, it's important to take action; that's really the whole purpose in auditing your law firm's website. And with SEO/content issues, many can be easily done by updating content, using plugins, and changing your link building strategy. For a detailed list of types of SEO errors and how to fix, check out our recent blog post here. 
Closing Thoughts
By now you should understand that auditing your law firm's website is important, especially if you're trying to grow and improve your digital presence. It can be a lot of work initially to fully audit all the pieces within your site, but in doing so, you can easily replicate and monitor many of those pieces on an ongoing basis. Tools like Google Analytics, Google Search Console, and even plugins within your website's backend, can allow you to streamline those processes and set yourself up for success. If you pick the right partner (like Civille), then you don't have to worry about initial or ongoing audits, since we do it all for you.